Kitty Kick Stix 15″ Original Catnip Kicker Review
---
The Kitty Kick Stix 15″ Original Catnip Kicker is a very entertaining toy for your cat and it is equally amusing for cat owners. This extra long catnip toy is perfectly sized for wrestling, kicking, and nuzzling.
Kitty Kick Stix Catnip Kickers come in 3 different sizes – 6", 11", and 15" and a variety of fun fabric designs. They are made of durable fabric that is stuffed with a combination of polyfill/fiberfill and Organic Catnip. They also have small bells inside which are great for getting your cat's attention. Kitty Kick Stix has also introduced an extra-durable version called the Clawtastically Strong Kitty Kick Stix that is made of a stretchy fabric and comes with a no-rip guarantee.
They are sold in packs of 2 on Amazon.com or you can purchase them individually and select your fabric on their website at KittyKickStix.com. Kitty Kick Stix are individually handmade in the USA and a portion of the Kitty Kick Stix precedes go to supporting animal shelters.
Arya and Django were lucky enough to get to test the Kitty Kick Stix out and they were a huge hit right out of the box. Both kitties knew exactly what to do with these toys as shown below.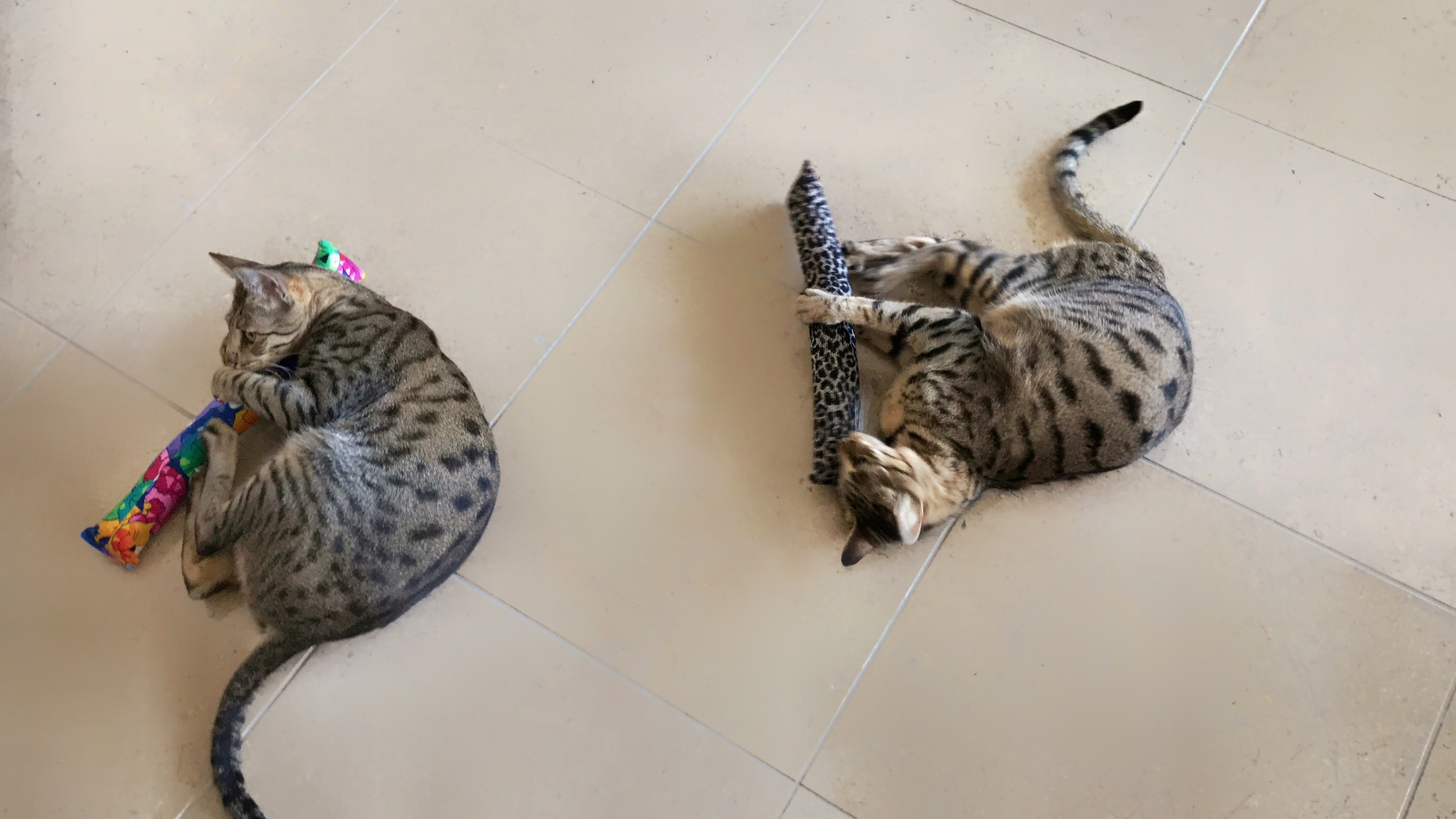 So far the fabric has held up pretty well against some aggressive kicking. However, after about a week, the potency of the catnip in the Kitty Kick Stix is very low and Arya and Django's interest has died off significantly. We're not sure if this has to do with the catnip itself or the actual quantity of catnip compared to the polyfill stuffing.
Tip: Since the Kitty Kick Stix come in a set of 2, keep one in the freezer to preserve the freshness of the catnip while the Kitty Kick Stix is in use. It's also a good idea to keep your catnip toys in rotation so your cat doesn't get bored as quickly.
SaveSave