PetSafe Drinkwell Zen Pet Fountain Review
Drinkwell Zen Pet Fountain
$50
Pros
Large capacity
Stainless Steel is more hygienic than plastic
Ramp reduces splashing
Dishwasher Safe
Cons
Bowl is very large and collects dust & debris
Poor filter design
Pump burns out prematurely
Noisy pump motor
---
Summary
The PetSafe Drinkwell Zen Pet Fountain is a hygienic stainless steel fountain that is great for multi-cat families and families with dogs. This large capacity fountain is relatively easy to clean but requires more frequent cleanings because of the less than ideal filter design.
---
Description / Features
The Zen Pet Fountain by PetSafe is a 128 oz capacity stainless steel fountain with a plastic pump and filter housing. The overall dimensions of this fountain are 13.4″L x 13.4″W x 6.3″H. It comes with a 12V submersible pump (Model SP400-LV) that has an inline plug for disconnecting the power. The plastic housing has a compartment for a charcoal filter. When installing the filter, the Black side should face the pump and the White side should be visible when facing the fountain. The PetSafe Drinkwell Zen Pet Fountain has 2 plastic spout trays that distribute water in a wide free-flowing stream onto the stainless steel ramp.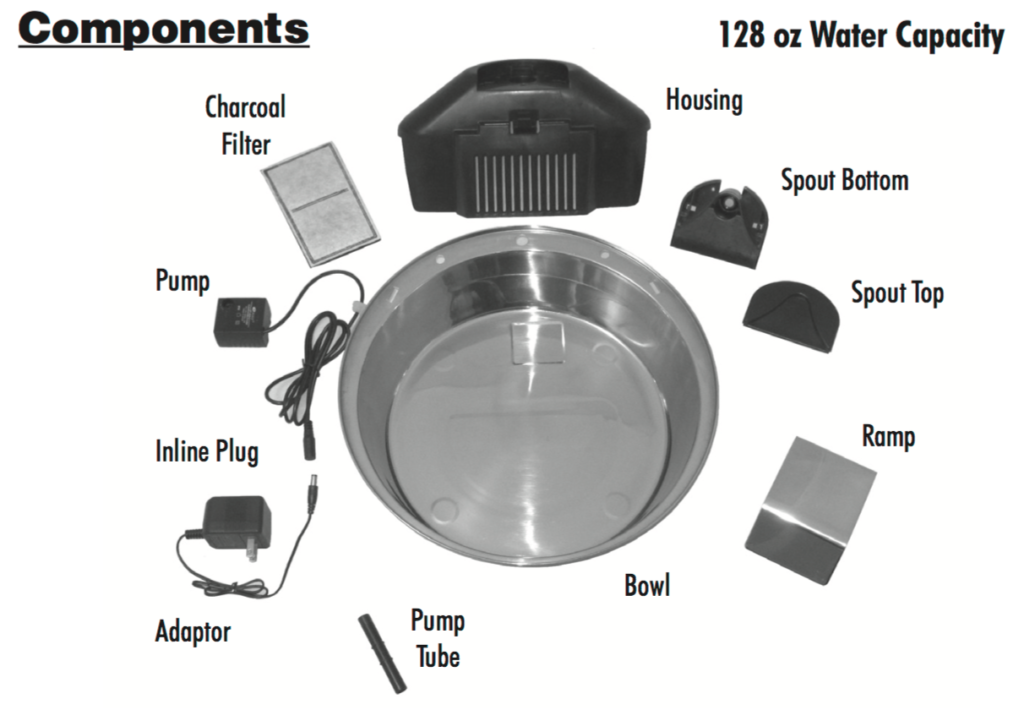 Functionality
Cats tend to prefer free-falling water streams over most other types of fountain flow designs. The PetSafe Drinkwell Zen Pet Fountain offers an extra wide free-falling stream plus an extra large bowl to drink from. The bowl is large enough for multiple cats to use simultaneously. The only downside of having such a large bowl is that it collects more debris than fountains with less exposed surface area. So your cats will likely appreciate this fountain as long as you're diligent about keeping it clean.
Most pet fountains have a solids filter in addition to a carbon filter. The PetSafe Drinkwell Zen Pet Fountain does not have a solids filter which means the pump is more susceptible to getting clogged by debris. Additionally the filter housing is designed in such a way that it allows water to pass around the filter rather than forcing it through the filter before entering the pump. This poor filter design means the water in this fountain will need to be changed out more frequently and the pump will need to be cleaned more regularly to ensure proper operation.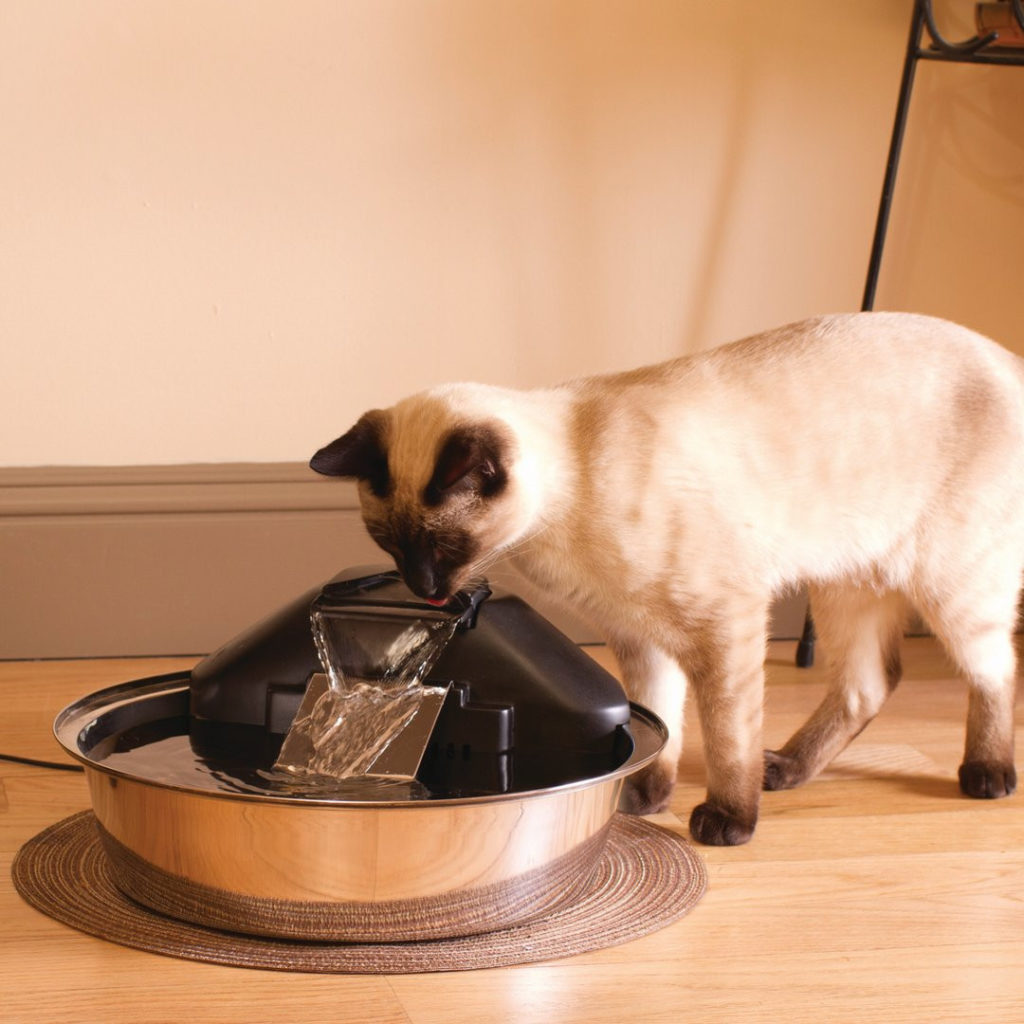 Noise
The PetSafe Drinkwell Zen Pet Fountain has a free-falling water stream which cats love, but without the loud splashing noise. The stainless steel ramp not only minimizes splashing but it also greatly reduces the splashing sound. The motor on the other hand is a bit noisier than most. If you are diligent about keeping this fountain filled and cleaning the pump regularly, you might not have anything to worry about. If the fountain starts sounding noisy, it is probably a good indication that it needs some attention.
Maintenance
While the PetSafe Drinkwell Zen Pet Fountain has its fair share of parts, it is still significantly easier to clean than some of the plastic fountains on the market. With the exception of the pump, all of the plastic and stainless steel components are dishwasher safe on the top level. Stainless steel is easier to clean than plastic, but it still needs to be cleaned just as frequently. PetSafe recommends cleaning out the fountain weekly and changing the filter every 2 to 4 weeks.
If you notice the flow of the fountain is reduced or there are multiple streams rather than one, this is a sign that there is debris buildup in the spout area. You can use a toothpick or small brush to clean between the spout trays. If that doesn't solve the problem, then a thorough cleaning of the pump is probably necessary.
Quality / Longevity
The PetSafe Drinkwell Zen Pet Fountain is a well-made stainless steel fountain that'll outlast most plastic fountains if properly maintained. The pump requires a bit more maintenance than most because it doesn't have a solids filter to keep debris from getting into the motor. A lot of customers have complained about the pump burning out prematurely due to this very problem.
Pros
Stainless Steel is more hygienic than plastic
Ramp reduces splashing
Minimal noise due to splashing
Large capacity / multi-cat friendly
Dishwasher safe
Power disconnect
Rubber feet to reduce slipping
Cons
Fountain isn't entirely Stainless Steel. A portion is plastic.
Very large bowl might be too big for single cat homes
Poor filter design
Pump gets clogged with debris and burns out prematurely
Pump motor is noisy
Summary / Recommendations
The PetSafe Drinkwell Zen Pet Fountain is a nice looking stainless steel fountain with a lot of great features and a few not so great design shortcomings. We recommend this particular pet fountain for cats that have acne as stainless steel is more hygienic than plastic. We recommend this fountain for multi-cat or multi-pet households as the capacity and overall size of this fountain is quite large. We do not recommend the PetSafe Drinkwell Zen Pet Fountain for owners who are not diligent about cleaning and replacing filters.

---
Filters
The PetSafe Drinkwell Zen Pet Fountain is designed to be used with a 2-chamber carbon filter for removing bad tastes and odors. The 6-chamber filters are too large and will not fit this fountain. The filter is not required for operation of the pet fountain, but it is recommended to keep the water fresh. Filters should be replaced every 2-4 weeks. The brand name filters by PetSafe are sold in packs of 3, 6, 9, and 12 and are approximately $2 each.


PetSafe claims that their brand name filters contain more carbon and are longer-lasting than the off-brand filters, but we don't necessarily agree. We've had great success with off-brand filters from PetStandard and NISPIRA that cost a fraction of the price.


Replacement Pump
The PetSafe Drinkwell Zen Pet Fountain uses the same model pump as the Drinkwell Pagoda, Avalon, Seascape, Sedona, Multi-Tier, and 360 pet fountains. The pump model number is SP400-LV, PAC00-13206 and can be purchased individually at the link below.
Original Post Date: 2/13/18