The Refined Feline Cat Clouds Cat Shelf Review
---
Summary
The Refined Feline Cat Clouds Cat Shelf is a sleek looking piece of furniture that both you and your cat will love. These heavy-duty metal cat shelves are incredibly durable. And the faux sheepskin pads ensure they are comfortable and safe for your cat to climb or lounge on.
---
Specifications
The Refined Feline Cat Clouds Cat Shelf is made of powder-coated steel and comes in 6 color options: Off White, White, Titanium, Black, Red and Blue. You can also choose between left-facing and right-facing orientations. The 2 shelves have replaceable faux-sheepskin foam pads that have magnetic bottoms. This cat shelf is designed to support up to 70lbs. Mounting hardware and screwdriver are included.
Overall Dimensions: 38″L x 10″W x 9.5″H
Shelf Dimensions: 20″L x 10″W
Item Weight: 18 pounds
Mounting Hole Spacing: 16" apart for wall beam/stud installation


Assembly
As with all of the Refined Feline products that we've reviewed, installation is very straightforward and all of the required hardware is provided. The Refined Feline Cat Clouds Cat Shelf is a lot heavier than you might think. At 18 pounds, this shelf will probably require 2 people to install. The pre-drilled holes in the shelf are thoughtfully spaced 16" apart so it can be mounted on the wall beam or stud. To support the weight of the shelf and your cat, it is highly recommended that this shelf be installed in at least 2 studs. Matching screw caps are provided.
Appearance
With so many color options to choose from, you can have your Cat Clouds blend in with your wall or make a bold statement, whatever your preference. And since there are two orientation possibilities, you'll have even more flexibility if you decide to combine multiple Cat Cloud Cat Shelves along the same wall.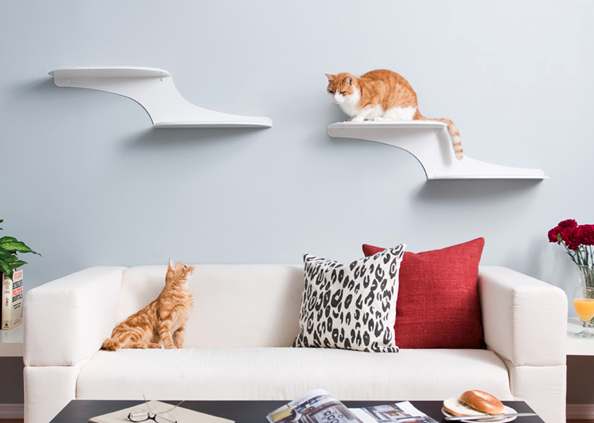 These steel shelves have a very industrial look to them. We think they look great in modern settings. If you're looking for something more classic, we suggest checking out the Refined Feline Lotus Branch and Lotus Leaf Cat Shelves.
Cat-Friendliness
At over 3 feet in length and with 2 nicely sized perches, the Cat Cloud Cat Shelf is definitely a winner in multi-cat families. The faux sheepskin pads are both comfortable and they add a level of safety by preventing your cat from slipping. When you combine multiple Cat Cloud Cat Shelves or arrange them to lead to a higher ledge or cat tree, your cats will be even more interested in using them.
If mounted correctly, The Refined Feline Cat Clouds are incredibly sturdy and can support up to 70 pounds of weight.
Quality
The Refined Feline has a reputation for making quality cat furniture. The Cat Clouds Cat Shelf is made of high-quality powder coated steel that should last a lifetime. When the fabric pads begin to show signs of wear, it can easily be removed and replaced. The magnetic backing makes replacing these pads very convenient. Fabric pad replacements for the Cat Cloud Cat Shelf can be purchased in a set of 2 for $30 at www.therefinedfeline.com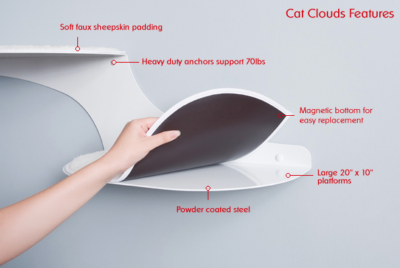 Pros
Sleek modern design
Large surfaces
Replaceable magnetic pads
Great for climbing and lounging
Heavy Duty
Multi-cat friendly
Lots of color & orientation options
Cons
Pricey
Very heavy
Requires 2 people for installation
Industrial appearance
Summary / Recommendations
The Refined Feline Cat Clouds Cat Shelf is a big step up over traditional shelving that you can find at a home improvement store. These cat shelves are specifically designed with your cat's needs in mind. Whether your cat is interested in the comfortable cushions designed for lounging or the multiple levels to climb, the Cat Clouds Cat Shelf will be a welcomed addition to your home.
SaveSave
SaveSaveSaveSave