PetSafe Drinkwell Multi-Tier Pet Fountain Review
Drinkwell Multi-Tier Pet Fountain
$25
Pros
Good value
Large capacity
Multiple places to drink from
Dishwasher Safe
Cons
Plastic is not very hygienic
Crevices make it somewhat difficult to clean
Filters need to be changed frequently
Noisy pump motor
---
Summary
The PetSafe Drinkwell Multi-Tier Pet Fountain is an affordably-priced plastic fountain that's big enough for multi-cat homes or families with small dogs. It is easier to clean than some fountains, but the small crevices are still a bit of a nuisance to clean without a small brush.
---
Description / Features
The PetSafe Drinkwell Multi-Tier Pet Fountain is made of BPA-Free plastic and has a capacity of 100 ounces. This fountain has 2 main components that are dishwasher-safe on the top shelf. It is only available in one color – speckled gray. Cats have their choice of drinking from the top level which has water circulating around a channel or from the small free-falling stream or from the bottom bowl.  This fountain is designed to be used with a dual cell carbon filter.
This pet fountain has a standard low-voltage 12V submersible pump (Model SP400-LV) with an inline plug. This particular pump does not have any flow control settings.  The fountain dimensions are approximately 8″W x 11.5″L x 5.5″H.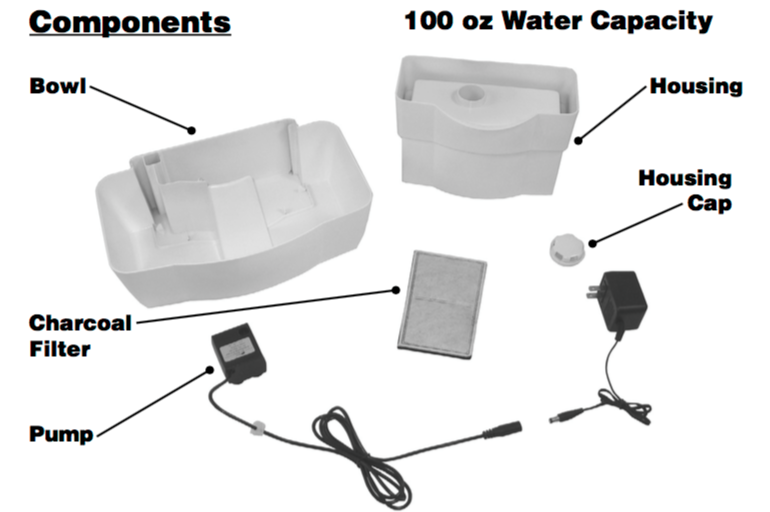 Functionality
PetSafe's Multi-Tier Pet Fountain is a highly functional fountain that most cats will love. With its multiple drinking levels, this fountain accommodates cats with several different drinking preferences. The PetSafe Drinkwell Multi-Tier Pet Fountain does an excellent job of circulating water and the 100 ounce capacity means you'll only have to refill it every couple of days.
This fountain has a ramp that allows water to free-fall without splashing and making a great deal of noise. The bottom bowl has a good amount of surface area, but it might be a little difficult to drink from if the water level gets too low.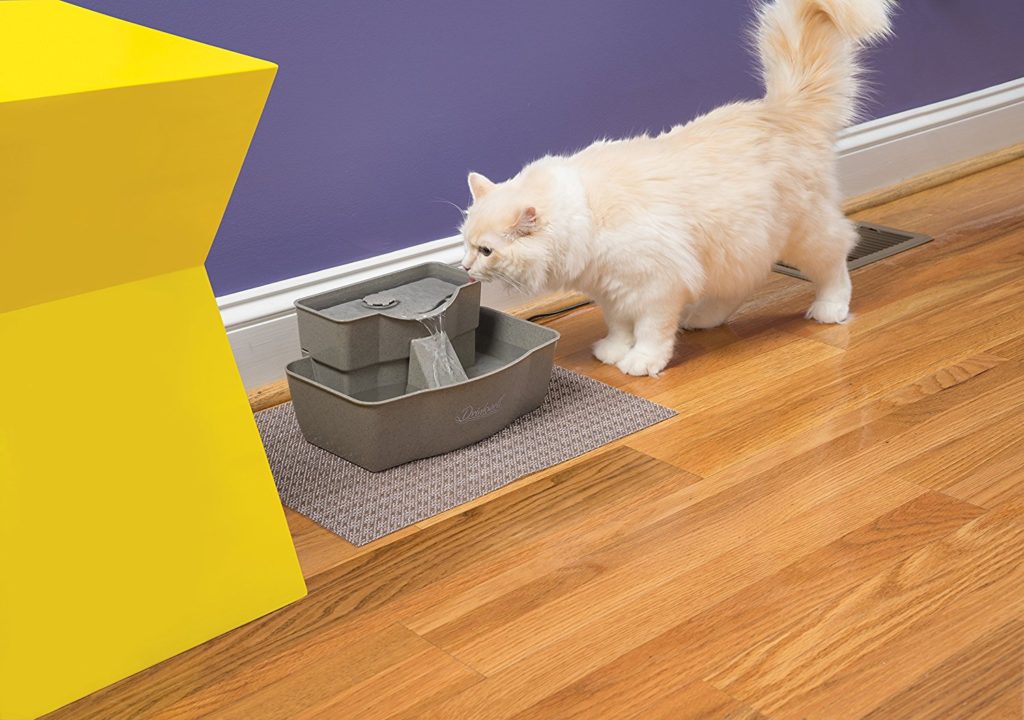 Noise
The PetSafe Drinkwell Multi-Tier Pet Fountain is a relatively quiet fountain but it is still far from silent. The pump motor tends to get pretty noisy when the water level drops. Even though this fountain uses the same pump as the much quieter Seascape Pet Fountain, the humming noise is much more apparent on the Multi-Tier Fountain, possibly due to the fact that plastic doesn't dampen the sound as much as ceramic. The ramp does an adequate job of quieting the sound of trickling water.
Maintenance
It is incredibly hard to find a pet fountain that is both a cat-pleaser and a people-pleaser. Maintenance is always a bit of a nuisance with pet fountains and pumps. Plastic tends to require a bit more frequent attention than ceramic or stainless steel. Fortunately, the PetSafe Drinkwell Multi-Tier Pet Fountain is dishwasher safe and has minimal parts to disassemble. Compared to the PetSafe Drinkwell Platinum Pet Fountain, the Multi-Tier Pet Fountain is considerably easier to clean. It still has a good amount of nooks and crannies that are difficult to access without a special brush, but there are a lot fewer than on the Platinum.
The 100 ounce capacity is above average for cat fountains, but will still require topping off every couple of days. If you have multiple cats or dogs drinking from this fountain, you may have to refill it more frequently. The large capacity is nice, but it also makes this fountain a bit more difficult to pick up when it is time to change out the water and clean it. Since there is no external reservoir on this fountain, you simply pour water into the bowl to refill it.
The manufacturer recommends changing out the carbon filter every 2 to 4 weeks. To change the filter, you'll need to disconnect the pump and unsnap the top piece of the fountain. There is a designated filter slot inside the fountain. The filter needs to be positioned so the black side faces the pump. Simply snap the fountain back together and that's all there is to it.
In addition to changing out the filter, you'll also need to change out the water weekly and clean the pump monthly for optimal operation. Plastic fountains get slimily really fast and you'll want to ensure your cat has fresh and clean drinking water at all times.
Quality / Longevity
The PetSafe Drinkwell Multi-Tier Pet Fountain is made of durable BPA-free plastic that'll last 3-5 years. As with all plastic fountains, you'll want to get rid of them when you start to notice a bunch of scratches on the plastic. Once the plastic surface gets scratched it tends to collect bacteria. If your cat has feline acne, it is recommended that you get a ceramic or stainless steel pet fountain instead of plastic.
Pros
Good capacity
Affordable
Dishwasher safe
Power disconnect
Minimal water noise
Multiple levels for drinking
Cons
Noisy motor when water level gets low
Only one color option
Small crevices make it difficult to clean
Difficult to pick up when full
Summary / Recommendations
If you're in the market for a good-value cat fountain, the PetSafe Drinkwell Multi-Tier Pet Fountain is a great bet. The 100 ounce capacity is perfect for single and multi-cat families. With 3 different spots to drink from this fountain accommodates even the pickiest of cats.
If you're willing to do with a little less capacity, we recommend checking out the Cat Mate Pet Fountain. The Cat Mate Pet Fountain has a similar design with multiple drinking areas and it is quieter and easier to clean than the Multi-Tier Pet Fountain.
---
Filters
The PetSafe Drinkwell Multi-Tier Pet Fountain is designed to be used with a 2-cell carbon filter for removing bad tastes and odors. The 6 cell filters that are designed to fit in the Platinum Fountain are too large and will not fit this fountain. Filters should be replaced every 2-4 weeks. The brand name filters by PetSafe are sold in packs of 3, 6, 9, and 12 and are approximately $2 each.


We recommend trying the off-brand filters from PetStandard. They are virtually identical to the name brand PetSafe filters but they cost a fraction of the price.


Replacement Pump
The PetSafe Drinkwell Multi-Tier Pet Fountain comes with a 12V submersible pump, model SP400-LV, PAC00-13206. This is the same pump that is used in the Drinkwell Pagoda, Seascape, Avalon, Sedona, Zen, and 360 pet fountains. You can find replacement pumps for this fountain at the link below.
Original Post Date: 3/8/18