Cat Mate Pet Fountain Review
Cat Mate Pet Fountain
$27
---
Summary
The Cat Mate Pet Fountain by Petmate is one of our top-rated fountains. It's one of the quietest pet fountains on the market, it's easy to clean, and its multiple drinking levels are popular with cats. We just wish it held more water.
---
Description / Features
The Cat Mate Pet Fountain has multiple drinking levels and features water slides rather than free-falling water spouts. This white plastic fountain has 2 main parts that come apart easily and are dishwasher safe. The 70-ounce capacity is on the smaller end. Fortunately, it's easy to refill by just pouring a few cups of water in the main bowl. The small electric pump is propped up with a footer to reduce noise. The pump has a 10 foot long cord with an inline plug for easy cleaning. The polymer-carbon filter will need to be replaced monthly. The flow setting is inconveniently placed on the pump motor, so you'll have to disassemble the fountain to adjust flow. The dimensions of this fountain are 6.8″W x 10.5″L x 8.8″H.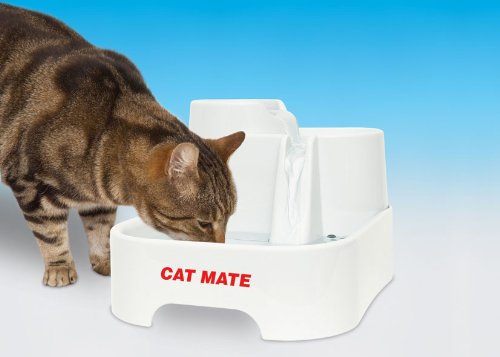 Functionality
The Cat Mate Pet Fountain is a functional cat fountain that most cats will love. While it doesn't have a free-falling water stream, it does have multiple levels to drink from in addition to a water slide. The capacity is on the low end but refilling this fountain is very easy.
Noise
If you're looking for a quiet pet fountain, look no further. The Cat Mate Pet Fountain is one of the quietest fountains on the market. There's no trickling water noise and no humming from the motor.
Maintenance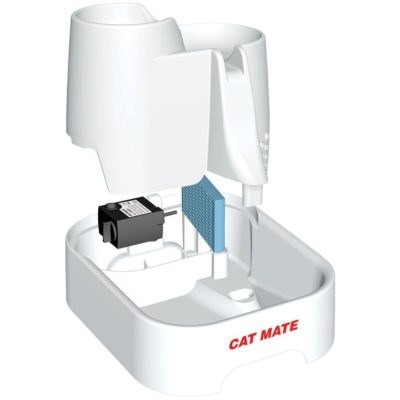 The Cat Mate Pet Fountain is much easier to clean than the PetSafe Drinkwell fountains, but not quite as painless as the Pioneer Pet Raindrop fountain. With only 2 main dishwasher-safe components, and minimal nooks and crannies, keeping this fountain clean isn't very difficult. A power-disconnect and cutout handholds makes moving this fountain a lot less cumbersome. This fountain doesn't have a mechanism to trap hair and solids, so the pump will have to be thoroughly cleaned more frequently. Since this fountain utilizes water slides instead of free-falling water, there's no splashing outside of the fountain.
Quality / Longevity
The Cat Mate Pet Fountain is a simply designed quality cat fountain. The plastic is durable and will last several years. Some owners have found that the pump wears out prematurely. But Cat Mate stands by their product by offering a 3-year guarantee. Plastic fountains aren't quite as hygienic as ceramic or stainless steel fountains so you'll have to be extra vigilant about keeping this fountain clean.
Pros
Easy to clean
Very quiet
Multiple levels to drink from
Dishwasher safe
Inexpensive
Cons
Low capacity
Flow control is inconveniently located
Below-average pump quality
Summary / Recommendations
The Cat Mate Pet Fountain is an affordable pet fountain that'll definitely get your cat's approval. And when you combine the great functionality and low price with a 3-year guarantee, the Cat Mate Pet Fountain is an exceptional value. Since the capacity is a bit on the lower end, we recommend changing out the water at least weekly to prevent the pump from clogging and burning out prematurely.

---
Filters
Cat Mate has replacement filters specifically intended for this pet fountain. These filters go for $2.50 each. We recommend getting the off-brand filters by PetStandard, which are virtually identical to the Cat Mate filters, but for $1.50 each. Based on a monthly filter change, the annual cost of replacement filters for the Cat Mate Pet Fountain is $18 – $30.


Original Post Date: 9/18/16
Updated: 12/7/17