Owner-Friendliness
9.0/10
Reduces Litter Tracking
9.5/10
Quality / Durability
9.5/10
Attractive Appearance
9.5/10
Pros
Modern design
Dog proof
Reduces litter tracking
Small footprint
Easy to clean
Cons
Very pricey
Not ideal for elderly or XL cats
Proprietary tarp liners are pricey
---
Summary
The Modkat Litter Box is by far the most attractive litter box we've seen. But the Modkat Litter Box is more than just a fashion statement for cat owners. This top-entry litter box is spacious and incredibly practical in its design. But it comes at a pretty hefty price.
---
Specifications
The Modkat Litter Box was designed to have aesthetic appeal for humans and functionality for cats. It comes in a variety of modern colors like orange, white, black, grey and tan.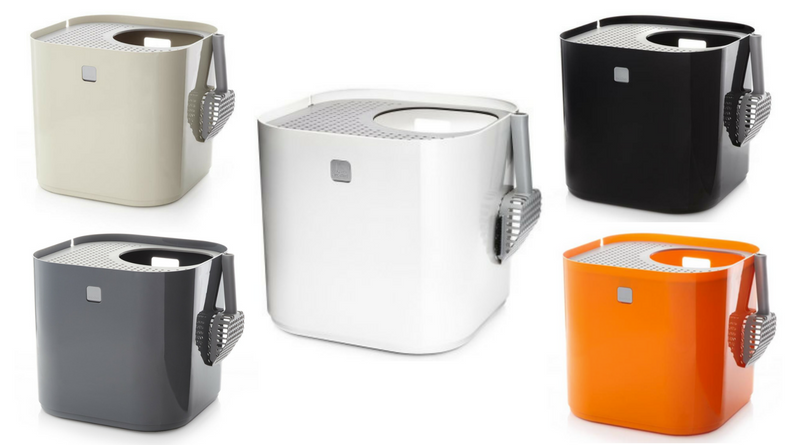 The Modkat Litter Box measures 16"L x 16"W x 15"H and it comes with a litter scoop that can be hung from the top. This top-entry litter box has a perforated swivel top with an 8.5" opening.

This litter box is intended to be used with a Modkat Tarp Liner. The freestanding liner fits inside the litter box and is 10 inches tall. These liners last approximately 3 months and cost $10 each.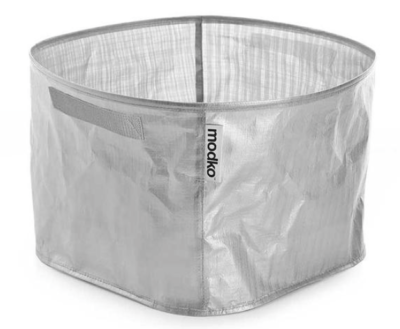 Cat-Friendliness
So is the Modkat Litter Box as popular with cats as it is with humans? Not entirely, but the majority of cats will adjust with no issues. Top-entry litter boxes are great for keeping litter inside, but they also make it more difficult for your cat to gain access. The Modkat Litter Box is sturdy enough to support the weight of even heavy cats, but large cats and elderly cats are most likely going to struggle a bit.
As for the size of this litter box, it is larger than average, but certainly far from the roomiest box we've seen. If your cat has the tendency to scratch at the sides of your litter box when they're done with their business, this could lead to problems with the tarp liners. Some owners have had issues with their cats pushing down the sides of the liners, which end up further reducing the capacity of the litter box. The 8.5" opening at the top of the litter box is definitely on the small end.
Owner-Friendliness
It doesn't get much better than this when it comes to owner-friendly design. Not only does the Modkat Litter Box look great in your home, but it's also packed with user-friendly features. The handy hanging scoop and the swivel lid make cleaning extremely easy. The tarp liners are convenient for changing out the litter, but they might be more of a nuisance if your cat has a habit of scratching at them.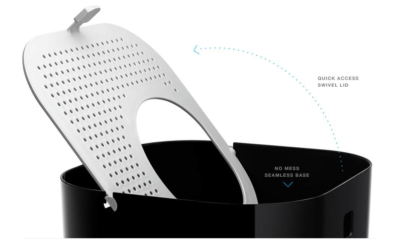 One of the main reasons owners will opt for a top-entry litter box like the Modkat Litter Box is to prevent dogs from getting inside and helping themselves to a treat. Eww. The Modkat Litter Box is great at keeping dogs out and providing cats with plenty of privacy. The enclosed design also minimizes odors.
Quality / Durability
The Modkat Litter Box is made of high-quality, durable plastic that will last for several years. Everything from the swivel top to the handles on this litter box is expertly designed. The tarp liners are made of heavy-duty, scratch-resistant material. Even the scoop is ergonomically designed. The designers at Modkat really did an exceptional job with this product.
Pros
Very attractive design
Minimizes litter tracking
Dog proof
Swivel top & removable liners make cleaning very easy
Comes with scoop that hangs on box
Good for high-peers / no leakage
Small footprint
Minimizes odors
Sturdy / durable
Cons
Very pricey
Not ideal for elderly cats
May be too small for large cats
Requires routine purchase of tarp liners ($10 each)
Tarp liners tend to get pushed down and reduce litter area
Summary / Recommendations
The Modkat Litter Box is one of our top-rated litter boxes. The modern design combined with feline-functionality make this litter box stand out amongst the rest. The price might seem a bit high for a non-automatic litter box, but the Modkat Litter Box really is in a class of its own. If you think of it more like a functional piece of modern furniture, then it's a lot easier to justify the price.
We highly recommend the Modkat Litter Box to owners who live in small, open apartments where an unsightly litter box is unacceptable. If having a pretty-looking litter box isn't a priority of yours, then we might suggest a less expensive alternative, like the Catit Jumbo Hooded Cat Litter Pan.
We do not recommend the Modkat Litter Box for elderly cats, obese cats, or cats that have difficulty jumping. The top-entry design of this litter box would likely prove to be a problem for these cats.
---
Modkat XL Litter Box is Finally Here!
The Modkat designers heard our requests and have created an extra large version of the Modkat Litter Box. Check out our review of the Modkat XL Litter Box!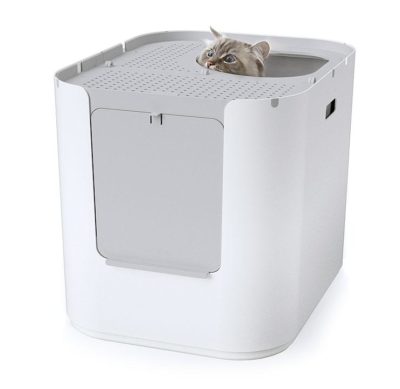 Original Post Date: 6/14/17
SaveSave