Petmate Top Entry Litter Pan Review
Petmate Top Entry Litter Pan
$20
---
Summary
The Petmate Top Entry Litter Pan is simple and effective in its design. Top entry litter boxes are great for families with curious dogs and they also reduce litter tracking. The Petmate Top Entry Litter Pan has a few user-friendly features that are worth consideration.
---
Specifications
The Petmate Top Entry Litter Pan looks like your average Rubbermaid storage bin, but before you decide to make your own, check out all the features this product offers. The base of the box is dark grey and has a white perforated lid. The hinged lid can be flipped open or it can be removed entirely. The holes in the lid are designed to allow litter to fall back into the box. The opening on the top is approximately 9" across. The overall dimensions of this litter box are 20"L x 15"W x 15"H and it has a built-in hook to hang your litter scoop. Petmate sells litter pan liners for this litter box that cost about $1 each.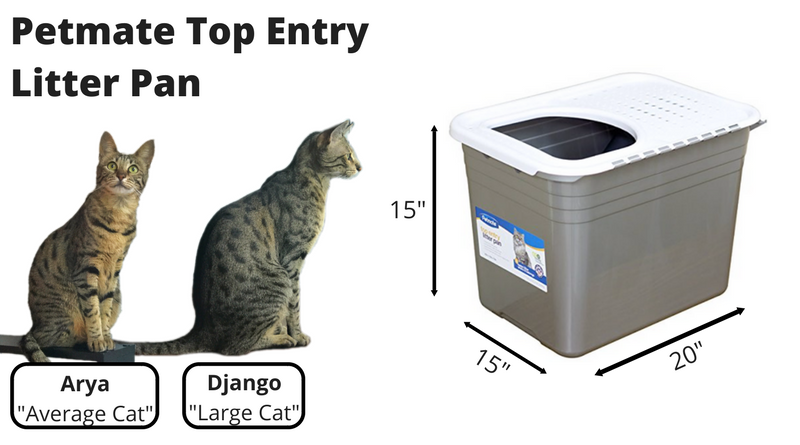 Cat-Friendliness
Top-entry litter boxes like the Petmate Top Entry Litter Pan are great for keeping litter inside, but they also make it more difficult for your cat to gain access. If you have an elderly or disabled cat, this type of litter box may not be the best choice. As far as the size goes, the Petmate Top Entry Litter Pan is one of the largest of this design. The 9" opening at the top should be sufficient for even large cats. Some cats prefer litter boxes that provide a good deal of privacy. And this litter box is great for that.
Owner-Friendliness
The hinged top on the litter box was designed to make cleaning less of a hassle. This feature works for some, but others have found that the lid tends to fall off anyways when flipping it open. The perforated holes on the top do a good job of catching litter if your cat uses the box as intended. Some owners have found that their cats jump out of the box onto the sides, which defeats the purpose of the top of this box. One recommendation is to place this litter box in a corner so your cat will be more inclined to jump onto the lid first.
The built-in hook for hanging a litter scoop is a nice feature. The Petmate litter pan liners are not very durable and could end up making cleaning even more of a nuisance when they tear. A lot of owners say this litter box is just as easy to clean without the liners.
Petmate has responded to all of the customer complaints with the grooved base by redesigning the base to be flat! This was by far the biggest issue owner's had with the old design of this litter box. The flat bottom is much easier to clean. This design change went into effect in early 2017.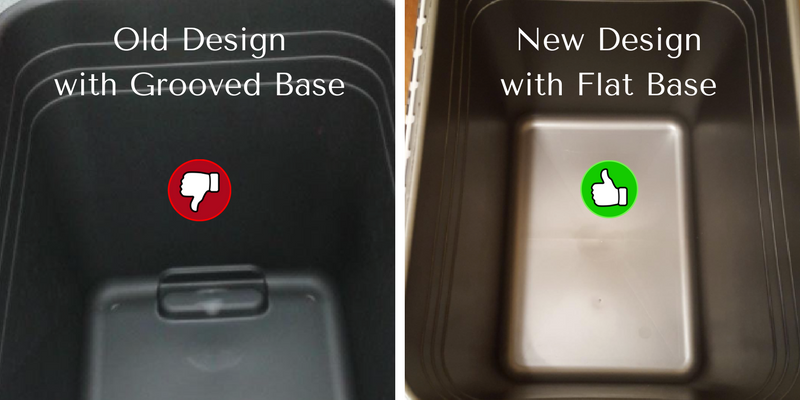 One of the main reasons owners will opt for a top-entry litter box like this one is to prevent dogs from getting inside. The Petmate Top Entry Litter Pan is great at keeping dogs out and providing cats with plenty of privacy. The enclosed design also minimizes odors.
Quality / Durability
The Petmate Top Entry Litter Pan is made of decent-quality, durable plastic that should last for several years. We wish the hinged top was designed a little better, but overall the quality is very good for the price.
Pros
Affordable price
Dog proof
New version has flat base
Minimizes litter tracking
Discrete appearance
Hinged top makes access easy
Built-in scoop hook
Good for high-peers / no leakage
Minimizes odors
Cons
Not ideal for elderly or disabled cats
Plastic liners tear easily
Summary / Recommendations
The Petmate Top Entry Litter Pan is an affordable top-entry litter box that is a bit more spacious than most. The design is simple, yet practical. It might not be as flashy as the Modkat Litter Box, but at a fraction of the price it's definitely worth considering.
We do not recommend the Petmate Top Entry Litter Pan for elderly cats, obese cats, or cats that have difficulty jumping. The top-entry design of this litter box would likely prove to be a problem for these cats.
Petmate Top Entry Litter Pan vs. Clevercat Top Entry Litter Box
The closest competitor to the Petmate Top Entry Litter Pan is probably the Clevercat Top Entry Litter Box. Both litter boxes are the same size and have very similar design, but there are a few differences. With Petmate's latest design update we think the Petmate Top Entry Litter Pan has a slight edge over the Clevercat Top Entry Litter Box.
*Old Petmate Top Entry Litter Pan design had grooves in base, but 2017 version has a flat base
Original Post Date: 6/9/17