Topeakmart 54-inch Cat Tree Tower Review
Find it on Topeakmart Find it on Amazon
---
Summary
The Topeakmart 54-inch Cat Tree Tower has everything your cat could want and more in a single cat tree. This jungle-gym of a cat tower has cubbies for hiding, posts for scratching, platforms for perching and even a dangling toy for playing.
---
Description / Specifications
The Topeakmart 54-inch Cat Tree Tower is made of particle board and wrapped with plush fabric. The cat tree stands just over 54″ tall and comes in light gray, dark gray, and beige. This cat tree has 3 small to medium sized scratching posts and a rectangular scratching board. There are 2 cubbies – one on the second level and another larger one on the third level. The top levels include 3 round platforms. There are also 2 dangling cat toy balls.
Overall Dimensions: 19.5″L x 19.5″W x 54"H
Item Weight: 30 pounds
Round Platforms: 12″ Diameter
Large Condo: 18″L x 11.2″W x 9.5″H
Small Condo: 11.2″L x 11.2″W x 9.5″H
Scratching Board/Ramp: 15.7″L x 8.6″W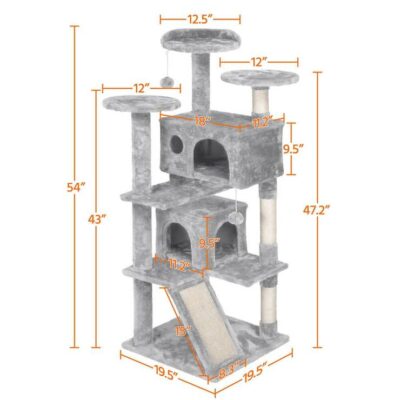 Assembly
Assembly is a bit time-consuming due to the fact that there are so many parts. Fortunately the directions are easy to follow. Depending on your level of experience putting together IKEA-like furniture, this project will take you anywhere from 30 minutes to an hour.
Appearance
Compared to your average carpeted pet store cat tree, the Topeakmart 54-inch Cat Tree Tower is a huge improvement. The plush carpet has a nice look and feel to it and you can get it in your choice of color to match your home decor. It isn't going to blend in like some of the ultra-modern cat trees we've reviewed, but that might not be a top priority for you once you take a look at the reasonable price.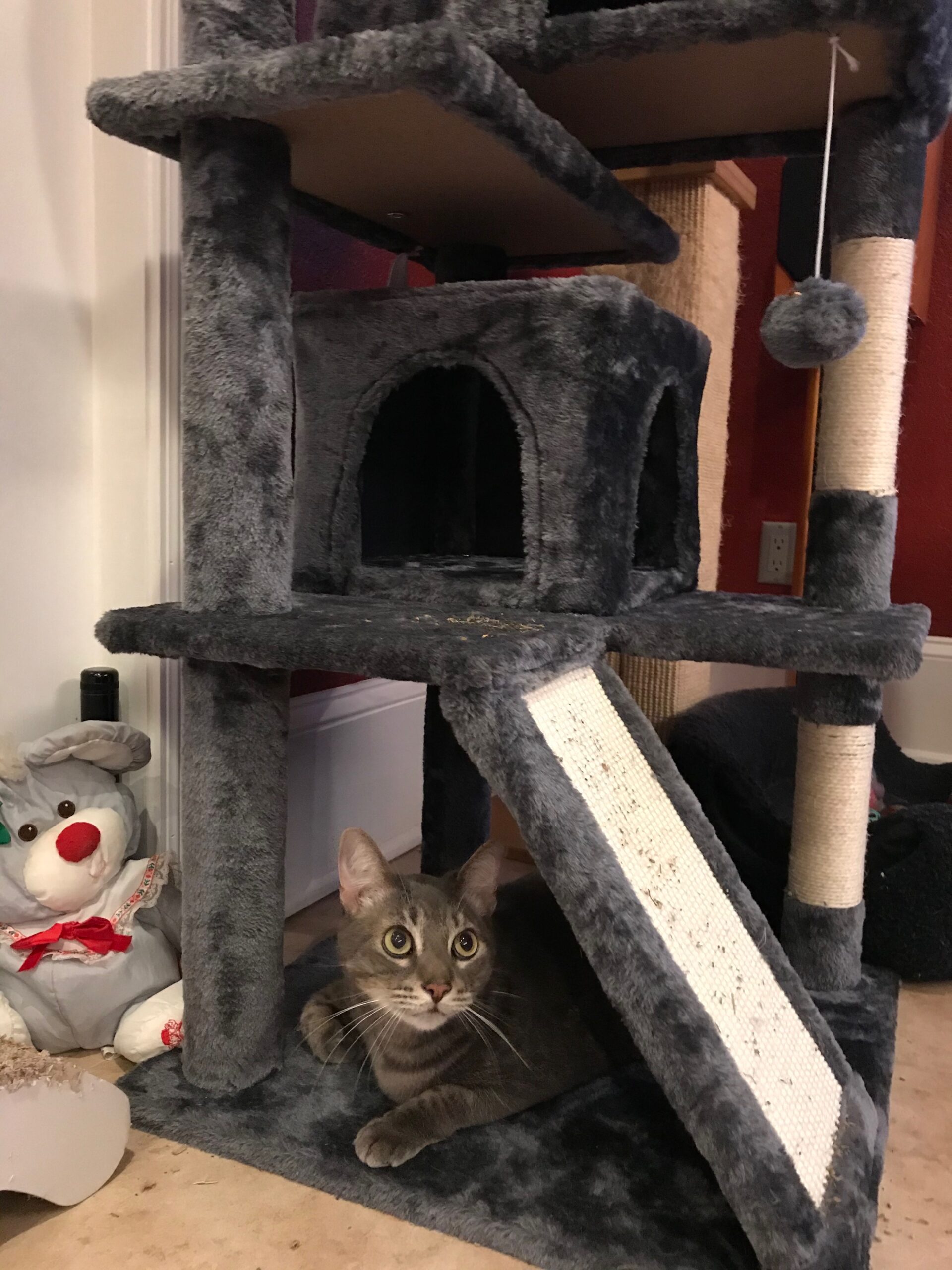 Cat-Friendliness
The Topeakmart 54-inch Cat Tree Tower has all kinds of great features that your cat will love. The cubbies are adequately sized for medium-sized cats (like our reviewer, Oscar). The overall size of this cat tree and number of platforms makes it ideal for multi-cat families.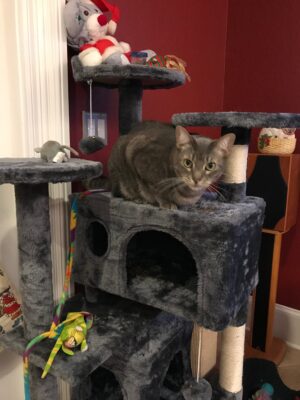 We also love the fact that this cat tree has both scratching posts and a scratching board. Some cats are picky when it comes to scratching material, and we have had better luck with the sisal board. In addition to serving as a scratching post, the rectangular scratcher is also a ramp that would be very helpful for geriatric cats that aren't able to jump as high.
Oscar took awhile to warm up to this cat tree, but that was to be expected as he's never had one before. As you can see from the pictures we've enticed him to get comfortable on the cat tree with the help of lots of toys and a bit of cat nip.
Quality
The Topeakmart 54-inch Cat Tree Tower is a great value. You get a lot of cat-friendly features all wrapped into a single cat tree. All of the pieces fit together seamlessly and the plush carpet should hold up nicely over time.
The quality of design for this particular model is a big improvement over some of the smaller cat trees offered by Topeakmart. This 54-inch cat tree tower is truly designed for your average sized cat and the platforms are spaced appropriately for optimal climbing.
Pros
Great value
Multiple levels are good for climbing
Lots of features
Multi-cat friendly
Cons
Assembly is somewhat time-consuming
Looks like a cat tree
Summary / Recommendations
The Topeakmart 54-inch Cat Tree Tower is an excellent value. This multi-cat friendly cat tower is perfectly sized for small and medium sized cats. And all those scratching posts are a huge plus! If you're in the market for a nice looking carpeted cat tree, the Topeakmart 54-inch Cat Tree Tower is definitely worth consideration.
---
FTC Disclosure: We received this cat tree from Topeakmart at no charge. Receiving this product for free did not influence our review. All reviews on Kitty Loaf reflect our honest and unbiased opinions.
Be sure to check out Topeakmart's Blog.
Original Post Date: 1/29/21