FrontPet Bubble Cat Tree Review
---
Summary
The Bubble Cat Tree by FrontPet is a modern jungle gym for your cat. At first glance this cat tree might look more like a fancy piece of artwork than furniture for your cat. And that's one of the reasons we like it! The 4 carpeted platforms provide ample room for climbing and lounging. The FrontPet Bubble Cat Tree is very reasonably priced for the quality.
---
Specifications
The FrontPet Bubble Cat Tree stands 48 inches tall and has 4 carpeted platforms. It is made of premium wood and comes unfinished.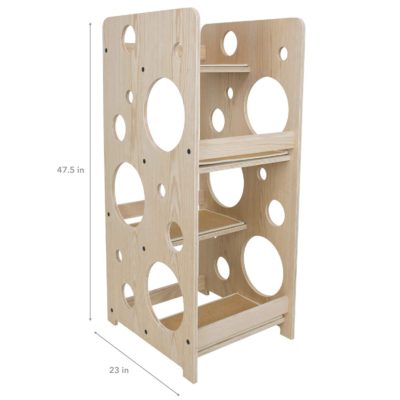 Overall Dimensions: 23"L x 18"W x 48"H
Item Weight: 48 pounds
Platform Dimensions: 18.25"L x 11"W x 0.75"H
Assembly
The FrontPet Bubble Cat Tree can be assembled in about 30 minutes with 2 people. All hardware is included and the directions are very straightforward. This cat tree comes unfinished and can be used as-is or painted/stained to match your home décor.
Appearance
The FrontPet Bubble Cat Tree will definitely make a statement in any room. The small footprint and rectangular shape make it perfect for placing along a wall or using as a standalone room divider. Since it comes unfinished, you're able to paint or stain this cat tree to match your particular design taste.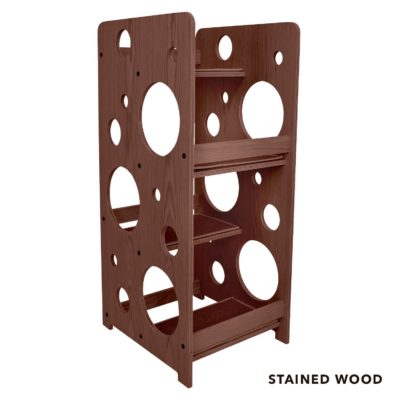 Cat-Friendliness
The Bubble Cat Tree is a mid-height cat tree that's 4 feet tall. While it doesn't provide quite as much vertical climbing space as FrontPet's Apex Cat Tree, it does offer something else that the Apex Cat Tree does not – Privacy! A lot of cats enjoy having a spot to lounge that's off the ground, but not fully-exposed. The Bubble Cat Tree provides just enough privacy for your cat to keep an eye on all the action without feeling like everyone can see them.
The 4 carpeted platforms are appropriately sized for climbing and lounging. The first step probably won't get much attention since it is basically at floor level. The shape of this cat tree makes it a bit more stable than some of the competition. Overall, the FrontPet Bubble Cat Tree gets above-average marks for cat-friendliness.
Quality
The Bubble Cat Tree is made of furniture-grade wood and comes with quality hardware. Although, the screw caps have been known to come off a little too easily. Having a cat tree made almost entirely of wood means that it should last a very long time, and it should be much easier to clean than a carpet cat tree. The only part of the Bubble Cat Tree that is likely to show signs of wear is the carpet on the platforms. Thankfully, the carpet pieces are attached with Velcro, which will make replacing them very easy.
Pros
Modern design
Multi-cat friendly
Customizable color/stain options
Replaceable Velcro carpet
Cons
Not very tall
Comes unfinished
No scratching surfaces
Screw caps fall off
Summary / Recommendations
The FrontPet Bubble Cat Tree is an artistically designed piece of furniture that your cat will definitely appreciate. This cat tree is great for climbing and lounging, and it provides just the right amount of privacy.
If you want to provide your cat with the optimal set-up, try pairing the FrontPet Bubble Cat Tree with a scratching post and cat shelving.
Original Post Date: 11/16/17
SaveSave
SaveSave