PetSafe Drinkwell Avalon Pet Fountain Review
Drinkwell Avalon Pet Fountain
$80
---
Summary
The PetSafe Drinkwell Avalon Pet Fountain uses the same basic design as the Pagoda Fountain with dual free-falling water streams, but features a more traditional rounded fountain shape. If you don't mind the sound of trickling water and you're prepared to pay a little extra for the attractive design, the PetSafe Drinkwell Avalon Pet Fountain is worth your consideration.
---
Description / Features
The PetSafe Drinkwell Avalon Pet Fountain is a 70 ounce capacity ceramic fountain with dual free-falling water spouts, an upper bowl and a lower bowl. The PetSafe Drinkwell Avalon Pet Fountain comes in white and red.
This pet fountain has a standard low-voltage 12V submersible pump (Model SP400-LV) with an inline plug. This particular pump does not have any flow control settings. The Avalon Fountain has two main ceramic components – the rounded bowl and the tower. Both pieces are dishwasher safe on the top shelf. The tower portion conceals the pump and two filters. To refill this fountain, simply pour water directly into the main bowl area. The fountain dimensions are approximately 10.25″ in diameter at the widest part by 6.25″ tall.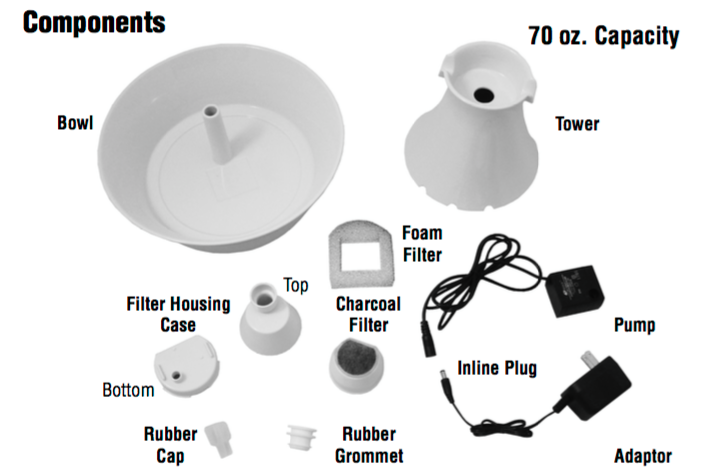 Functionality
The PetSafe Drinkwell Pagoda Pet Fountain was one of PetSafe's first ceramic pet fountains. The Avalon Pet Fountain is nearly identical to the Pagoda Fountain in functionality. The only real difference between Pagoda Fountain and the Avalon Fountain is the shape and color selection. Both fountains have a capacity of approximately 70 ounces and use the same type of filters and pump. The 70 ounce capacity is pretty minimal, especially for multi-cat households, but that's the tradeoff of getting a modern looking fountain with a small footprint.
The dual free-falling water streams combined with both an upper and lower bowl provide your cat with plenty of options for drinking from this fountain. The water streams gently splash into the lower bowl without making any mess outside of the fountain. The lower rounded bowl of the PetSafe Drinkwell Avalon Pet Fountain makes it slightly easier for your cat to drink from compared to the rectangular bowl on the Pagoda Fountain. But neither of these fountains are ideal for cats that prefer to drink from a bowl over a faucet-like stream.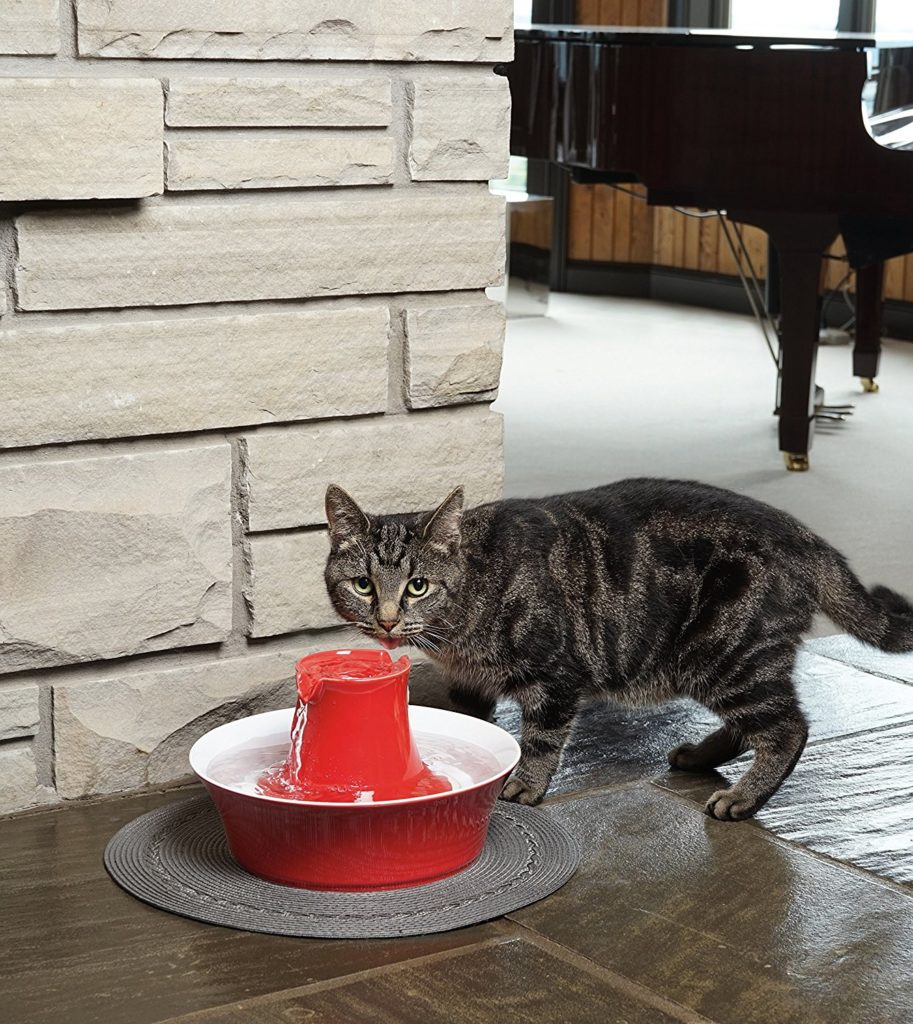 Noise
The PetSafe Drinkwell Avalon Pet Fountain is far from silent. The sound of trickling or splashing water can be heard from the next room over. Some people think this fountain is soothing and tranquil-sounding. Others find the noise it makes unbearable. If you fall into the category of people who dislike the sound of trickling water, do not buy this fountain or the Pagoda Fountain. Both fountains have free-falling water streams without any ramp or slide to dampen the splashing sound. The pump motor is very quiet and probably won't be heard over the sound of the trickling water.
Maintenance
When it comes to selecting the perfect pet fountain, ease of maintenance is usually at the top of most people's list. If you've ever tried cleaning the Drinkwell Platinum Pet Fountain, you'll know what we are talking about! Fortunately, the Avalon Fountain is very easy to clean. The 2 ceramic components can be hand washed or put in the dishwasher. The rounded bowl makes this fountain even easier to wipe out since there aren't any corners or small crevices.
Since this fountain is only 70 ounces in capacity it will need to be refilled or topped off every day or two. If you keep the fountain on a counter near a sink this is very easy to do.
Changing out the filters is a bit more cumbersome than on some fountains, but it still doesn't take too much effort. The carbon filter, which sits inside a plastic housing, needs to be replaced every 2 to 4 weeks to maintain fresh water. The foam filter only needs to be replaced every 4 to 8 weeks, but it requires fully disassembling the fountain. These filters are not required for operation of the Avalon Pet Fountain, however they are highly recommended to maintain freshness. Cats can be very picky when it comes to drinking water, and if their fountain isn't clean enough, they probably won't use it at all.
As with all electrical pet fountains, you'll want to fully disassemble and clean the pump and motor at least monthly to ensure it doesn't get clogged with debris. When you start to notice reduced flow or additional motor noise, it is usually a sign to check the pump. But on the Avalon fountain, it is almost always the carbon filter that is to blame for these things.  These single cell carbon filters have a tendency to get nasty rather quickly and clog your fountain.
Quality / Longevity
The PetSafe Drinkwell Avalon Pet Fountain is made of heavy-duty ceramic which is a great alternative to plastic. Ceramic is more hygienic than plastic and it will not cause feline acne. The only real downside to ceramic is that it is very breakable and can be chipped quite easily if you're not careful.
Pros
Attractive design
Ceramic is more hygienic than plastic
Dishwasher safe / Easy to clean
Power disconnect
2 color options
Small footprint
Cons
Pricey
Noisy trickling water sound
Filters need to be changed frequently
Low capacity / needs to be filled regularly
Summary / Recommendations
The PetSafe Drinkwell Avalon Pet Fountain is a modern-looking functional cat fountain with great hygienic benefits. The free-falling water streams are very popular amongst cats. This ceramic fountain is pricier than most, but as long as you don't mind the sound of trickling water, you most likely won't be disappointed.
Since this cat fountain has a pretty low capacity, we don't recommend it for multi-cat families unless you are extra-diligent about refilling and cleaning this fountain.
If you don't like the sound of splashing water, but still want an attractive ceramic fountain, take our advice and get the PetSafe Drinkwell Seascape Pet Fountain instead.
---
Filters
Foam filters for the PetSafe Drinkwell Avalon Pet Fountain can be purchased through the manufacturer for about $2 each or from off-brand suppliers for less than $1 each. The single cell carbon filters range in price from $1 to $2 each. We've used both the name brand PetSafe filters and the off-brand PetStandard filters and haven't noticed any difference in quality or longevity.


Replacement Pump
The PetSafe Drinkwell Avalon Pet Fountain comes with a 12V submersible pump, model SP400-LV, PAC00-13206. This is the same pump that is used in the Drinkwell Pagoda, Seascape, Sedona, Zen, Multi-Tier, and 360 pet fountains. You can find replacement pumps for this fountain at the link below.
Original Post Date: 2/20/18