Modkat XL Litter Box Review
Modkat XL Litter Box
$150
Owner-Friendliness
9.5/10
Reduces Litter Tracking
9.5/10
Quality / Durability
9.5/10
Attractive Appearance
9.5/10
Pros
Modern design
Dog proof
Reduces litter tracking
Dual-functionality
Extra large litter area
Cons
Very pricey
Only one color option
Proprietary tarp liners are pricey
---
Summary
The Modkat XL Litter Box is the latest must-have litter box for cat owners who insist on having both style and functionality from their cat products. The Modkat XL incorporates even more cat friendly features than the regular Modkat Litter Box, and it manages to do so without sacrificing the modern aesthetics.
---
Specifications
The Modkat XL Litter Box is larger than the original Modkat Litter Box and it can be configured as either a front-entry or top-entry litter box. It is currently offered in only one color – white. The perforated lid flips open to make cleaning very easy. Any litter that is caught on the top of the lid will slide back into the box without making a mess.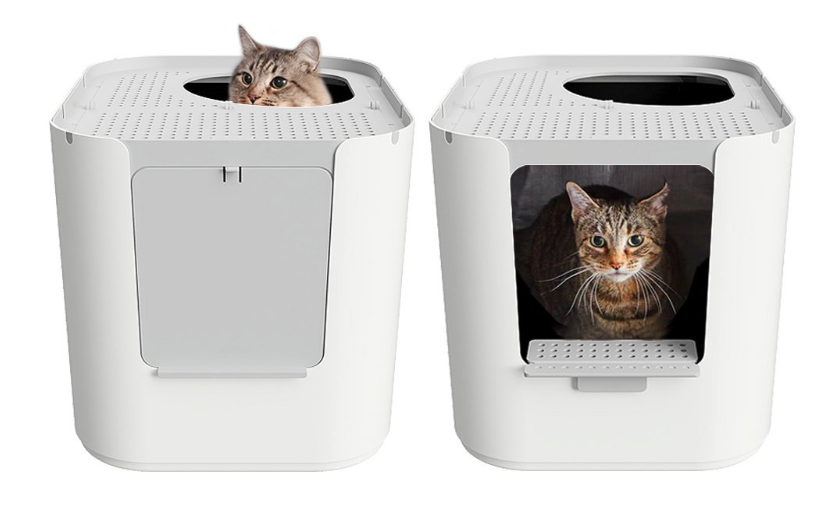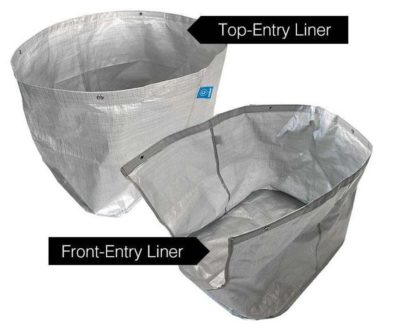 Dimensions: 21″ L x 16.5″ W x 17″ H
Top Opening: ~9.5″ diameter
Front Opening: 8.5″W x 9.5″H
Front Opening Height from Floor: 6″
Litter Area: ~320 square inches
Footprint: 350 square inches
The Modkat XL Litter Box comes with a tarp liner for each configuration. These liners last approximately 3 months and cost about $13 each. The Top-Entry Liner is Type C and the Front-Entry Liner is Type D. The liners snap into place for a snug fit inside the litter box.
Cat-Friendliness
The designers at Modkat listened to our requests for a a more cat-friendly litter box design and they came out with the Modkat XL. The Modkat XL has two pretty major improvements over the original Modkat Litter Box and they are both geared at making this box more cat friendly. As the name implies, this litter box is larger than the original. With a litter area of 320 square inches, the Modkat XL is certainly large enough for even the biggest cats. To see how it stacks up in size, check out our Litter Box Comparison Table.
The other cat-friendly improvement is the introduction of a front-entry configuration. Front or side-entry litter boxes tend to be the most popular amongst cats. Top-entry litter boxes generally take some time for cats to adjust to. With he Modkat XL, you can let your cat decide which configuration he prefers. Both openings are adequately sized to make access very easy for your cat.
Arya and Django have used the Modkat XL in both configurations, but when given the option, they prefer to use it as a front-entry litter box.
Owner-Friendliness
Cat owners are naturally drawn to Modkat's line-up of litter boxes because they look nicer than pretty much everything else on the market. When you make the decision to get a Modkat Litter Box you won't have to worry about stashing it away in a closet because of its unsightly appearance. The Modkat Litter Box and Modkat XL Litter Box are not easily recognizable as litter boxes and that's one of the main reasons we love them. The Modkat XL is a jumbo-sized litter box that still looks great. This litter box is a great example of how you don't have to sacrifice aestheti
The functionality and owner-friendly features like the perforated flip lid, the scoop hanger, the side handles, and the tarp liners really set these litter boxes apart. We were first introduced to Modkat's tarp liners when we purchased the Modkat Flip Litter Box. I honestly didn't have high expectations for these liners initially. I figured they would be more trouble than they were worth. But after several months of use, I am now sold. The tarp liners are a really nice feature that make cleaning out the litter box so much easier.
Quality / Durability
The Modkat XL Litter Box is made of high-quality, durable plastic that should last a lifetime. The initial assembly of this litter box wasn't quiet as easy as I had anticipated. It took a good deal of force to get the front step to snap correctly into place. Some owners have had issues with the top lid not fitting securely, but we didn't encounter that issue. Overall, the design and materials are top of the line. But you kind of have to expect that when you're paying this much for a litter box.
Pros
Very attractive design
Extra large litter area
Minimizes litter tracking
Top-Entry or Front-Entry configuration options
Dog proof
Flip top & removable liners make cleaning very easy
Comes with scoop that hangs on box
Good for high-peers / no leakage
Sturdy / durable
Cons
Very pricey
Only available in one color
Tarp liners are pricey
Summary / Recommendations
The Modkat XL is a versatile, cat-friendly litter box with loads of style. The Modkat XL is a high-tech modern litter box that won't disappoint. The quality craftsmanship and attention to detail make the Modkat XL our new favorite standard litter box in the house.
Style and quality come at a pretty hefty price with this litter box. If you're in need of a jumbo-sized litter box but you don't want it to be an eyesore, the Modkat XL is really the only option currently on the market. The Catit Jumbo Hooded Cat Litter Pan is our next biggest litter box, and it is offered at a very reasonable price. But it is far from attractive. Then there's the IRIS Top Entry Litter Box that looks great, but it isn't nearly as big and it is lacking in cat-friendly features.
---
FTC Disclosure: We received this litter box from Modkat at no charge. Receiving this product for free did not influence our review. All reviews on Kitty Loaf reflect our honest and unbiased opinions.
SaveSave
SaveSave