Best Litter Boxes for Savannah Cats
Finding the right litter box for your cat isn't always an easy task. But when your cat is quite a bit larger and wilder than an average cat, then you have a real challenge. Savannah Cats come in all different sizes, but even the small ones are often taller and lankier than normal domestic cats. Finding a litter box that is large enough for your Savannah Cat should be your primary mission. Durability and the design of the litter box are some other factors to consider. We've done our research and with the help of our resident Savannah Cats, Arya and Django, we've found the best litter boxes on the market for Savannah Cats.
Bigger is almost always better when it comes to finding the most cat-friendly litter box. Our top-rated standard litter box is the Catit Jumbo Hooded Cat Litter Pan, and it definitely lives up to its "Jumbo" name. This mega-sized litter box has approximately 300 square inches of litter area. To put that in perspective, that's about 40% larger than the average basic litter pan.  Check out our Litter Box Comparison Table to see dimensions and features for a number of popular litter boxes.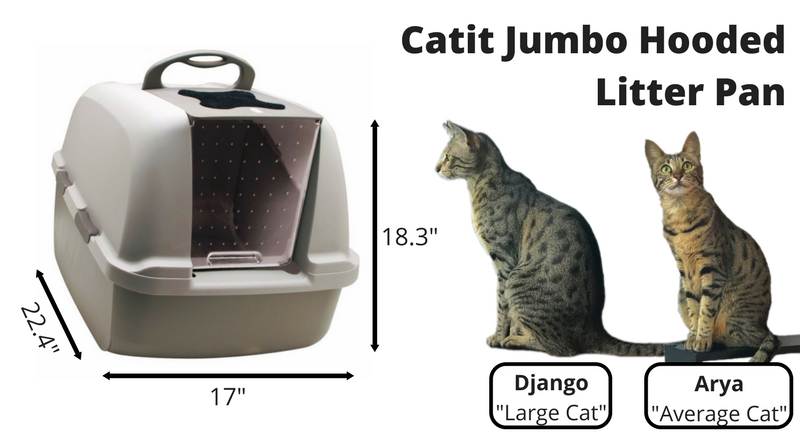 Not all Savannah Cats like enclosed litter boxes, but that is largely due to the fact that most of them just aren't tall enough. The Catit Jumbo Hooded Cat Litter Pan is just over 18" tall, which is about 3" taller than a standard enclosed or top-entry litter box. Having an enclosed litter box is very helpful for Savannah Cat owners because it contains litter and protects against leaking caused by high-peers.
Another great Savannah-friendly litter box is the Nature's Miracle High-Sided Litter Box. The tapered sides on this litter box make it very roomy. The 11" sides are high enough to reduce the majority of litter scatter.
Our top-rated automatic litter box, the Litter Robot Open-Air III, took some time for our Savannah Cats to adjust to, but once they got the hang of it there would be no going back to standard litter boxes. While the Litter Robot Open Air doesn't have anywhere near the litter bed area of our top-rated standard litter boxes, it doesn't need to. Since the Litter Robot self-cleans after each use, your cat never has to worry about digging excessively to find a clean spot in the box to do their business. The newly designed Open Air model allows for more head room and interior space than the previous model. So as long as your big Savannah Cat has enough room to enter the Litter Robot and turn around, you shouldn't have any problems with this litter box.
DIY Extra Large Litter Box
If you're still not convinced that these jumbo litter boxes are large enough for your Savannah Cat, then the next best option is to make one yourself. Whether you have a house full of domestic cats or one giant Serval, a homemade litter box could very well save you a lot of money and headaches.
Start off by choosing a durable storage bin like one of the ones below. We recommend the 30-gallon size, but you can always go bigger!


Savannah Cats are very agile jumpers and shouldn't have any problem using a very high-sided litter box. So for the easiest Do-It-Yourself litter box, just purchase a storage bin and remove the top. Done.
If your Savannah Cat isn't a fan of jumping into their litter box, you can add a step next to the box or you can cut a hole in the side of the storage box using a utility knife or handsaw. Make sure you file down any sharp edges after you've made any alterations to the plastic box.