The Refined Feline Lotus Branch Cat Shelf Review
Lotus Branch Cat Shelf
$140
---
Summary
The Lotus Branch Cat Shelf by The Refined Feline is one of our top-rated cat shelves. The beautiful modern design, quality craftsmanship, and cat functionality put the Lotus Branch Cat Shelf a level above the competition.
---
Specifications
The Lotus Branch Cat Shelf is in the same design family as our top-rated Lotus Cat Tower. You can also check out the accompanying Lotus Leaf Cat Shelf review here. The shelf is made of solid wood and bent ply and comes in two finishes, Mahogany and Espresso. The shelf is covered with replaceable Berber carpet that is attached with Velcro. Mounting hardware and screwdriver are included.
Overall Dimensions: 61"L x 10.5"W x 12"H
Item Weight: 18 pounds
Mounting Hole Spacing: 16" apart for wall beam/stud installation
Assembly
As with all of the Refined Feline products that we've reviewed, installation is very straightforward and all of the required hardware is provided. The Lotus Branch Cat Shelf is a heavy-duty shelf that might require 2 people to install. The pre-drilled holes in the shelf are thoughtfully spaced 16" apart so it can be mounted on the wall beam or stud. To support the weight of the shelf and your cat, it is highly recommended that this shelf be installed in at least 2 studs. Matching screw caps are provided.
Appearance
The Refined Feline has succeeded in creating a cat shelf that can double as a piece of artwork! The flowing, curved design is modern and elegant. When combined with the Lotus Leaf Cat Shelf and Lotus Cat Tower, this family of cat furniture can really transform the look of a room…for the better!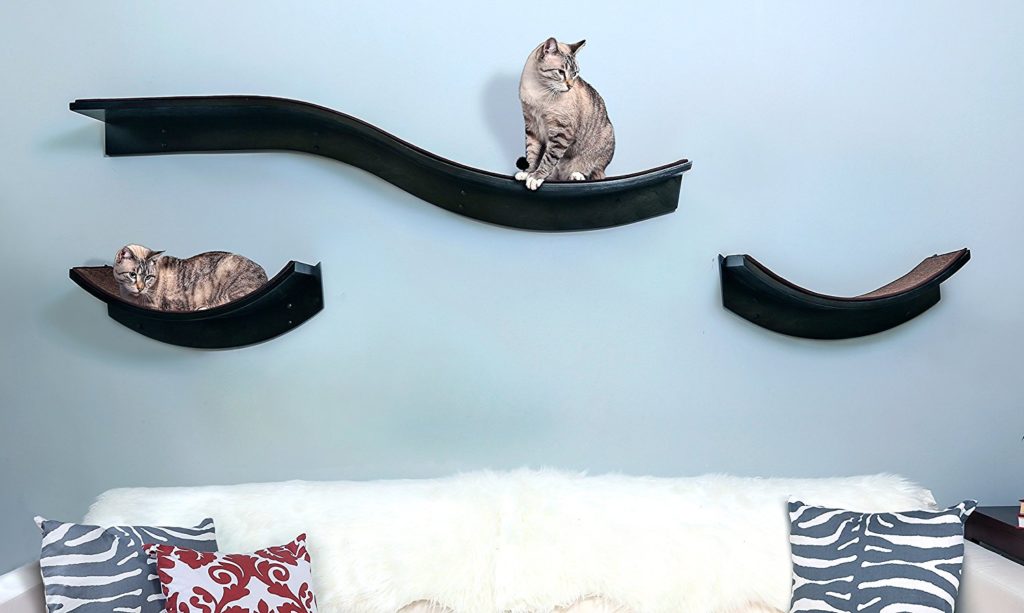 Cat-Friendliness
At just over 5 feet long, The Refined Feline Lotus Branch Cat Shelf provides a ton of space for your cat to traverse the room. It is one of the largest cat shelves we've come across. The curved design and carpeted surface make it ideal for both climbing and lounging.
If mounted correctly, the Lotus Branch Cat Shelf is incredibly sturdy. It should be able to support the weight of multiple cats.
Quality
The Refined Feline has a reputation for making quality cat furniture. And the Lotus Branch Cat Shelf is no exception. This heavy-duty cat shelf is built to last a lifetime. When the carpet begins to show signs of wear, it can easily be removed and replaced. Carpet replacements for the Lotus Leaf can be purchased for $25 at www.therefinedfeline.com
Pros
Attractive and modern
Very large surface
Replaceable Velcro Carpet
Great for climbing and lounging
Heavy Duty
Matches Lotus Cat Tower and Lotus Leaf Cat Shelf
Cons
Pricey
Might be too big for some rooms
Only available in one orientation
Summary / Recommendations
The Refined Feline Lotus Branch, along with the Lotus Leaf are our top-rated cat shelves. These cat shelves are on the pricey side, but you get what you pay for. Sure you can find attractive looking shelving at Home Depot, but it probably won't be designed to support the weight of your jumping cat. And then there are the jungle-gym cat walls that look ridiculous, but your cat will love them. The Lotus Branch Cat Shelf is the perfect cat shelf because it is both functional and attractive.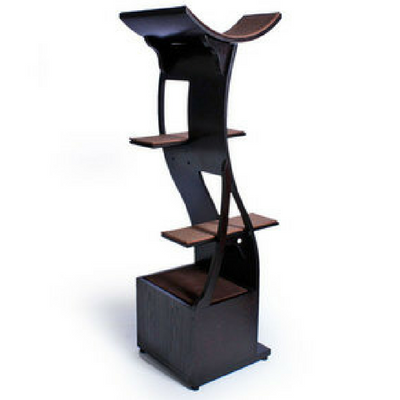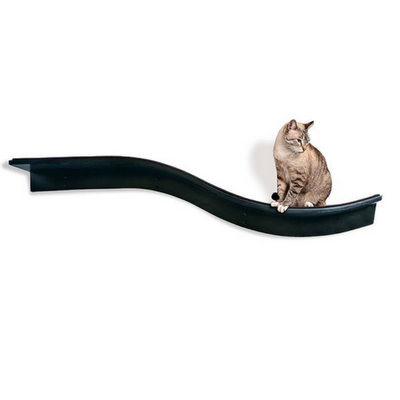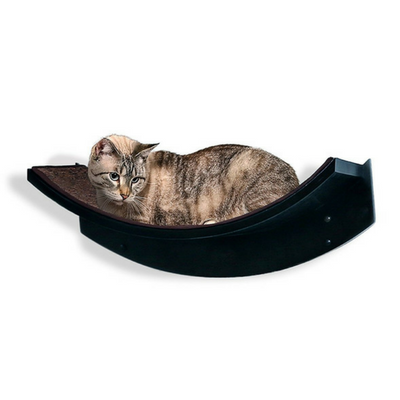 The Lotus Branch Cat Shelf looks great when paired with the matching Lotus Leaf Cat Shelf and the Lotus Cat Tower.
---
We're not sure which cat shelf came first, the Refined Feline Lotus Branch or the Urban Pet Haus Wave Cat Perch, but it's hard to ignore the similarities. If you're trying to determine which family of cat shelves is right for you, here's a quick comparison of the two cat shelves.
Lotus Branch vs. Wave Perch, Large
SaveSave