IRIS Open Top Cat Litter Box Review
IRIS Open Top Litter Box
$10
Owner-Friendliness
7.5/10
Reduces Litter Tracking
8.0/10
Quality / Durability
8.5/10
Attractive Appearance
8.0/10
Pros
Affordable
Decent size
Comes with litter scoop
Reduces litter tracking
Cons
Grooves on base make it difficult to clean
May be too small for XL cats
Sides are not leak-proof
---
Summary
The IRIS Open Top Cat Litter Box is an affordable and practical solution for cat owners looking to reduce litter tracking. This litter box is about twice as tall as your standard litter pan, and it's roomy enough for your average sized cat.
---
Specifications
The IRIS Open Top Cat Litter Box is manufactured in the USA. It is 19"L x 15"W x 11.75"H and comes in a variety of colors including Navy, Black, Gray, Red, and Off White. The IRIS Open Top Cat Litter Box comes with a matching litter scoop that is designed to fit on top of the litter box.
Cat-Friendliness
When it comes to the ideal litter box, your cat is going to want something that is large enough for them to move around in but at the same time provides some degree of privacy. While the IRIS Open Top Cat Litter Box isn't the largest litter box on the market, it is definitely bigger than average. Cats under 15 pounds shouldn't have any problem using this litter box. The opening at the front of the litter box makes entry very easy. The high walls provide privacy without being too enclosed.
The below pictures are of our 14-pound, large-framed Savannah cat, Django, using the IRIS Litter Box.
Owner-Friendliness
Here's where things get complicated. Cat owners want a litter box that looks good, doesn't take up a lot of space, isn't a pain to clean, and minimizes the amount of litter that ends up on the floor. A bit of compromise is definitely required. The IRIS Open Top Cat Litter Box gets high marks for its ability to minimize litter tracking.
The open top design makes cleaning easier than with an enclosed litter box. But one minor design flaw makes the IRIS Open Top Cat Litter Box more difficult to clean than it should be. There are several grooves along the base of the pan that make cleaning a nuisance, particularly if your cat is a digger!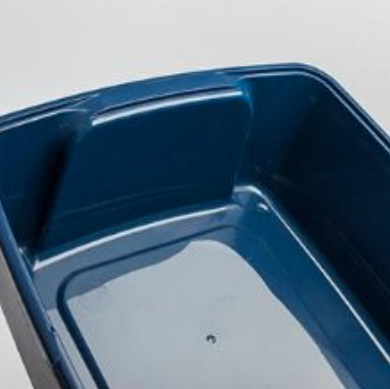 The IRIS Open Top Cat Litter Box comes with a very small litter scoop that fits nicely along the edge of the litter box. This is a great feature if you're ok with using a small scoop. Another drawback of this litter box is that there isn't a good seal between the top shield portion and the base. If you cat is a high-peer, this litter box probably isn't a good option for you.
Quality / Durability
This particular litter box isn't made of the heaviest duty plastic, but it should last several years. The IRIS Open Top Cat Litter Box is composed of 2 separate pieces that snap together. Over time the snugness of the fit loosens and you may have issues with the pieces becoming separated. We've had 2 of these litter boxes for the past 3 years and while they are still in decent condition, we've swapped them out for the larger, better looking Modkat Flip Litter Box and the IRIS Top Entry Litter Box.
Pros
Great value
Includes scoop that fits nicely on litter box
Minimizes litter tracking
Open-top design makes it easy to clean
Cons
Grooves on bottom of pan make cleaning difficult
May not be large enough for cats over 15 pounds
No seal to prevent leakage between base and walls
Litter scoop is very small
Summary / Recommendations
If you're looking for a litter box that'll reduce the amount of litter that gets tracked or kicked outside of the litter box, the IRIS Open Top Cat Litter Box is a great choice. It really is one of the best values on the market.
We do not recommend the IRIS Open Top Litter Box if you are looking for a leak-proof litter box for cats who tend to pee or spray while standing up. This litter box does not have any mechanism for preventing liquids from leaking out between the base and the walls.
Original Post Date: 6/2/17
SaveSave
SaveSave