Sofa-Scratcher Squared Cat Scratching Post Review
Sofa-Scratcher Squared Scratching Post
$60
---
Summary
The Sofa-Scratcher Squared Cat Scratching Post is the latest generation of Sofa-Scratcher that is tailored to fit couches with 90-degree corners. This version is just as effective at protecting your furniture from cat scratches as the original.
---
Description / Specifications
The Sofa-Scratcher Squared Cat Scratching Post builds off the original Sofa-Scratcher's design, but makes it more suitable for couches with 90-degree corners.
The dimensions of the Sofa-Scratcher Squared Cat Scratching post are 24" tall with 5.5" wide sides. The post is secured to a clear polycarbonate base that measures 7" x 9".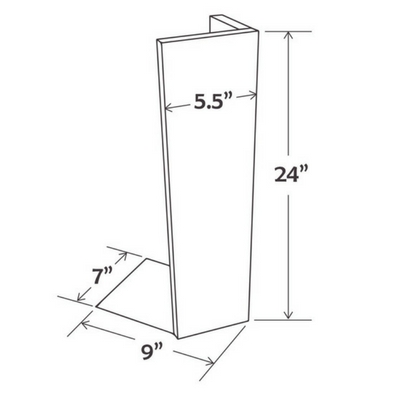 Overall Dimensions: 24″H x 5.5″W x 5.5″L
Weight: 7 pounds
The Sofa-Scratcher Squared Cat Scratching Post is made of woven sisal fabric and pressed wood, and it has a carpeted backing to protect your furniture. It comes in the following 9 color options: Black, Charcoal, Moss, Brown, Light Brown, Olive, Gold, Beige, and Ivory.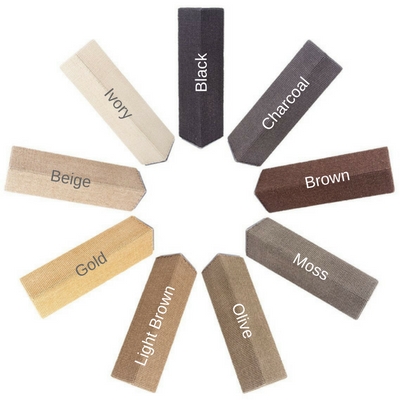 Appearance
The Sofa-Scratcher Squared Cat Scratching Post is an unobtrusive scratching post that'll blend in nicely with your furniture. Since all sofas are designed differently, make sure you take measurements to ensure this scratching post will fit on your particular furniture. Most scratching posts are only available in beige. The Sofa-Scratcher Squared comes in 9 different colors which makes it look more like a piece of furniture than a scratching post.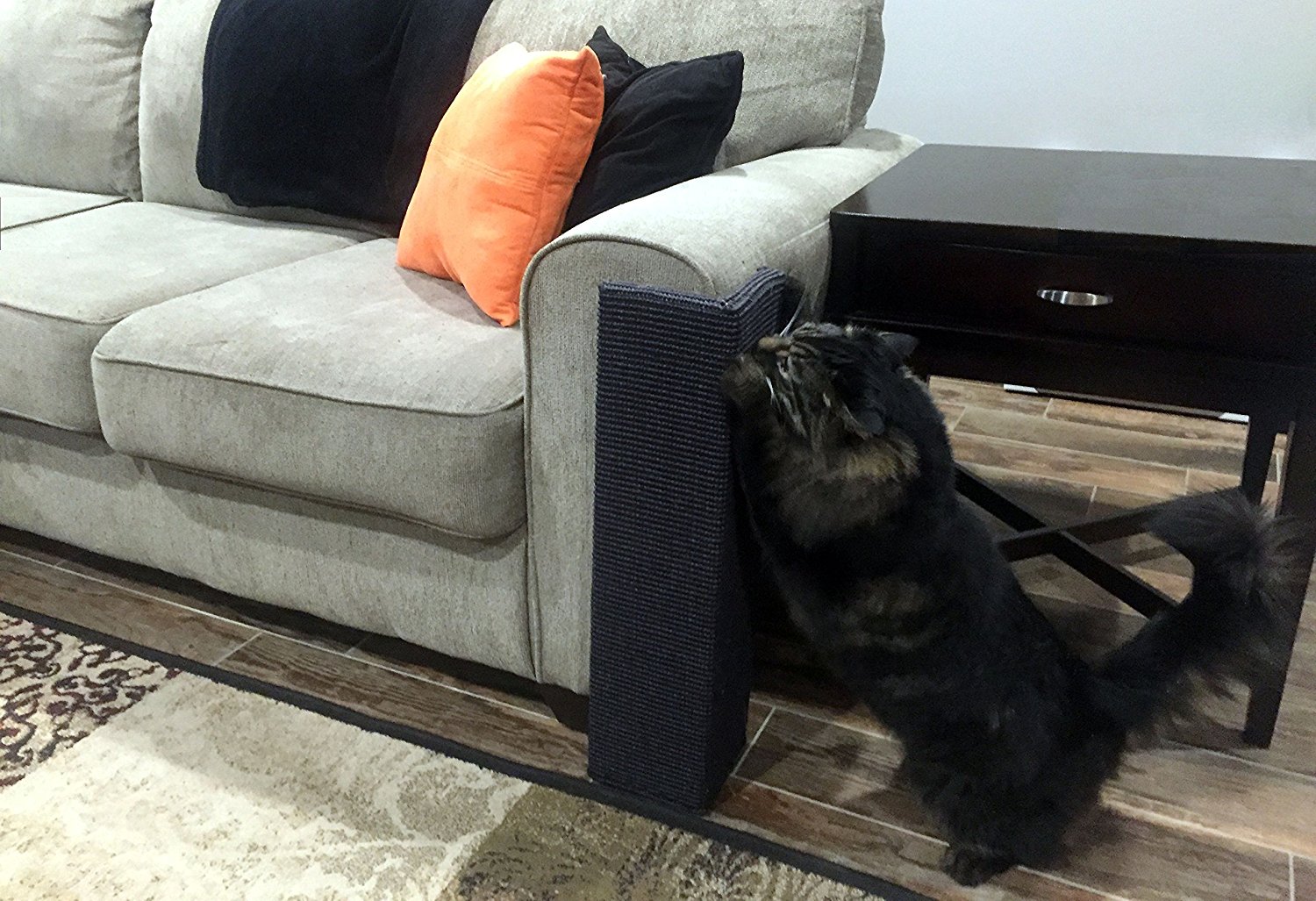 Owner-Friendliness
Just like the original Sofa-Scratcher, the Sofa-Scratcher Squared Cat Scratching Post gets really high marks for owner-friendliness. This scratching post not only gives your cat an appropriate place to scratch, but it also protects your furniture. Most cat owners who have had their sofa targeted as a scratching post by their cats are very happy to have this product. Assembly is very easy and the woven sisal fiber is virtually mess-free.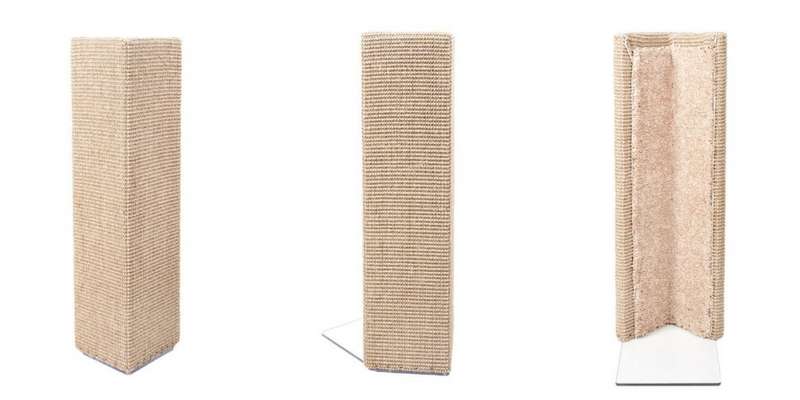 Cat-Friendliness
The living room sofa is usually a prime target for cat scratching because it is perfectly positioned to attract the most attention. Cats scratch for a number of reasons, but marking their territory is probably the reason your cat has targeted your precious sofa. If your cat scratcher isn't positioned in the optimal location by your cat's standards, it simply won't get used. The manufacturers of the Sofa-Scratcher Squared have identified this habit amongst cats and they created the perfect solution that'll please both owners and cats.
At 24" high, the Sofa-Scratcher Squared is a decent height for scratching. It's not quite as tall as the SmartCat Ultimate Scratching Post, but it is definitely taller than average. Fibrous woven sisal is an awesome scratching surface, but it might take some time for your cats to adjust. We recommend putting catnip on it and gently scratching it with your fingernails to encourage your cat to use it.
This scratching post is fairly stable, but a lot depends on your particular couch. This scratching post uses a thin polycarbonate base that slides underneath a leg of your couch to stabilize it. Even with the weight of the leg, a lot of owners have found that the scratcher wobbles or tilts when their cats scratch at it. This usually isn't enough to deter your cat from using it, but if the base of this scratching post doesn't fit snuggly under a leg of your couch, you might have to find a better way to stabilize it. Some people have used a weighted brick or found a way to attach the scratcher base to the sofa leg.
Quality / Longevity
The Sofa-Scratcher Squared Cat Scratching Post is made of high-quality materials that are meant to last a lot longer than standard scratching posts. The woven sisal fabric is tough enough to withstand vigorous scratching for several years and still look nice. The carpet backing is thoughtfully designed to protect your furniture from getting snagged.
Designing a scratching post that is supposed to fit alongside countless types of couches is no easy task. Everyone's sofa is unique and it would be impossible to account for every type of couch design. The biggest complaint with the Sofa-Scratcher Cat Scratching Post is that the polycarbonate base is rather flimsy and not long enough in a lot of situations to properly stabilize the scratching post.
Pros
Unobtrusive design
Quality, long-lasting materials
Lots of color options
Protects furniture
Cons
Pricey
Doesn't fit all couches
Base is somewhat flimsy
Summary / Recommendations
If you're looking for an unobtrusive, quality-made scratching post to protect your squared sofa legs, the Sofa-Scratcher Squared Cat Scratching Post is an excellent solution. This scratching post might be pricier than most, but that's because it is designed to last much longer.
If you're considering this scratching post, we highly recommend you take some measurements of your couch to see if it will be a good fit. The Sofa-Scratcher Squared Cat Scratching Post works best on sofas that have very defined 90-degree corners. If your couch has wide, rounded corners, the original Sofa-Scratcher Cat Scratching Post might be a better option.
Original Post Date: 12/3/17