PetSafe Drinkwell Seascape Pet Fountain Review
Drinkwell Seascape Pet Fountain
$90
Quality / Longevity
9.0/10
Pros
Modern design
Ceramic is more hygienic than plastic
Extremely quiet
Dishwasher Safe
Small footprint
Cons
Pricey
Small capacity
Some cats prefer free-falling water streams
Filters need to be changed frequently
---
Summary
The PetSafe Drinkwell Seascape Pet Fountain is the best-looking and quietest pet fountain on the market. This modern ceramic fountain is a top pick for cat owners and a favorite amongst cats as well. It might take your cat a little longer to adjust to the bubbler-type fountain, but have some patience and they'll eventually come around.
---
Description / Features
The PetSafe Drinkwell Seascape Pet Fountain is a 70-ounce fountain that consists of 2 main ceramic parts that are dishwasher-safe. This fountain is only available in grey. The inner bowl is white. Water is pumped through the spherical center piece and gently bubbles out the top and cascades over the sides. You can simply pour water directly into the main bowl area to refill this fountain.
A standard low-voltage 12V submersible pump (Model SP400-LV) with an inline plug is included with this fountain. This particular pump does not have any flow control settings.  The Seascape Fountain uses 2 filters – a foam filter for solids removal and a carbon filter for improving taste.  The dimensions of this fountain are 8.5″ wide x 10.25″ long x 5.25″ tall.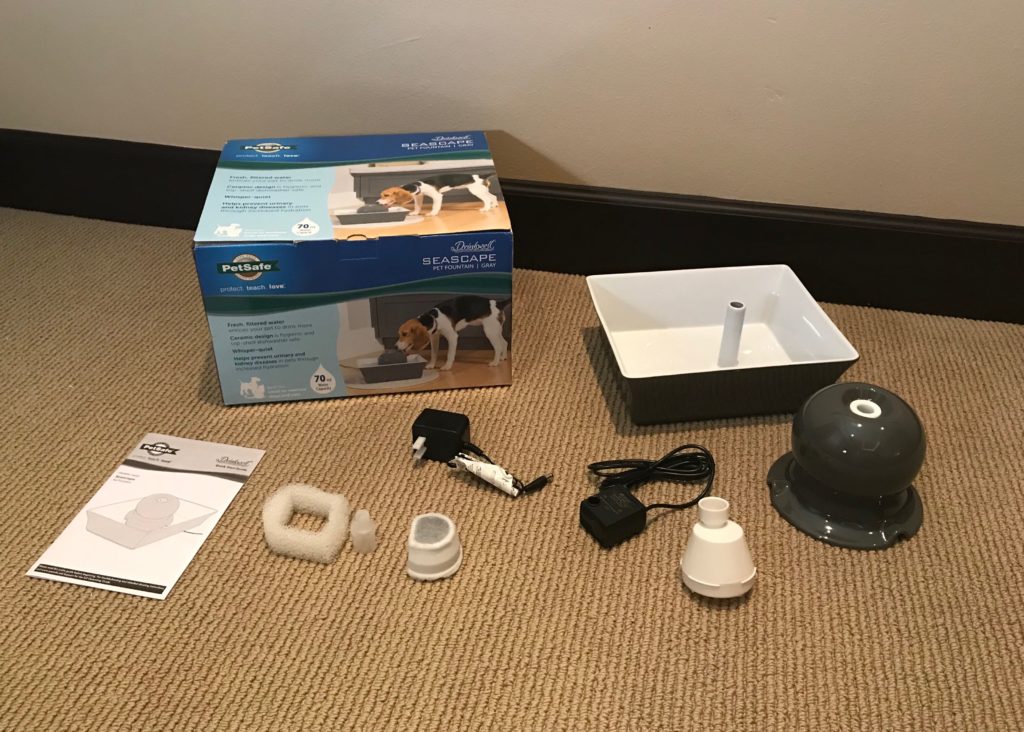 Functionality
The PetSafe Drinkwell Seascape Pet Fountain is one of PetSafe's newest fountains. They've utilized a lot of the basic design elements from the Pagoda and Avalon Pet Fountains. All three of these fountains have the same 70 ounce capacity, are made of the same quality ceramic material, and utilize the same filters and pump. But the main difference is that the Seascape Pet Fountain creates a bubbling/cascading water flow whereas the Pagoda and Avalon fountains have dual free-falling water streams.
Cats are drawn to moving water because that's an indication of freshness. The PetSafe Drinkwell Seascape Pet Fountain does a good job of circulating water, but it isn't quite as obvious because the water gently bubbles over the centerpiece. It might take your cat a bit longer to adjust to this type of fountain if they are used to drinking from a faucet. On the other hand, if your cat is accustomed to drinking from a regular water bowl, this fountain will be an easy transition.
Cats can drink from the top of the fountain where the water bubbles out and from the sides of the ball. One of our cats likes drinking from the corners of the bowl even though that area is pretty small and difficult to access if the water level isn't high.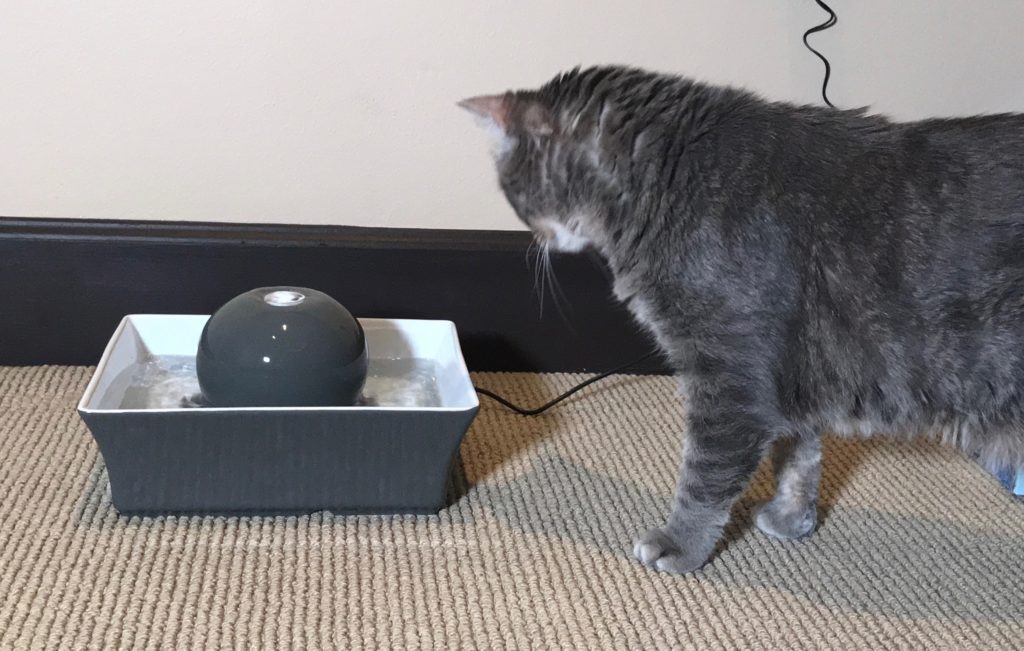 Noise
The PetSafe Drinkwell Seascape Pet Fountain is the quietest fountain we've come across. It is virtually silent. There is absolutely no splashing water noise at all. The pump motor can barely be heard when this fountain is properly maintained.
Maintenance
The Seascape Pet Fountain gets high marks for user-friendliness and ongoing maintenance. The fountain is easy to assemble and disassemble. The ceramic pieces are dishwasher-safe on the top shelf. For quick cleanings, it is super easy to wipe out this fountain as there are no small crevices. Since the fountain is lower capacity, you'll have to refill it or top it off a bit more frequently than with larger fountains. We keep our Seascape Fountain next to the bathroom sink which makes refilling very convenient.
Replacing the filters on this fountain is a bit more difficult than on some pet fountains, but the overall effort is minimal. The carbon filter needs to be put in a plastic casing that can be a bit tricky to open when it's wet. The manufacturer recommends replacing the carbon filter every 2 to 4 weeks. With 2 cats, we've found that they need to be replaced every 3 weeks or else this filter starts to clog the fountain and make the pump have to work a lot harder (and louder).
The foam filter lasts quite a bit longer and only needs to be changed every 4 to 8 weeks. To change out the foam filter, you pretty much have to disassemble the entire fountain. But since you should be cleaning out the pump and motor monthly, this really shouldn't be a big deal. The carbon filter and foam filters aren't required for you to operate the Seascape Pet Fountain, but they are highly recommended to maintain the freshness of the water.
Quality / Longevity
The PetSafe Drinkwell Seascape Pet Fountain is made of high quality ceramic which is more hygienic than plastic and it will not cause feline acne. This fountain will last a very long time as long as you're careful about not banging it around.
Pros
Whisper quiet
Stylish, modern design
Ceramic is more hygienic than plastic
Dishwasher safe / Easy to clean
Power disconnect
Small footprint
Cons
Pricey
Bubbler type fountain might take some cats more time to adjust to
Filters need to be changed frequently
Low capacity / needs to be filled regularly
Only one color option
Summary / Recommendations
If you're looking for a modern ceramic cat fountain that is virtually silent, the PetSafe Drinkwell Seascape Pet Fountain should be your number one choice. The PetSafe Drinkwell Seascape Pet Fountain is our top-rated ceramic fountain and we highly recommend it for anyone looking for a more hygienic alternative to plastic fountains.
---
Filters
Foam filters for the PetSafe Drinkwell Seascape Pet Fountain can be purchased through the manufacturer for about $2 each or from off-brand suppliers like PetStandard for less than $1 each. The single cell carbon filters range in price from $1 to $2 each. We've used both the name brand PetSafe filters and the off-brand PetStandard filters and haven't noticed any difference in quality or longevity.


Replacement Pump
The PetSafe Drinkwell Seascape Pet Fountain comes with a 12V submersible pump, model SP400-LV, PAC00-13206. This is the same pump that is used in the Drinkwell Pagoda, Avalon, Sedona, Zen, Multi-Tier, and 360 pet fountains. You can find replacement pumps for this fountain at the link below.
Original Post Date: 2/26/18