Omega Paw Litter Box Review
Owner-Friendliness
8.5/10
Reduces Litter Tracking
9.0/10
Quality / Durability
7.5/10
Attractive Appearance
8.0/10
Pros
Easy to clean
Good value
Faster than scooping
Reduces litter tracking
Cons
Large footprint
Requires a lot of space to roll
Clasps break easily
Small litter area
---
Summary
The Omega Paw Self-Cleaning Litter Box is a pretty cool invention that'll put an end to scooping. The Roll'n Clean technology is a great concept, but definitely has some room for improvement. Although it is called a self-cleaning litter box, we've grouped it with the standard and semi-automatic litter boxes because some labor is required.
---
Specifications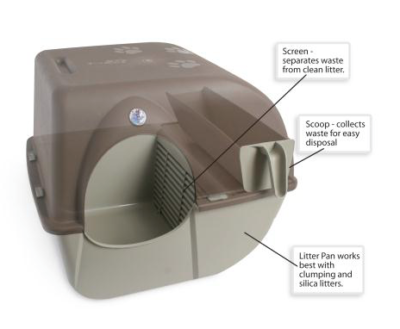 The Omega Paw Litter Box comes in 2 sizes, Regular and Large. The dimensions of the Regular Omega Paw Litter Box are 17″L x 20″W x 18″H. The dimensions of the large Omega Paw Litter Box are 19.5″L x 22″W x 20″H. For the purposes of this review we are looking at the large size. The inside dimensions of the litter bed are 16.5"L x 13"W.
This is a covered, front entry litter box with a 9" diameter opening that is approximately 7" off the ground. The litter box comes in pewter and requires some assembly. The top and base pieces of this litter box are held together with sliding plastic fasteners. The manufacturer identifies this litter box as "self-cleaning", however there are no electrical components and manual cleaning is required.
Litter Requirements
This particular litter box requires the use of clumping cat litter. Crystal litter or other types of litter that do not adhere to liquid waste will not work. For best results, we recommend using a high quality clumping litter like these products below.


How it Works
The Omega Paw Roll'n Clean Litter Box has a specially designed grill inside that separates clumped litter from clean litter. To clean the litter box you will need to slowly roll the entire box approximately 180 degrees to the right, and then back to its original position. Waste is deposited into a tray that can be emptied into the trash.

Cat-Friendliness
The Omega Paw Self-Cleaning Litter Box might look like a giant litter box from the outside, but the inside dimensions of the litter area are quite small. The 215 square inch litter bed is one of the smallest we've seen. The grate system and waste drawer take up a good portion of the litter box.
The 9" opening is definitely large enough to accommodate big cats. The opening is about 7" off the ground, which makes the step up higher than average. This could be a concern if you have an elderly or disabled cat. Overall, this litter box provides good privacy and sufficient space for most cats.
Owner-Friendliness
There are a lot of mixed feelings when it comes to the Omega Paw Litter Box. For us, it really comes down to the value you put on not having to scoop. This litter box reduces your actual contact with soiled litter. Rather than scooping, waste is collected in a drawer for convenient disposal. If you find the task of scooping litter absolutely disgusting, then you'll have an easier time looking past some of this litter box's shortcomings.
For the most part, this litter box takes less time to clean than scooping. But make sure you roll the box slow enough or else you'll have an extra big mess. Even with the higher than average opening height on this litter box, litter tends to fall out during the rolling process. You'll have reduced litter tracking from your cat, but the litter that comes out while cleaning largely offsets that.
The Omega Paw Self-Cleaning Litter Box has a huge footprint and requires even more space to clean. You'll need at least 4 feet of space around this litter box to be able to roll it on its end.
The enclosed design of this litter box is good for reducing odors and trapping dust. Fresh litter can be added through the front opening without having to remove the litter box lid. For thorough cleaning and changing out the litter, the lid can be removed by unfastening the clips.
Some owners have complained that a lot of clean litter ends up in the waste drawer. We have found that this mostly happens when the litter box is rolled too quickly or the litter box is overfilled with litter.
Quality / Durability
The Omega Paw Roll'n Clean Litter Box is made of decent quality plastic and should hold up for several years. The sliding clips that fasten the top and bottom pieces are poorly made and have been known to break.
Pros
Faster than scooping
Reduces contact with waste
Good value
Easy to use
Minimizes litter tracking
Minimizes odors
Cons
Small litter area
Very large footprint
Requires a lot of space to roll
Only works with clumping cat litter
Not ideal for XL cats
Clasps break easily
Summary / Recommendations
The Omega Paw Self-Cleaning Litter Box is a one-of-a-kind litter box that'll eliminate the need to scoop. The Roll'n Clean technology is similar to that of our top-rated automatic litter box, the Litter-Robot Open Air. But at a fraction of the price, the Omega Paw Litter Box is worth consideration.
We recommend this litter box to cat owners who are looking for an affordable alternative to an automatic, self-cleaning litter box.
We do not recommend the Omega Paw Roll'n Clean Litter Box for elderly cats, obese cats, or cats that have difficulty jumping due to its high opening and small litter area.
We do not recommend this litter box for cat owners with limited space due to its very large footprint and required area for rolling.
---
Omega Paw has come out with a new and improved version of this litter box. The Omega Paw Elite Roll'n Clean Litter Box has some flashy chrome accents, a litter-catching step and redesigned clasps. Check it out at the link below.


Original Post Date: 6/3/17