CAT AMAZING Best Cat Toy Ever! Review
CAT AMAZING - Best Cat Toy Ever!
$16
Find the CAT AMAZING Best Cat Toy Ever! on Amazon
---
The CAT AMAZING Best Cat Toy Ever truly lives up to its name. This seemingly simple cardboard cat toy was an immediate hit with the whole family (Arya, Django, and Puddles). For once our cats were more interested in the toy than the box that it came in. But that's probably because the toy is a box… and it has treats inside!
The CAT AMAZING Best Cat Toy Ever is shipped flat and requires some assembly. Fortunately, the directions were easy to follow and we had it assembled in just a few quick minutes. The cardboard itself is durable and shows minimal signs of wear after sustaining extensive abuse.
This interactive cat toy is designed with three color-coded compartments with varying levels of difficulty.

Once we had the box assembled, we dropped a handful of freeze-dried chicken treats into several of the holes on top. Within seconds our cats were able to retrieve their first treats from the green beginner compartment. It took a few more minutes before they conquered the intermediate level. And I'm proud to say that Django, the Top-Cat of the house was the first to succeed at retrieving treats from the difficult compartment.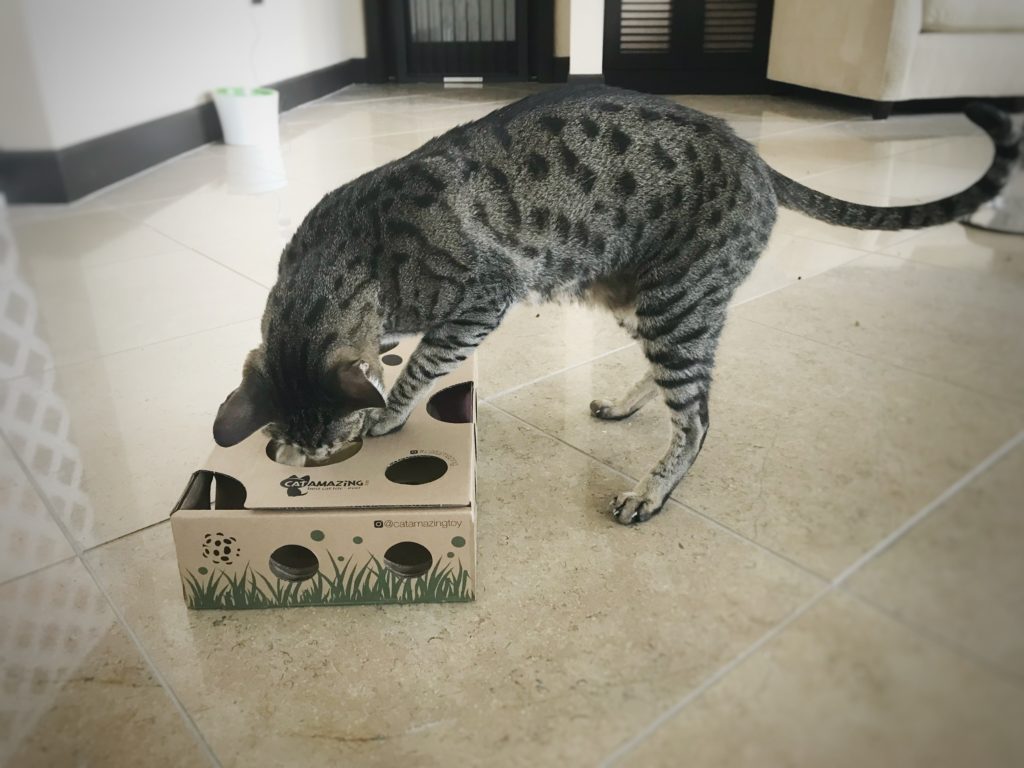 But what was even more impressive about this toy was the level of engagement it had with all of our cats, and with Django in particular. I was amazed at his attention span. Django will spend over 5 minutes rummaging and knocking this box across the floor until every last treat has been extracted. 5 minutes might not seem like a long time, but cats aren't known to have very high attention spans. We're lucky if a typical interactive cat toy receives even a minute of attention from our high-energy Savannah Cats.
And as far as owner-friendliness is concerned, it doesn't get much easier than this. Just add treats and sit back and watch as your cats go completely insane. We've found that wand toys are typically the most engaging interactive cat toys on the market, but the CAT AMAZING Best Cat Toy Ever has proven itself to be just as entertaining.
---
FTC Disclosure: We received this cat toy from CAT AMAZING at no charge. Receiving this product for free did not influence our review. All reviews on Kitty Loaf reflect our honest and unbiased opinions.
SaveSave
SaveSave
SaveSave