Curve Wall-Mounted Cat Perch Review
---
Summary
The Curve Wall-Mounted Cat Perch by Akemi Tanaka is one of our top-rated cat shelves. This cat shelf blends in seamlessly with your modern décor while providing your cat with a prime spot to lounge.
---
Specifications
In 2008 Akemi Tanaka designed Curve with the goal of creating a modern piece of cat furniture that would blend in with her personal décor. Curve is now available in 2 types of veneer bentwood: Birch and Walnut and 3 cushion colors: Cream, Blue, and Stripe. The snap on cushion has a removable and machine washable cushion cover.


Overall Dimensions: 20"L x 14"W x 4.5"H
Item Weight: 6.7 pounds
Mounting Hole Spacing: 16" apart for wall beam/stud installation
Assembly
Installing the Curve Wall-Mounted Cat Perch is very straightforward. The 2 mounting brackets are thoughtfully spaced 16" apart for wall beam installation. Mounting hardware is provided for standard residential installation. After Curve is mounted to your wall, just snap on the cushion and it is ready for use.
Appearance
The Curve Wall-Mounted Cat Perch is beautifully designed to fit in with just about any type of décor. Its slim profile and clean curved design look great on a wall or under a windowsill. With several wood and cushion options, you can customize your Curve Cat Shelf to fit your style. Unlike the Refined Feline Lotus Leaf Cat Shelf, Curve is more easily identifiable as cat furniture due to the thick cushion.  But we still think it looks great.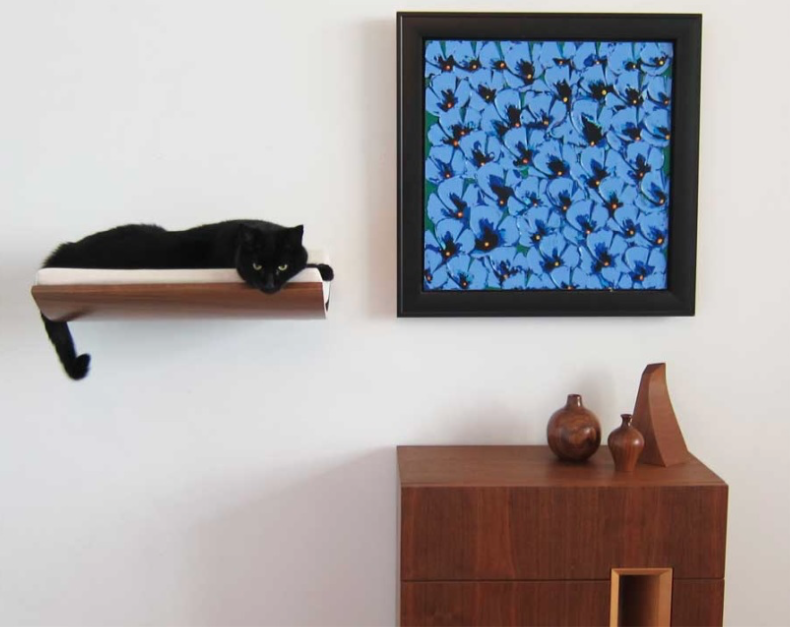 Cat-Friendliness
When it comes to cat-friendliness, this is where Curve really shines. The large curved shelf is optimally sized and shaped for cat comfort. The thick cushion makes this shelf even more appealing to your cats for lounging. Whether they use it as a perch or a bed, your cat most likely won't waste any time taking ownership of their Curve.
If mounted correctly, the Curve Wall-Mounted Cat Perch can support up to 25 pounds of weight.
Quality
Quality craftsmanship and design is evident with the Curve Wall-Mounted Cat Perch. This cat shelf is made of wood veneer and a lot of attention went into the details. If the cushions get dirty, you can easily remove the covers and wash them. Once they get worn out, you can buy replacement covers for $25 at www.akemitanaka.com
Pros
Attractive and modern
Large surface
Replaceable cushion covers
Great for lounging
Heavy-duty
Several color options available
Cons
Pricey
Not big enough for multiple cats
Summary / Recommendations
The Curve Wall-Mounted Cat Perch offers the perfect balance between owner-friendly aesthetics and cat-friendly functionality. Curve makes an excellent windowsill perch or an elevated bed. Multiple Curve shelves could be combined to create more space for your cat to traverse the room, but that could get pretty pricey.
We recommend having at least one Curve per cat in multi-cat households. With a maximum weight limit of 25 pounds, these shelves are only intended for single cat use.
SaveSave