Urban Pet Haus Wave Cat Perch, Large Review
---
Summary
The Urban Pet Haus Wave Cat Perch, Large is a beautifully designed piece of functional cat furniture that you'll love just as much as your cat. The large Wave Perch has over 3.5 feet of space for climbing and lounging.
---
Specifications
The Urban Pet Haus Wave Cat Perch comes in two sizes – Small and Large. This review is focused on the Large Wave Perch. The Urban Pet Haus Wave Cat Perch is made of wood veneer and has a dark zebrawood engineered finish. The top surface is covered with dark brown felt padding that is glued on. Mounting hardware and a full-size cutout of the shelf are included.
Overall Dimensions: 42"L x 10"W x 8"H
Item Weight: 13 pounds
Mounting Hole Spacing: 16" apart for wall beam/stud installation
Assembly
Installing the Urban Pet Haus Wave Cat Perch is very straightforward thanks to the handy full-size cutout that is provided with the instructions. Once you locate the studs in your wall, use the cutout to figure out where you want to place your shelf and mark the holes.
Since this is a heavy-duty shelf, we recommend having 2 people for installation. The pre-drilled holes in the shelf are thoughtfully spaced 16" apart so it can be mounted on the wall beam or stud. To support the weight of the shelf and your cat, it is highly recommended that this shelf be installed in at least 2 studs.
Appearance
The sleek flowing design of the large Urban Pet Haus Wave Cat Perch can easily pass as a piece of modern wall art. When combined with other Large Wave Perches or Small Wave Perches this shelf looks really impressive. The dark ebony finish is very attractive and looks nice with a variety of contemporary and modern décor. We hope Urban Pet Haus will expand this line of cat furniture to include other finishes.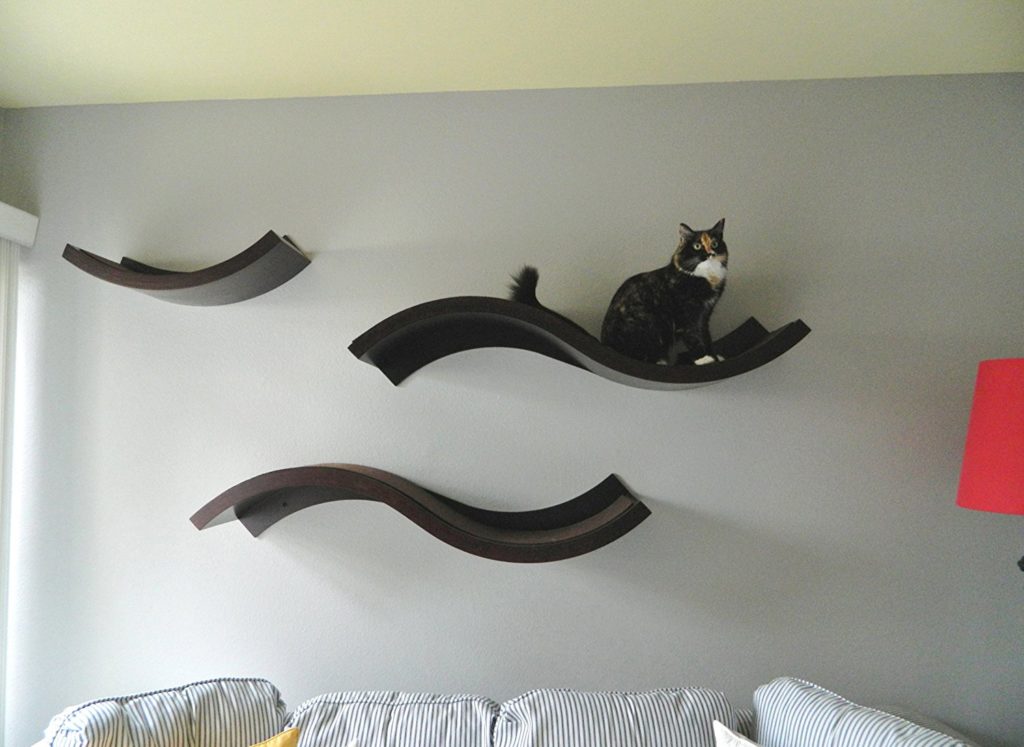 Cat-Friendliness
The Urban Pet Haus Wave Cat Perch, Large provides 3.5 feet of space for your cat to traverse the room. It's not quite as large as the similarly designed Lotus Branch Cat Shelf, but it is still one of the largest cat shelves we've come across. The curved design and carpeted surface make it ideal for both climbing and lounging.
If mounted correctly, the Urban Pet Haus Wave Cat Perch is incredibly sturdy and should be able to support the weight of multiple cats.
Quality
The quality of the Urban Pet Haus Wave Cat Perch is very high. The furniture-grade veneer is heavy-duty and very well made. The felt pad and wood finish are handmade and will vary in color from batch to batch. So keep that in mind if you decide to purchase multiple Wave Perches.
About the only complaint we have is with the felt padding. Felt is generally not a material cats like to scratch, so we understand why Urban Pet Haus chose this material. But all cats are different and a number of owners have complained that the felt doesn't hold up well. Even if your cat doesn't scratch at the felt, just jumping and climbing seems to wear down the felt and make it look pretty ugly. The felt is glued on and replacing it is no small task. Urban Pet Haus sells replacement felt pads in a set of 2 for $22 on their website.
Pros
Attractive and modern
Large surface
Great for climbing and lounging
Heavy Duty
Matches the Small Wave Perch
Cons
Pricey
Felt padding doesn't hold up well
Only available in one finish
Only available in one orientation
Summary / Recommendations
The Urban Pet Haus Wave Cat Perch, Large is a beautiful piece of sophisticated cat furniture that your cats will really appreciate. And as long as they don't scratch at the felt surface, this cat shelf should last a very long time.
---
We're not sure which cat shelf came first, the Urban Pet Haus Wave Cat Perch or the Refined Feline Lotus Branch, but it's hard to ignore the similarities. If you're trying to determine which family of cat shelves is right for you, here's a quick comparison of the two cat shelves.
Lotus Branch vs. Wave Perch, Large
SaveSave