Yaheetech 52-inch Cat Tree Review
---
Summary
The Yaheetech 52-inch Cat Tree is a big step up from your standard carpet cat tree. This cat tree has a lot of entertainment options for kittens and small cats. It has multiple levels for climbing, a sisal scratching post, and even a hammock! This unique find is also one of the least expensive cat trees on the market. So if you're looking for a great value, look no further.
---
Description / Specifications
The Yaheetech 52-inch Cat Tree is made of particle board and wrapped with plush fabric. The cat tree stands just over 52″ tall and comes in gray or beige. This cat tree has a hammock and 3 scratching posts on the first level, a condo on the 2nd level, and a tunnel, perch, and additional scratching post on the top levels.
Overall Dimensions: 19.6″L x 19.6″W x 52.2"H
Item Weight: 21.6 pounds
Top Round Platform: 12″L x 12″W x 4.1″H
Tunnel: 7.9″L x 7.2″W x 7.2″H
Condo: 11.4″L x 11.4″W x 11.8″H
Hammock: 17.7″L x 11″W
Scratching Posts: 4 (actual product received is different than image below)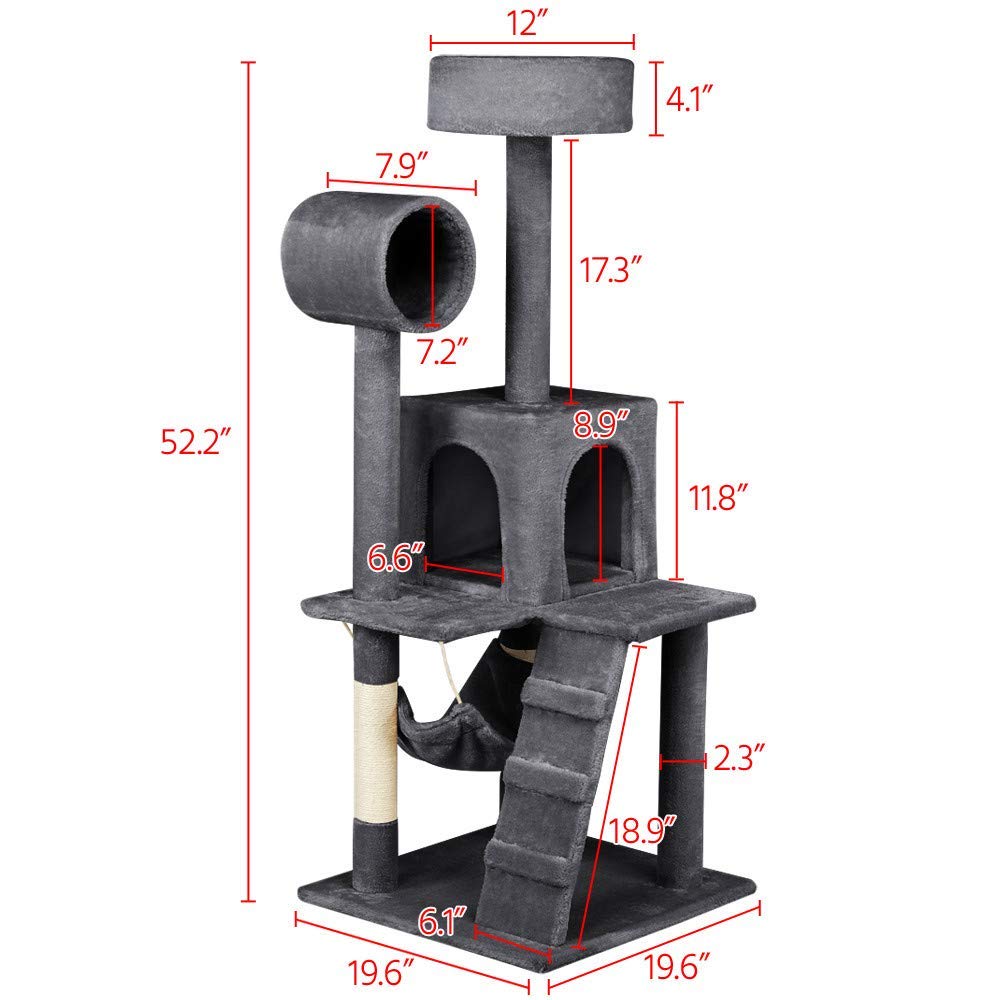 Assembly
At first glance, assembling this cat tree looks like it would be a daunting task. Fortunately the directions are easy to follow and assembly only takes a few minutes.
Appearance
While this Yaheetech Cat Tree undeniably looks like a cat tree, we still think it has more style than average. The gray plush carpet contrasts nicely with the beige sisal scratching posts. Considering that the carpet material is dark, it should blend in with its surroundings rather than jumping out like a sore thumb. The compact nature of this cat tree also make it easy to find a home for in your house.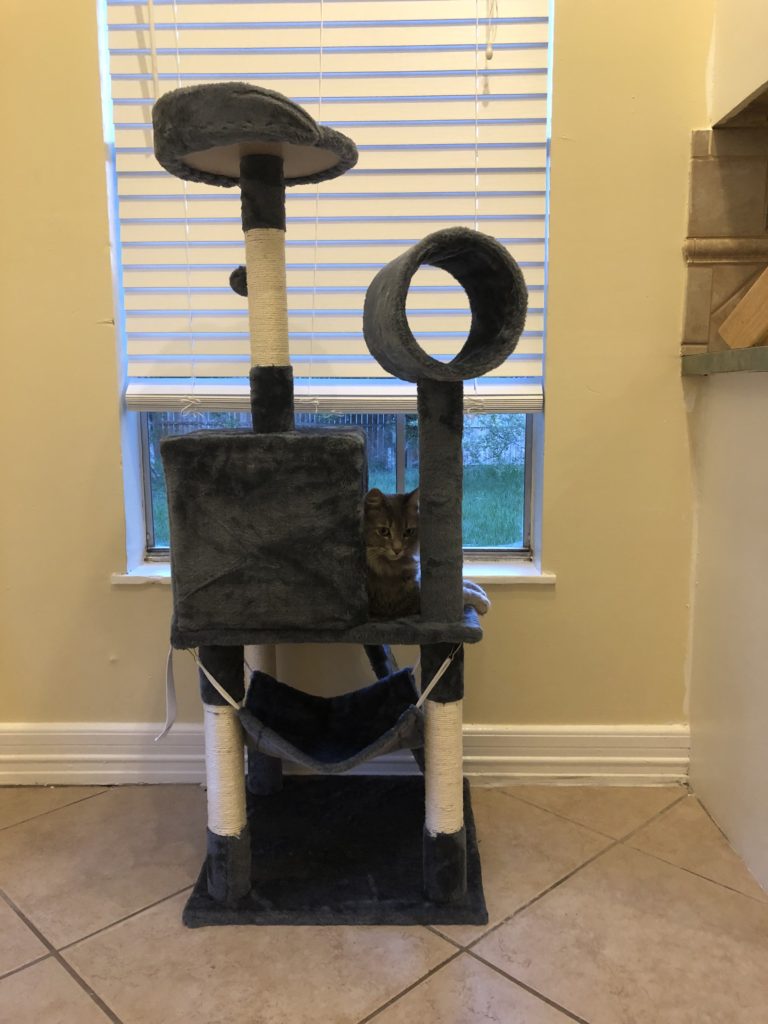 Cat-Friendliness
The Yaheetech 52-inch Cat Tree appears to have everything a cat could ever desire. Looking at this cat tree you might think, wow, it would be really nice to have a hammock, a condo, a tunnel, and a place to perch up high all in one spot!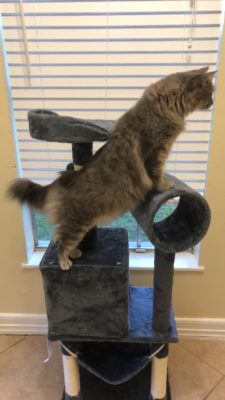 But in reality, our experience was slightly disappointing. Our 12.5 pound kitty reviewer, Max, was very skeptical of this cat tree to start. After a few weeks he warmed up to it considerably. But to our disappointment, Max is far too big to take advantage of most of the features this cat tree has to offer.
At 12.5 pounds, Max is slightly larger than your average cat, but by no means a "fatty". The spacing of the tunnel and the perch are designed in a way that make it almost impossible for Max to traverse. The tiny hammock is unusable. Max spends most of his time on the cat tree inside the kitty condo on the 2nd level. It is at the perfect height to see outside a window.
Despite having a relatively small base for its height, the Yaheetech 52-inch Cat Tree is quite stable. The plush carpet is soft to the touch and Max enjoys sleeping on it. The sisal scratching posts are another excellent feature that will hopefully get more use as Max continues to familiarize himself with this cat tree.
Quality
The Yaheetech 52-inch Cat Tree is an excellent value. At this price point it is hard to find a cat tree of this quality craftsmanship. All of the pieces fit together seamlessly and the plush carpet should hold up nicely.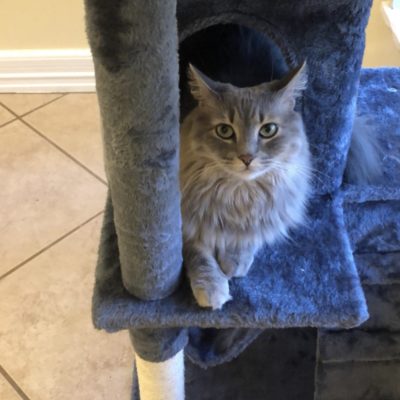 The quality of design is somewhat questionable. The compactness of this cat tree is a great space-saving feature, but isn't so great for cat-friendliness. This cat tree is ideally designed for a kitten or multiple kittens.
Pros
Great value
Easy to assemble
Multiple levels are good for climbing
Small footprint
Cons
Too small for most adult cats
Tunnel and top perch are not easily accessible
Summary / Recommendations
The Yaheetech 52-inch Cat Tree is definitely worth considering if you have a kitten or small cat and you're looking for a great value. It may not be the most modern-looking cat tree on the market, but it is definitely one of the nicest-looking carpet cat trees we've come across.
---
FTC Disclosure: We received this cat tree from Yaheetech at no charge. Receiving this product for free did not influence our review. All reviews on Kitty Loaf reflect our honest and unbiased opinions.
Yaheetech gives away free cat trees each month via YouTube and on their Blog.
Original Post Date: 7/18/19