IRIS Top Entry Litter Box Review
IRIS Top Entry Litter Box
$34
Owner-Friendliness
9.5/10
Reduces Litter Tracking
9.5/10
Quality / Durability
9.5/10
Attractive Appearance
9.5/10
Pros
Attractive design
Seamless, High sides
Reduces litter tracking
Affordable price
Lots of color options
Cons
Not all cats adjust to top-entry litter boxes
Lid is difficult to remove
Scoop is very small
---
Summary
The IRIS Top Entry Litter Box is an attractive-looking, large litter box at a very affordable price. You no longer have to pay a fortune to get a modern litter box that doesn't look like a litter box. This litter box has more to offer than just its stylish looks. It also has several cat-friendly features.
---
Specifications
The IRIS Top Entry Litter Box is made of BPA-free plastic and has an oval shape. It is now offered in 2 different sizes – Medium and Large. Our review focuses on the Large sized litter box. The grooved top lid snaps into place. This litter box comes with a metal hook and a small litter scoop that can be hung on the inside or outside lip of the box.
Dimensions (Large): 20.5″L x 16.15″W x 14.5″H
Litter Area: ~250 square inches
Footprint: 260 square inches
Opening: ~9.5″ diameter
The IRIS Top Entry Litter Box is offered in 5 different color combinations: Orange/Brown, White/Beige, Black/Gray, Dark Gray/Gray, Dark Gray/White.

Cat-Friendliness
While top-entry litter boxes aren't typically the most cat-friendly design, the IRIS Top Entry Litter Box has an above-average opening which makes it a lot easier for cats to warm up to.  If your cat is accustomed to using top-entry litter boxes, the IRIS Top Entry Litter Box will definitely be a winner. The top lid snaps securely into place making the entire litter box very sturdy. The 250 square inches of interior litter bed area is adequate for even large cats.
Puddles is one of our product testers at Kitty Loaf and she has chosen the IRIS Top Entry Litter Box as her favorite toilet in the house. She has access to the Litter Robot Open Air, Modkat Flip, and IRIS High-Sided Litter Box. But she consistently uses the IRIS Top Entry Litter Box ahead of all the others.
Owner-Friendliness
Finally! An affordable litter box that doesn't look like a litter box! The IRIS Top Entry Litter Box is stylish enough to be placed right out in the open in your home. As a cat owner it is awesome to have this kind of flexibility. The hanging litter scoop can even be tucked away and hung inside the litter box. The grooved lid does a decent job of catching litter. This litter box is a great choice for high-peers because of its seamless high sides and for homes with dogs.
The only real negatives from an owner's perspective is the difficulty in removing the lid and the undersized litter scoop. Fortunately neither of those things are deal breakers in our opinion. The opening on the top of the litter box is plenty large enough to be able to scoop the litter without having to remove the lid. The small scoop that comes with this litter box can be replaced with the scoop of your choice.
The jury is still out on the oval design. On the one hand it looks nice, but on the other hand it makes cleaning a bit more difficult. And the curved design also severely reduces the litter area. This litter box takes up the same amount of floor space as our giant Modkat XL Litter Box, but it has a fraction of the litter area.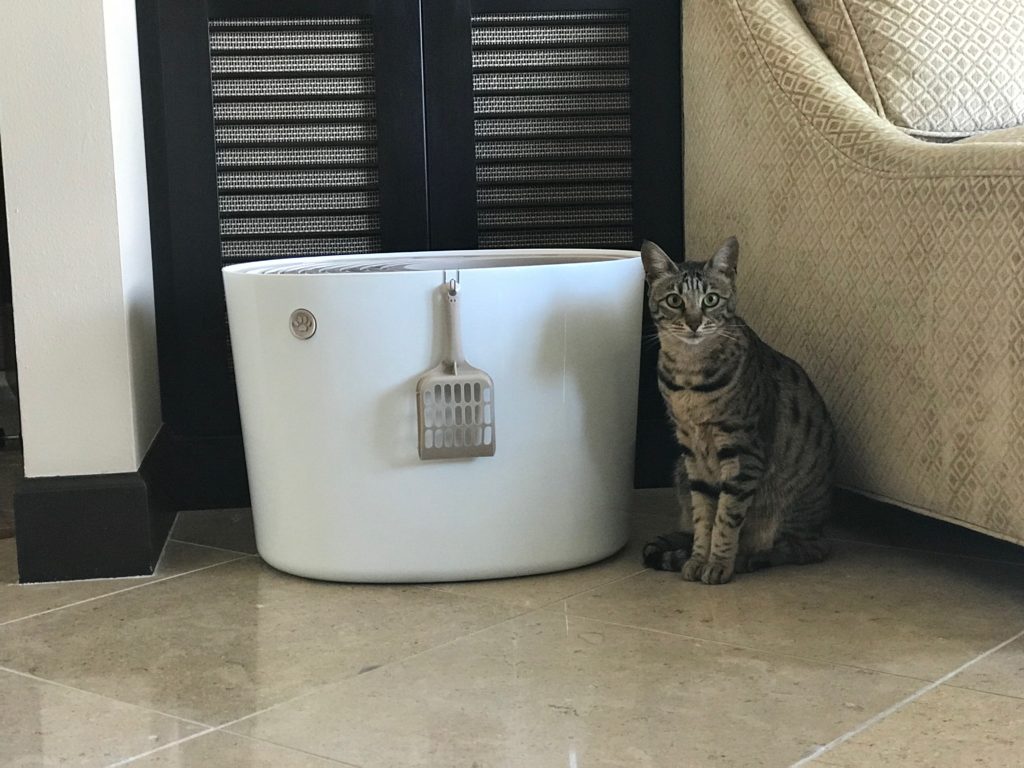 Quality / Durability
The IRIS Top Entry Litter Box is made of high-quality, durable plastic that will last for several years. This litter box is a HUGE step up in quality over the IRIS Open Top Litter Boxes that we also own. The IRIS Top Entry Litter Box might not have all the bells and whistles as the similarly designed Modkat Litter Box, but we can appreciate its simplicity and affordable price.
Pros
Attractive design
Large litter area
Affordable price
Minimizes litter tracking
Dog-proof design
Comes with scoop that hangs on box (inside or outside)
High seamless sides are good for high-peers / no leakage
Lots of color options
Cons
Not all cats will use top-entry litter boxes
Not ideal for elderly or obese cats
Lid is difficult to remove
Litter scoop is very small
Summary / Recommendations
The IRIS Top Entry Litter Box is a huge hit in our house and we highly recommend it for its cat-friendly design, its owner-friendly aesthetics, and its affordable price.
We highly recommend the IRIS Top Entry Litter Box for high-pee-ers and cats that are notorious for tracking litter all over the house. This is also an excellent dog-proof litter box.
SaveSave
SaveSave
SaveSave
SaveSave
SaveSave