The Refined Feline Cat Silhouette Cat Shelves Review
---
Summary
The Refined Feline Cat Silhouette Cat Shelves are perfect for the cat owner who isn't afraid to show off their love of cats. These heavy-duty steel shelves come in 3 different designs and six different color options. Plush fabric pads with magnetic backing cover each shelf to provide comfort and a slip-free surface for your cat.
---
Specifications
The Refined Feline Cat Silhouette Cat Shelves are made of powder-coated steel and come in 6 color options: Off White, White, Titanium, Black, Red and Blue. You can purchase these shelves as a set of 3 or individually. There are 3 cat poses to choose from: Gaze, Prance, and Perch. The shelves have replaceable plush fabric pads that have magnetic bottoms. These cat shelves are designed to support up to 50lbs each. Mounting hardware and screwdriver are included.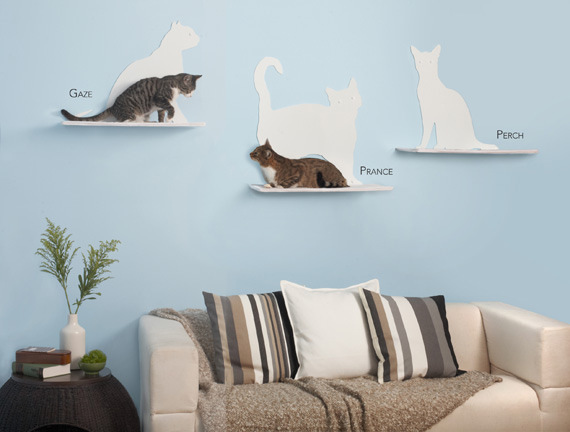 Overall Dimensions: 22.5″L x 12″W x 20″H
Shelf Dimensions: 22″L x 11.5″W
Item Weight: 19 pounds
Mounting Hole Spacing: 16" apart for wall beam/stud installation
Assembly
As with all of the Refined Feline products that we've reviewed, installation is very straightforward and all of the required hardware is provided. The Refined Feline Cat Silhouette Cat Shelves are a lot heavier than you might think. At 19 pounds each, these shelves will probably require 2 people to install. The pre-drilled holes in the shelf are thoughtfully spaced 16" apart so it can be mounted on the wall beam or stud. To support the weight of the shelf and your cat, it is highly recommended that these shelves be installed in at least 2 studs. Matching screw caps are provided.
Appearance
With so many color options to choose from, you can have your Cat Silhouette Cat Shelves blend in with your wall or make a bold statement, whatever your preference. The Refined Feline Cat Silhouette Cat Shelves might not be for everyone. If you're looking for a more discrete look that will blend in with your décor,we suggest checking out the Refined Feline Lotus Branch and Lotus Leaf Cat Shelves. But if you're a proud cat owner and you don't mind letting it be known, then it doesn't get much better than the Cat Silhouette Cat Shelves.
Cat-Friendliness
The 22"L x 11.5"W shelf area provides ample space for even large cats to perch and lounge. When you combine all 3 shelves along a wall, your cat will have a good deal of climbing space. The plush fabric pads are durable and comfortable for your cat. They also ensure that your cat won't slip when jumping from one shelf to the next.
If mounted correctly, The Refined Feline Cat Silhouette Cat Shelves are very sturdy and can support up to 50 pounds of weight each. And while a single shelf probably isn't big enough for more than one cat, the combination of all three shelves is perfect for multi-cat households.
Quality
The Refined Feline has a reputation for making quality cat furniture. The Refined Feline Cat Silhouette Cat Shelves are made of high-quality powder coated steel that should last a lifetime. When the fabric pads begin to show signs of wear, they can easily be removed and replaced. The magnetic backing makes replacing these pads very convenient. Fabric pad replacements for the Cat Silhouette Cat Shelves can be purchased for $20 each at www.therefinedfeline.com
Pros
Large surfaces
Replaceable magnetic pads
Great for climbing and lounging
Heavy Duty
Multi-cat friendly
Lots of color & configuration options
Cons
Pricey
Very heavy
Requires 2 people for installation
Edges are not smooth
Doesn't blend in with modern décor
Summary / Recommendations
The Refined Feline Cat Silhouette Cat Shelves are a novelty set of cat furniture that makes a bold statement. If you like the look of them, you and your cat will not be disappointed. These cat shelves are functional and versatile. We recommend getting the set of three shelves for the value and so your cat has plenty of room to climb.
SaveSave