PetSafe Drinkwell Pagoda Pet Fountain Review
Drinkwell Pagoda Pet Fountain
$80
---
Summary
The pet fountain experts at PetSafe have come up with a beautifully designed fountain that both humans and cats will love, as long as you don't mind the sound of trickling water. The PetSafe Drinkwell Pagoda Pet Fountain offers dual free-falling streams and is made of ceramic, which is a more hygienic alternative than plastic fountains.
---
Description / Features
The PetSafe Drinkwell Pagoda Pet Fountain is a ceramic fountain that features two free-falling water streams in addition to a 70-ounce basin. The PetSafe Drinkwell Pagoda Pet Fountain comes in four colors: Porcelain White, Stoneware Red, Taupe and Himalayan Blue.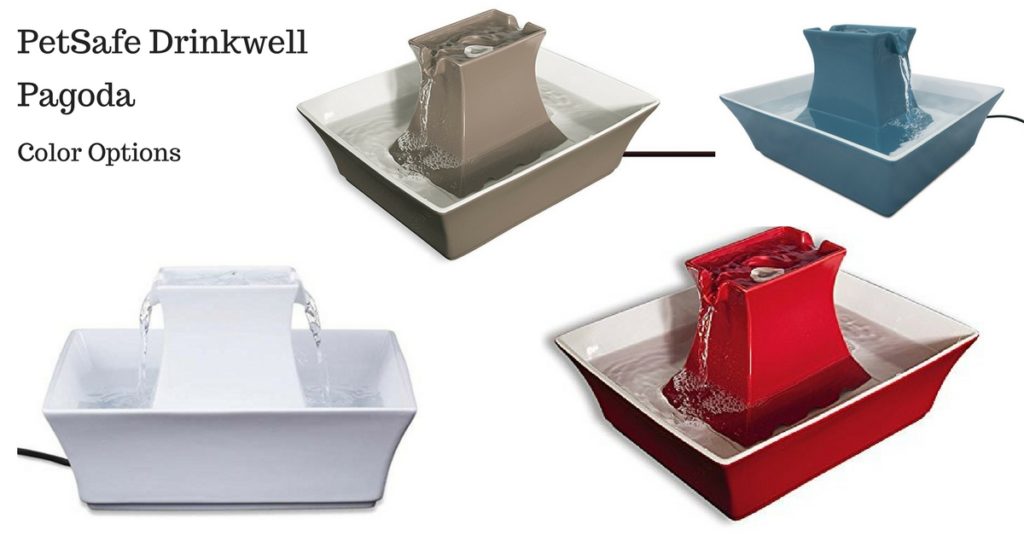 A standard 12V submersible pump (Model SP400-LV), a foam solids filter, and a carbon filter cartridge fit snuggly inside the inner ceramic compartment which rests atop the rectangular bowl. All parts with the exception of the pump are dishwasher safe on the top rack. This fountain can be refilled by pouring water directly into the main bowl. The water level should be kept between 1" and 2" of the top of the bowl to reduce noise and prevent the pump motor from burning out. The dimensions of the Pagoda Pet Fountain are 8 ⅞" width x 10 ½" length x 5 ¾" height and it can hold up to 2 liters of water.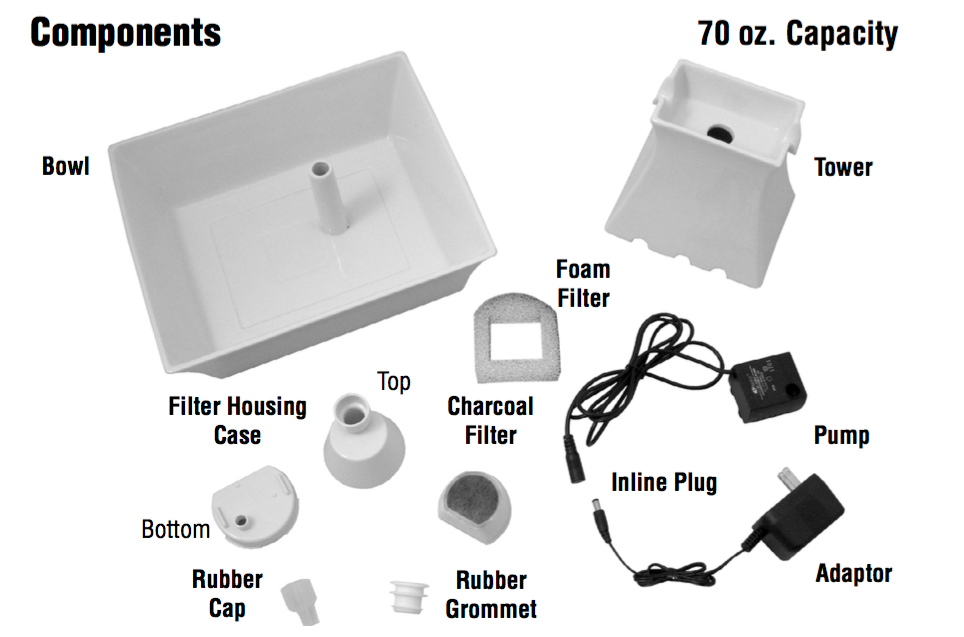 Functionality
When it comes to cat-friendly pet fountain design, free-falling water streams that mimic the flow of water out of a sink faucet tend to be the most popular. The PetSafe Drinkwell Pagoda Pet Fountain has two of these free-falling streams. Unlike the PetSafe Drinkwell Platinum Pet Fountain, the Pagoda Fountain does not have a ramp to buffer the splash from the free-falling stream. Water is pumped up through the center chamber and released to free-fall into the rectangular bowl of water below.
The basin itself is a decent size for single cat households, but may require a lot of refilling in multi-cat homes. The surface area within the bowl is limited. Most cats will prefer to drink from the free-falling streams. But if your cat tends to prefer drinking from a bowl, we recommend you choose a fountain with a bit more surface area like the Cat Mate Pet Fountain.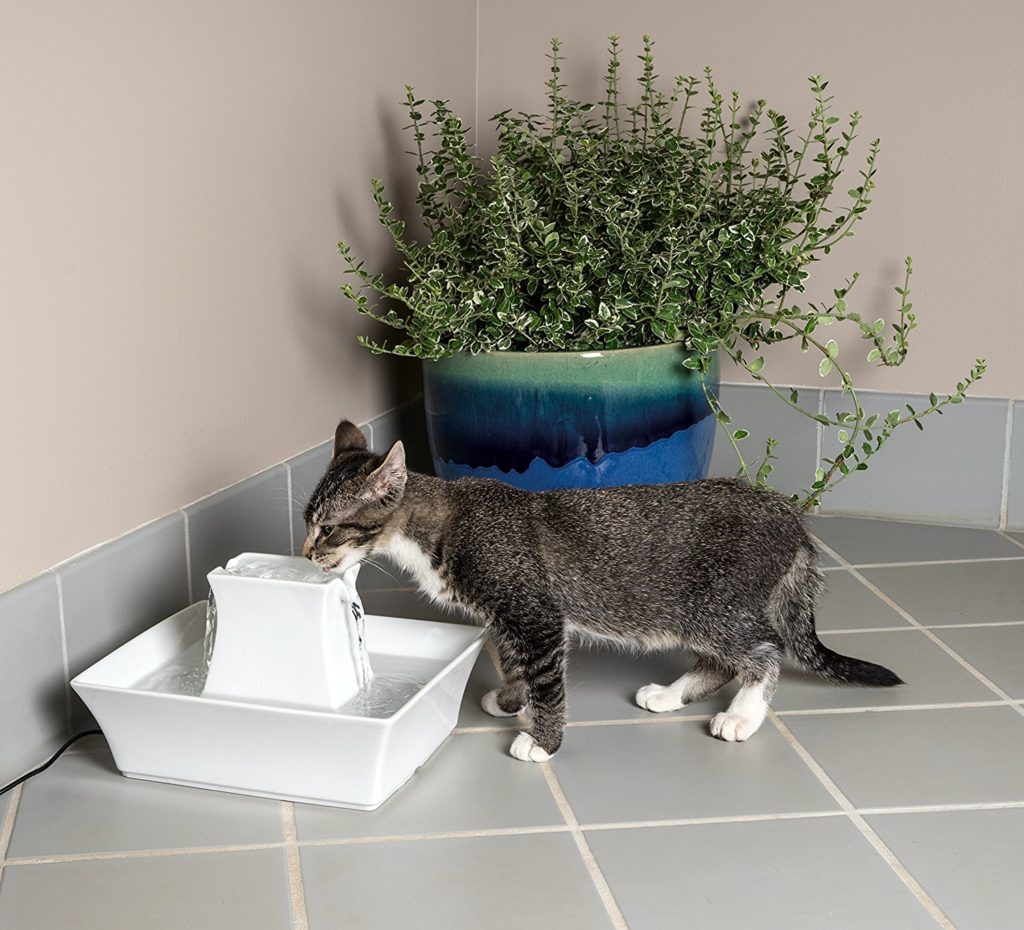 Noise
A lot of customers complain that this fountain is very noisy. However, we would like to clarify that it isn't typically the motor noise that people have an issue with. The pump motor itself is actually very quiet and can barely be heard if the fountain is filled to the proper level. The dual free-falling streams on the other hand make a much louder splashing noise. So if you can't stand the sound of splashing water, you should probably avoid this fountain and go with a bubbler-type fountain like the PetSafe Drinkwell Seascape Pet Fountain.
Some customers have customized this fountain by adding small plates or saucers to act as a water slide. While this may work to reduce the sound of splashing it definitely detracts from the aesthetic appearance.
Maintenance
The PetSafe Drinkwell Pagoda Pet Fountain is very easy to clean when compared to other fountains on the market. This fountain has 2 main ceramic components that are dishwasher safe. As with all of PetSafe's pet fountains, a power disconnect is included to facilitate cleaning and moving of the fountain. Since the capacity of this pet fountain is on the lower end, you'll have to be more diligent about topping off the water level in this fountain every few days to prevent shorting out the motor.
The PetSafe Drinkwell Pagoda Pet Fountain is designed to be used with 2 filters – a foam filter and a carbon or charcoal filter. The foam filter surrounds the pump and collects solids and debris. This filter should be changed out every 4 to 8 weeks. The carbon filter fits inside a plastic cartridge and removes bad tastes and odors from the water. This filter will need to be changed every 2 to 4 weeks depending on your water quality and the number of pets you have using the fountain. Neither of these filters is required for operation of the fountain, but they are highly recommended.
If you notice the flow from the fountain streams reduces to a trickle or the pump motor starts making more noise than usual, these are good indications that the carbon filter needs to be replaced. These particular carbon filters tend to collect gunk and will eventually clog your fountain entirely if not replaced in time.
Quality / Longevity
The PetSafe Drinkwell Pagoda Pet Fountain is made of heavy-duty ceramic that will last a long time as long as you're careful about not chipping it or dropping it. Compared to plastic pet fountains, ceramic is far more hygienic and resistant to bacteria growth.
Pros
Modern design
Ceramic is more hygienic than plastic
Dishwasher safe / Easy to clean
Power disconnect
4 color options
Cons
Noisy trickling water sound
Pricey
Filters need to be changed frequently
Low capacity / needs to be filled regularly
Summary / Recommendations
The PetSafe Drinkwell Pagoda Pet Fountain is one of the best-looking cat fountains on the market. But you'll have to be willing to pay a little extra for this modern aesthetic. Because the Pagoda fountain looks so nice, most cat owners won't have any problem displaying it out in the open on a countertop. This should also make it easier for cat owners to remember to clean it.
Because of its smaller capacity, the Pagoda Pet Fountain is primarily recommended for single cat homes. But if you're ok with having to refill this fountain daily, it'll be just fine for multi-cat families.
We do not recommend the PetSafe Drinkwell Pagoda Pet Fountain for people who do not like the sound of trickling water. This fountain has a quiet motor, but the splashing water noise is unavoidable with the free-falling streams. A great alternative that is extremely quiet would be the PetSafe Drinkwell Seascape Pet Fountain.
---
Filters
Foam filters for the PetSafe Drinkwell Pagoda Pet Fountain can be purchased through the manufacturer for about $2 a piece or from off-brand suppliers for half the price. The single cell carbon filters are similarly priced at $1 – $2 each. We've used both the name brand PetSafe filters and the off-brand PetStandard filters and haven't noticed any difference.


Replacement Pump
The PetSafe Drinkwell Pagoda Pet Fountain comes with a 12V submersible pump, model SP400-LV, PAC00-13206. This is the same pump that is used in the Drinkwell Avalon, Seascape, Sedona, Zen, Multi-Tier, and 360 pet fountains. You can find replacement pumps for this fountain at the link below.
Original Post Date: 2/20/18