SmartCat Sky Climber Review
Pros
Great for climbing & scratching
Attractive appearance
Affordable
Multiple mounting options
Cons
Not stable; requires additional support
Small shelves aren't good for lounging
Carpet doesn't last long
Not ideal for large cats
---
Summary
The SmartCat Sky Climber incorporates 2 of your cat's favorite activities into a single piece of furniture – climbing and scratching. With a few modifications for added stability, the SmartCat Sky Climber is a reasonably priced, cat-friendly cat shelf.
---
Specifications
The SmartCat Sky Climber consists of a wooden shelf that is covered in thin carpet that attaches to a 6" wide sisal scratching post. Mounting hardware is included.
Overall Dimensions: 17″L x 8.5″W x 16″H
Shelf Dimensions: 17″L x 8.5″W
Item Weight: 5 pounds
Assembly
The SmartCat Sky Climber is very easy to put together. The vertical scratching surface mounts to the wall and the shelf screws into the scratcher. Since the shelf itself isn't mounted into the wall it is very unstable. That's why we highly recommend installing your own L-brackets for additional support. They might not look as nice, but if your cat's safety is important to you, you'll take our advice!
Appearance
The SmartCat Sky Climber might not be the most modern-looking cat shelf on the market, but its clean lines and wooden accents have an attractive appearance. By adding multiple Sky Climbers along a wall, you can customize the look of this cat furniture.
Cat-Friendliness
We know that most cats love being up high and they love to scratch. The SmartCat Sky Climber does more than your average cat shelf. The Sky Climber provides your cat with an ideal place to perch and scratch. The size of the shelf is adequate for climbing and sitting, but is too narrow for lounging. It can be mounted as a stand-alone perch below a windowsill or combined with multiple climbers to create more levels of territory for your cat.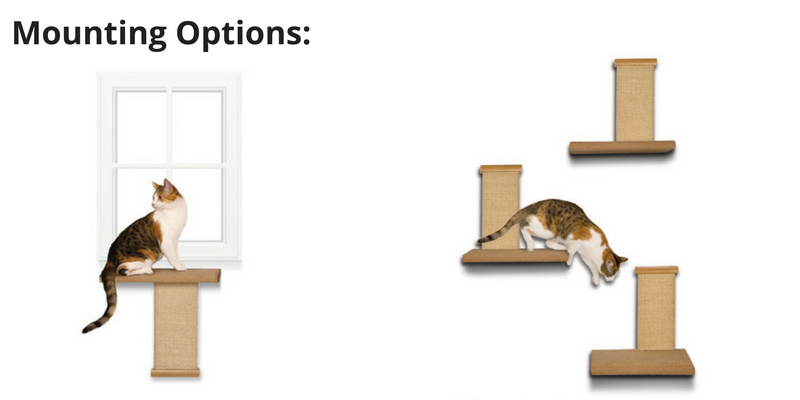 As long as you take our advice and add support brackets underneath the shelf, your cat shouldn't have any reservations about using this shelf. If you do not install the additional support brackets, there's a good chance your cat won't use this shelf at all because it is too wobbly.
Quality
A lot of customers have complained that the quality of the SmartCat Sky Climber is not to the same level as the SmartCat Multi-Level Cat Climber. While the SmartCat Sky Climber has the same low quality carpet as the Multi-Level Cat Climber, there seems to be additional quality control issues with the sisal coming detached from the wood.
Pros
Quality sisal scratching post
Great for climbing and scratching
Multiple mounting options
Affordable
Cons
Not sturdy; requires additional support
Too small for large cats
Low quality carpet on steps
Sisal detaches from wood
Summary / Recommendations
With a few adjustments for added stability, the SmartCat Sky Climber has the potential to be a great cat shelf for small to average-sized cats. Due to the small size of the shelf, we don't recommend the SmartCat Sky Climber for large cats.
SaveSave