Litter Spinner Litter Box Review
Litter Spinner Litter Box
$80
Owner-Friendliness
5.0/10
Reduces Litter Tracking
8.5/10
Quality / Durability
8.0/10
Attractive Appearance
9.0/10
Pros
Reduces contact with waste
Looks better than standard litter box
Small footprint
Reduces litter tracking
Reduces odors
Cons
Too small for average sized cats
Cleaning is messy
Litter sticks to walls
Not multi-cat friendly
---
Summary
The Litter Spinner Litter Box is a novel design with a lot of room for improvement. This litter box looks great, saves space, and eliminates the need for scooping. But when it comes to cat-friendliness, the undersized opening and very small litter area are going to be tough sells for your cat.
---
Specifications
The Litter Spinner is manufactured in the USA by Smart Choice Pet Products, Inc. and is made of 100% recycled materials. The Litter Spinner comes in a variety of color options like white, black, tan, grey, pink, green, and purple. This is a mechanical litter box that does not require power or batteries to operate. Assembly is very straightforward and takes approximately 10 minutes with a Phillips screwdriver.

The Litter Spinner Litter Box dimensions are 18″L x 14.5″W x 20″H. The inside dimensions of the litter bed are approximately 12" x 12". This is an enclosed, front entry litter box with a 7.5" diameter opening that is approximately 7.5" off the ground. The Litter Spinner has a removable waste drawer and is sold with a Clump Stick to help with problem waste clumps that get stuck to the sides of the box.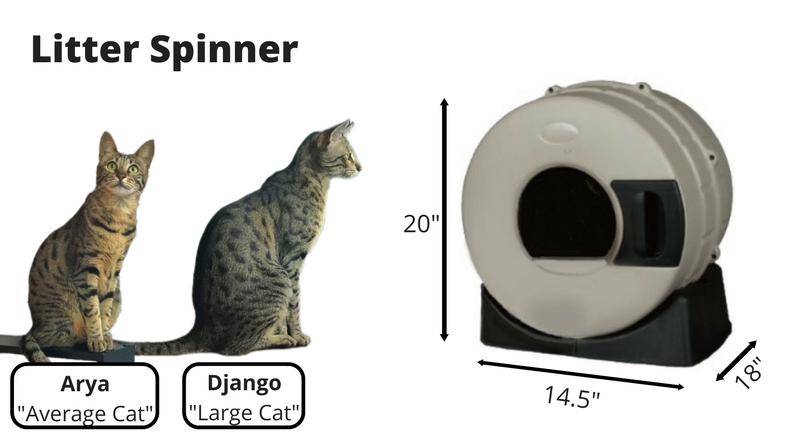 Litter Requirements
This particular litter box requires the use of clumping cat litter. Crystal litter or other types of litter that do not adhere to liquid waste will not work. For best results, we recommend using a high quality clumping litter like these products below.


How it Works
To clean the Litter Spinner, simply rotate the drum counterclockwise one full rotation, and then return it to its starting position. The waste drawer doubles as a sieve that collects solids and allows clean litter to filter out. If any waste is stuck to the inside of the drum, use the clump stick to dislodge it and repeat the spinning process. Prior to removing the waste drawer, it is recommended that you tap on the unit a bit to allow excess clean litter to filter out. You should empty the waste drawer after each spin. It is recommended that you repeat this cleaning process at least once a day per cat.
Cat-Friendliness
The Litter Spinner was designed with the primary goal of simplifying the litter cleaning process for owners. We believe that more consideration should have been given to developing a cat-friendly design.
The bottom line is that the Litter Spinner is too small for most cats. The 7.5" opening is the smallest we've seen on the market. And the actual litter area is less than 150 square inches. To put it in perspective, the Litter Spinner litter area is less than half of what our top-rated Catit Jumbo Hooded Litter Pan provides.
The opening is about 7.5" off the ground, which makes the step up higher than average. This could be a concern if you have an elderly or disabled cat.
If your cat is less than 8 pounds, they may not have any issue with the Litter Spinner. But your average and large sized cats are most likely going to object to the small size of this litter box.
Owner-Friendliness
The Litter Spinner is more attractive than your average litter box. It comes in a variety of fun colors and it has a very small footprint, which makes it fit just about anywhere. The enclosed design is good at reducing odors, dust, and litter tracking. But above all, the Litter Spinner is designed to reduce your contact with cat waste. And it succeeds at that.
But is cleaning the Litter Spinner faster and easier than scooping? It depends. The actual spinning process takes very little time, but it doesn't always catch all the waste the first spin around. And if litter clumps get stuck to the sides of the drum, which happens quite frequently, you'll have to poke at them with a stick before you spin again.
For thorough cleaning or changing out of the kitty litter, there is a drain hole in the back of the unit. Since the Litter Spinner has very limited litter capacity, you'll have to add new litter more frequently than with other boxes. It also means that you have to be very punctual about cleaning this litter box or risk having to clean up accidents when your cat chooses to find a new toilet.
The most common owner complaint is that emptying the waste drawer makes a huge mess on the floor. Since the waste drawer is a sieve with lots of holes in it, clean litter that was trapped between clumps or sitting on top of them, falls out when you remove the drawer. Some owners have found that it helps to tap on the drum a bit prior to removing the drawer. But even then, you'll still end up with some litter on the floor.
Quality / Durability
The Litter Spinner Litter Box is made of high quality recycled plastic. This litter box is incredibly sturdy and should last for several years. There is also a 3-year warranty against manufacturer defects.
Pros
Reduces contact with waste
Attractive design
Lots of color options
Small footprint
Minimizes litter tracking
Minimizes odors
Cons
Very small litter area
Emptying waste drawer is messy
Litter gets stuck to walls frequently
Only works with clumping cat litter
Not ideal for cats over 8 pounds
Pricey
Summary / Recommendations
The Litter Spinner Litter Box is a terrific design concept with a lot of potential. It follows the same basic design that is used in our top-rated automatic litter box, the Litter-Robot Open Air. But at a fraction of the price, the Litter Spinner Litter Box might be worth consideration.
If you have a small cat or kitten and you are looking for an alternative to scooping, this could be the perfect litter box for you. But with its current size limitations, the Litter Spinner isn't a good fit for everyone.
Due to the small size and litter capacity, we do not recommend the Litter Spinner for cats over 8 pounds, or multi-cat households.
If you are looking for an affordable alternative to an automatic, self-cleaning litter box, and you have a decent amount of space, we recommend the Omega Paw Roll'n Clean Litter Box. Overall, owners are far more satisfied with the Omega Paw Litter Box than the Litter Spinner.
Original Post Date: 6/1/17
SaveSave
SaveSave
SaveSave
SaveSave