Johnson Pet Products Catnip Pillows Review
---
These colorful Catnip Pillows by Johnson Pet Products might not look like much to humans, but we promise your cat will have a different opinion. The Catnip Pillows are packed with some very potent North American grown catnip.
These catnip pillows are sold in packs of 2, which was necessary for multi-cat families like ours. We were barely able to get them out of the box before Arya and Django snatched them from our hands and began tossing, licking, and kicking them in a state of pure ecstasy. We definitely had some initial doubts as to whether these catnip pillows would survive their first play session. But to our relief they have held up very well. The double lined fabric is pretty durable and the only signs of early wear are the frayed edges.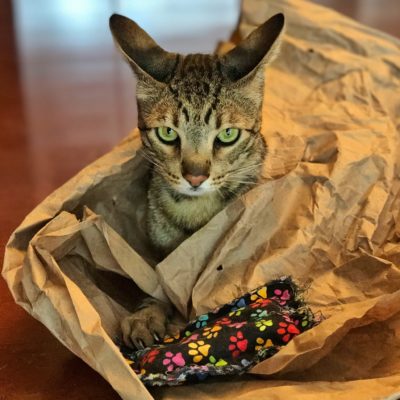 Each pillow is approximately 6" x 4" in size and comes filled entirely with catnip. The size of the pillows is perfect for your cat to toss in the air, carry around the house, or nuzzle their head on. They come in a variety of fun designs.
Tip: Since they come in a set of 2, keep one catnip pillow in the freezer to preserve the freshness of the catnip while the first pillow is in use. It's also a good idea to keep your catnip toys in rotation so your cat doesn't get bored as quickly.
SaveSave