Petlibro Automatic Pet Feeder Review
Find it on Petlibro     Find it on Amazon
---
Summary
The Petlibro Automatic Pet Feeder is one of the best looking feeders on the market. But this automatic pet feeder has a lot more to it than good looks. It has easily programable settings, a large capacity basin, backup battery operation, and even the option to add a voice-recording to play at meal time. With all these features you can have extra peace of mind that your cat isn't going to starve when you're away from home.
---
Description / Specifications
The Petlibro Automatic Pet Feeder is suitable for both cats and small dogs. It has 4L capacity. It has battery back-up (3 D-Cell Batteries) in case of a power outage. You can program up to 4 different meal times with 9 capacity options. It has a voice recording option that will play during meal time to alert your pets.
Overall Dimensions: 7″L x 12″W x 12"H
Item Weight: 4.7 pounds
Amount Per Portion: 2.5 tbsp
Depth of Food Tray: 2″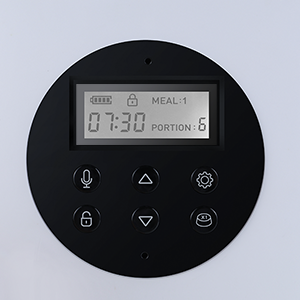 Appearance
If apple designed an automatic pet feeder it would probably look a lot like the Petlibro Automatic Pet Feeder. We were really impressed with the packaging and overall look and feel of this product. It is modern and sleek. It can be prominently displayed on a counter or on the floor without being an eyesore.
User-Friendliness
The Petlibro Automatic Pet Feeder requires very little set up time. Assembly takes less than a minute and programming can be done in under 5 minutes. The instructions are very straightforward and easy to follow. The only challenging part is reading the small display. We recommend doing the programming in good lighting on a table or eye-level surface. We made the mistake of trying to program it in a dark room on the floor.
You can program up to 4 meal times. We started out with 2 to align with our current manual feeding schedule. We had to experiment with the portion sizes which ranged from just a few bits of kibble to a decent helping. The size of your kibble also makes a difference in how much actually comes out. Our cat food is quite large and we found the optimal setting for our very hungry Savannah cats is the max serving size (#9). Once we had the meal times set up and recorded our "Crunchy Time!!!" meal announcement, we were in business.
Another feature that has come in handy is the removable food tray. After a few days you'll probably want to clean out the tray. It makes it so much easy being able to remove this tray and carry it to a sink without having to cart the entire feeder with you.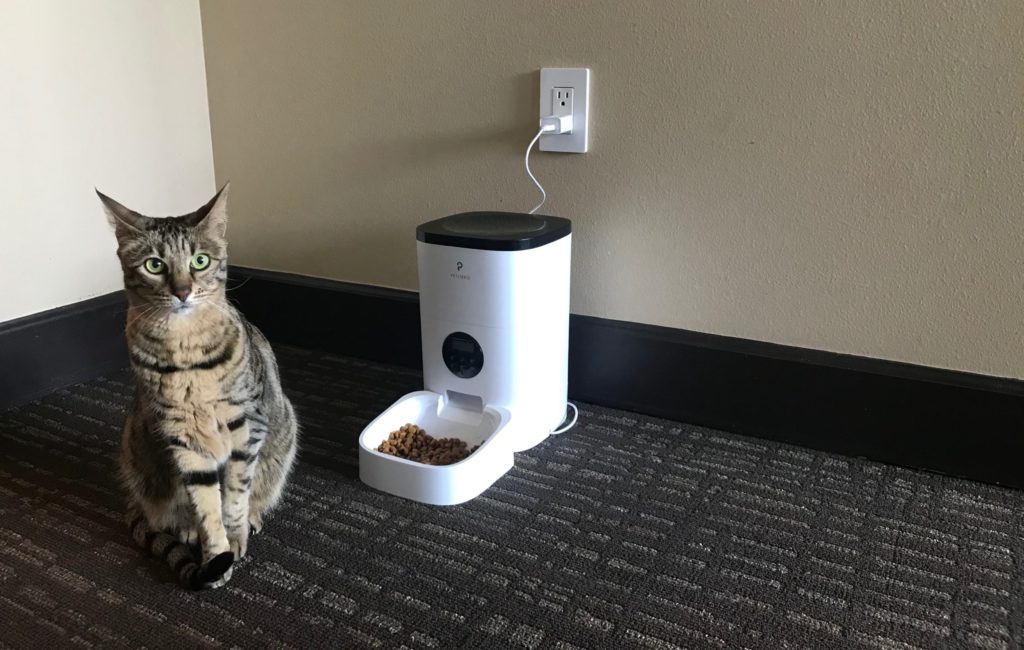 Capacity
With 4L of food capacity, the Petlibro Automatic Feeder is definitely on the larger side. Compared to our other automatic feeder, the Petlibro requires half the frequency of refills. And while we don't condone leaving your pets unattended for several days, it is reassuring to know that your pets are being fed on a routine schedule every day.
Quality
Quality and reliability are of utmost importance when you are leaving it up to a machine to properly nourish your pets. That's why we really like that this pet feeder comes with a battery back-up. So if you are away from home or have to work late and the power goes out, you don't have to worry that your pets will miss a meal.
We learned the hard way with our previous automatic pet feeder that not all feeders are designed to withstand the ingenuity of a hungry cat. Our incredibly food-motivated cat Puddles is known for her ability to break into automatic cat feeders and retrieve food outside of the designated meal times. She would either pry the lid off the top or reach her paw through the food outlet. But we are happy to announce that the Petlibro Automatic Pet Feeder has proven to be impenetrable and cat-proof up to this point.
Pros
Attractive appearance
Lots of programmable features
Large capacity
Very well made
Cat-proof lid design
Cons
Somewhat pricey
Display is small and difficult to read
Can't tell when food is running low
Quality of voice recording is not the best
Summary / Recommendations
The Petlibro Automatic Pet Feeder is a great investment for pet families on the go. Even if you don't plan to leave your cats unattended for days at a time, it is reassuring to know that they will always be fed on time. The quality, capacity and modern appearance of the Petlibro Automatic Pet Feeder make it a top pick in the pet feeder market.
---
FTC Disclosure: We received this cat feeder from Petlibro at no charge. Receiving this product for free did not influence our review. All reviews on Kitty Loaf reflect our honest and unbiased opinions.
Original Post Date: 7/3/20