Catit Play Spinning Bee Cat Toy Review
Catit Play Spinning Bee
$25
Pros
Multi-functional toy
Intermittent laser is engaging
On/Off button
Automatic shut-off timer
Cons
Treat dispenser doesn't work very well
Somewhat noisy
Requires (2) AA Batteries
Hit or miss - some cats like it and some are scared of it
Find the Catit Play Spinning Bee on Amazon
---
The Catit Play Spinning Bee Cat Toy appears to have everything your cat could wish for bundled together in a single cat toy. It spins, it has a fluttering bee, it puts out an intermittent laser beam, and it even drops treats. But when we actually put the Catit Play Spinning Bee to the test, it got mixed reviews from our cats.
We had really high hopes for this toy. It has so much functionality packed into such a small cute toy. What's not to love? Well Arya and Django had a different opinion. They were less than impressed with the Catit Play Spinning Bee Cat Toy. The buzzing bee got a few frustrated swats from Arya, but aside from that it has gone virtually untouched by my Savannah Cats.
But when we gave the toy to Puddles, she took to it immediately. Unlike Arya and Django, Puddles has always been very fond of laser toys. They are one of the few toys that keep her interested. Once Puddles noticed the intermittent laser beam circling around the ball, she was hooked. She doesn't pay much attention to the fluttering bee until it accidentally bops her on the head. But she'll chase the laser for several minutes without losing interest.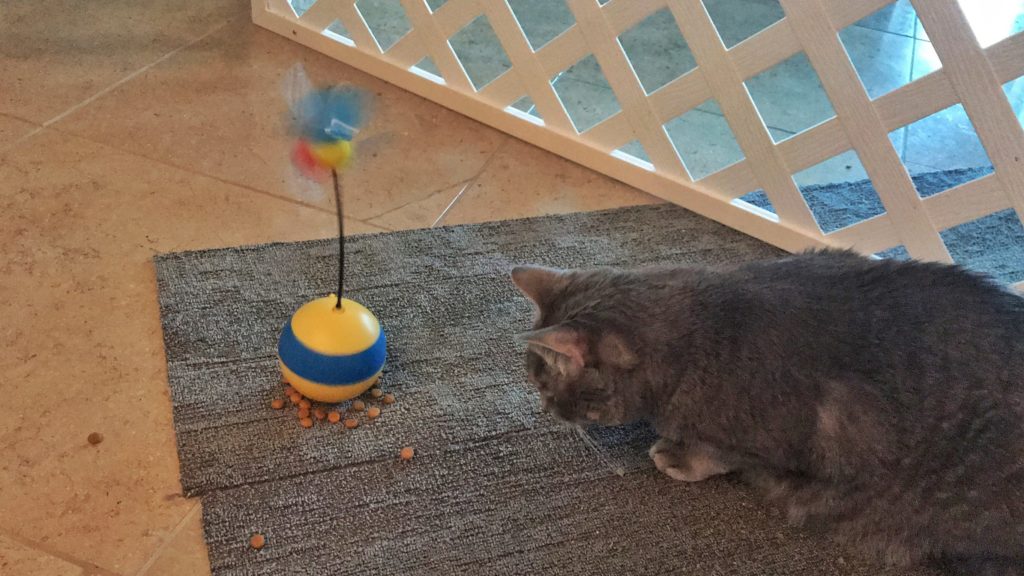 The movement of the ball was enough to knock out all of the treats within seconds. So the treat dispenser functionality is pretty disappointing. This electronic toy takes two AA batteries. It has an on/off button. And our favorite part is that it automatically shuts off after about 15 minutes.
Overall, the Catit Play Spinning Bee Cat Toy is a pretty cool interactive cat toy that'll be a hit for cats that love lasers and aren't frightened by a little noise.
---
FTC Disclosure: We are members of the Catit Ambassador program and received this cat toy from Catit at no charge. Receiving this product for free did not influence our review. All reviews on Kitty Loaf reflect our honest and unbiased opinions.
SaveSave
SaveSave
SaveSave
SaveSave