KATRIS Cat Scratcher Blocks Review
KATRIS Cat Scratcher Blocks
$50
---
Summary
The KATRIS Cat Scratcher Blocks can be purchased as a bundled system or as individual scratching blocks. We've already seen how the KATRIS System stacks up against other cat trees. Now we'll take a look at how the individual KATRIS blocks fare in the cardboard cat scratcher market.
---
Description / Specifications
The KATRIS Cat Scratcher Blocks come in five different shapes to resemble Tetris pieces (I, T, Z, O, L). The blocks are made of heavy duty corrugated cardboard and can be used for climbing, lounging and scratching. The material is 100% green (recyclable), natural, and non-toxic. The color options available are, Original Kraft, Black, White, Teak, Maple, and Multi-Color.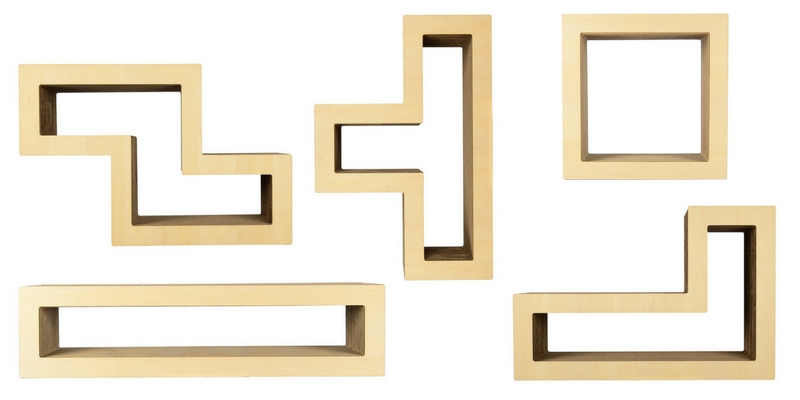 "I" Block Dimensions: 32"L x 8"W x 8"H, 9.1 pounds
"T" Block Dimensions: 24"L x 8"W x 16"H, 9.2 pounds
"O" Block Dimensions: 16"L x 8"W x 16"H, 7.2 pounds
"L" Block Dimensions: 24"L x 8"W x 16"H, 8.9 pounds
"Z" Block Dimensions: 24"L x 8"W x 16"H, 8.9 pounds
Appearance
The KATRIS Cat Scratcher Blocks are pretty cool as stand-alone cat scratchers. But the real appeal for owners comes when you buy multiple blocks. The KATRIS Blocks have a small footprint and come in a variety of color options to blend in with your décor.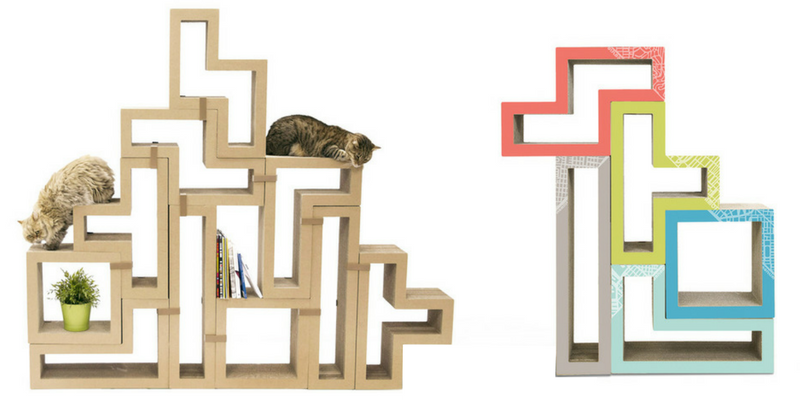 Owner-Friendliness
The only thing cat-owners have to worry about is cleaning up the flakes of cardboard (if your cat is a vigorous scratcher). KATRIS blocks can be purchased separately or as a bundle. The KATRIS Modular Cat Tree allows owners to customize the look of their cat furniture by rearranging the blocks.
Cat-Friendliness
So how do these novel cat blocks compare to other cat scratchers? A lot depends on the actual shape of the block. But in general, we found that the width of the individual blocks is pretty narrow at 8 inches. This width is fine for climbing and sitting, but not ideal for scratching or lounging. The shapes of these blocks were designed primarily for the novel appearance. With the exception of the "I" block, most of the shapes don't have large enough surfaces for cats to scratch.
Quality / Longevity
The KATRIS Cat Scratcher Blocks are made of high-quality corrugated cardboard. This heavy-duty cardboard holds up extremely well compared to other cheaper cardboard cat scratchers. But even the best quality cardboard isn't going to last forever.
Pros
Attractive, novel design
Reversible
Lots of colors and shapes to choose from
Quality materials
Cons
Somewhat messy
Not very wide
Not all shapes are very functional as stand alone cat scratchers
Price
The KATRIS Cat Scratcher Blocks cost about $50 each. The price is in line with similar quality products, however the size of these blocks is a few inches narrower. The most functional shapes for use as a stand-alone cat scratcher are the "I", "L" and "O" shapes.

Original Post Date: 8/31/16