There are a lot of great cat shelves on the market, but if none of them appeal to you, designing and installing custom cat shelves is a great alternative. Designing cat shelves to fit your décor and cater to your cat's preferences is a fun and rewarding project.
Since we were already planning on remodeling our guest bedroom into an office, we decided to incorporate custom cat shelving into the project. And we couldn't be happier with the final outcome.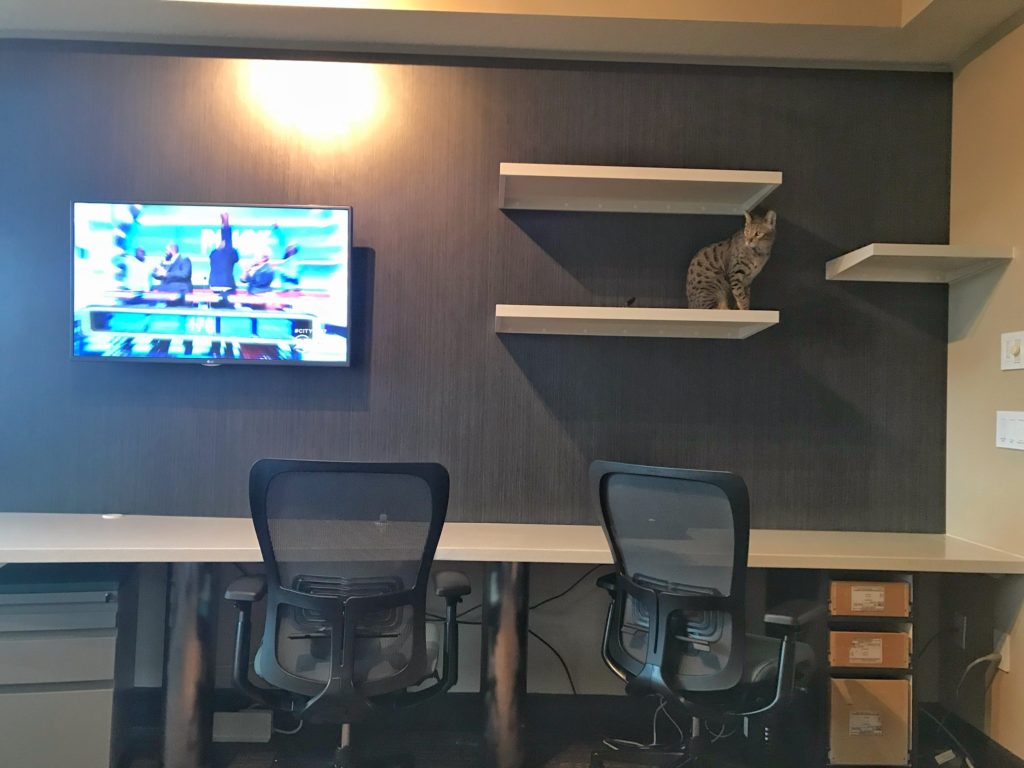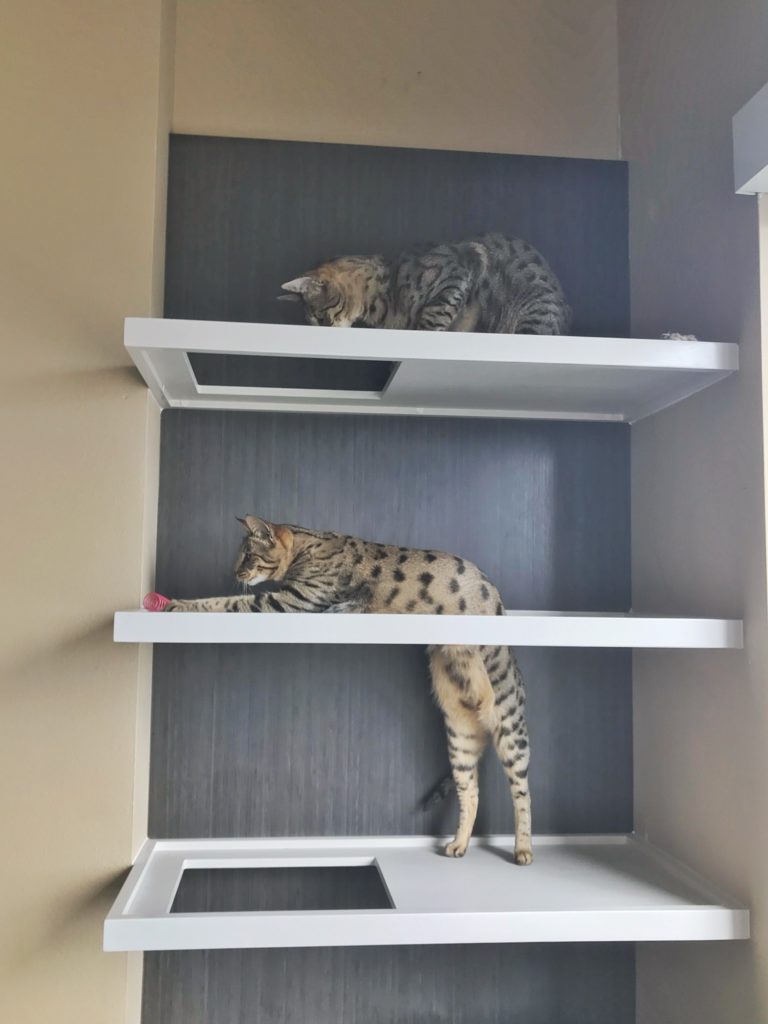 We worked with an interior designer and together we bounced around several different cat-shelving designs. My goal was to make the custom cat shelves functional and cat-friendly. Our interior designer, who had no prior experience designing cat furniture, was tasked with making everything look good.
It is important to note that my Savannah Cats were already very accustomed to spending time in the guest bedroom/office where the cat shelves would be placed. They are also very fond of being up high.
At our previous home, Arya and Django spent several hours a day on their Designer Pet Products Sophia Wall Mounted Cat Shelves. So I knew the custom cat shelving would be a success in our new home.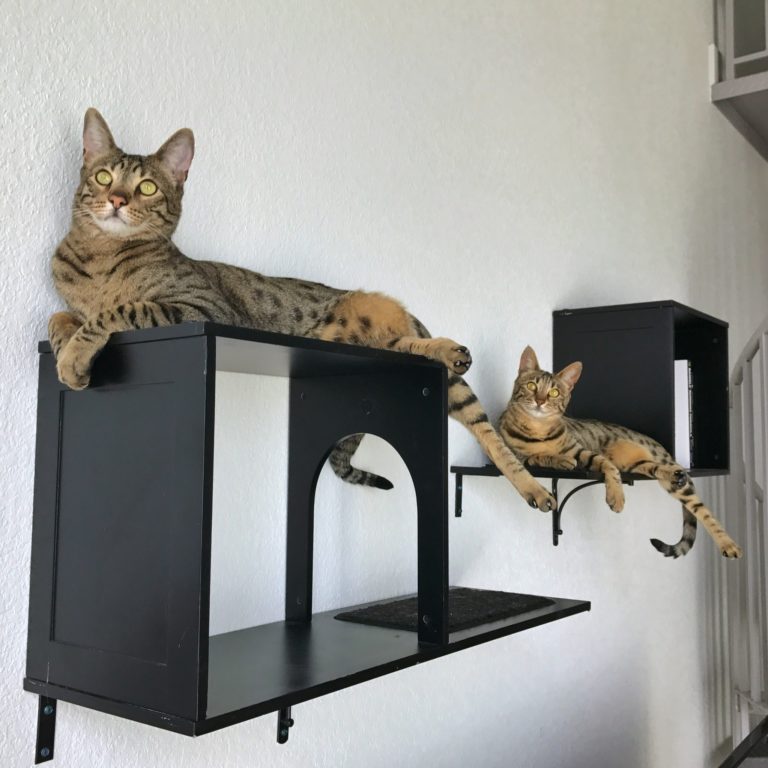 The Design
We identified 2 areas in the room that would be suitable locations for cat shelving. The first area was above the desk. Prior to the remodel we had a small wooden desk in the approximate location of our future much larger desk.
If your cats are anything like ours, you'll understand that desk space is shared (or owned) by the cats. And it can be a constant challenge trying to get work done with a cat on your computer.
My hope was that I'd be able to reclaim some precious desk space for myself if I provided my cats with even more appealing shelf space above me. Time will tell if that plan actually succeeds.
The second location that we chose for our custom cat shelves was in the far corner near the large window. The window already has a substantial windowsill. So our cat shelving would basically build off of that.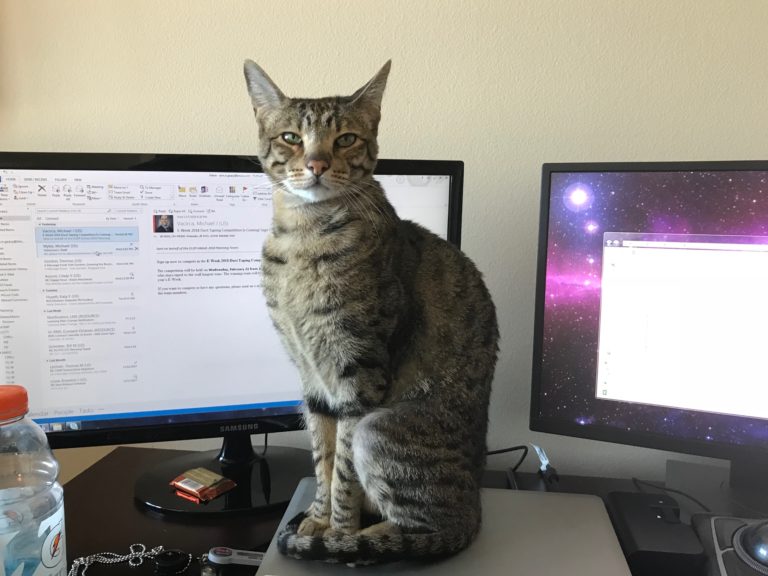 Cat-Friendly Features
After doing quite a bit of research on cat shelving and looking over the specifications of our top-rated cat shelves, I had a pretty good idea of what makes a cat shelf cat-friendly. Here's what the cat-friendly design parameters were:

Structurally stable (They'd have to be mounted to at least one stud and be able to support 30 pounds of jumping cats.)
Deep enough to lounge on (Minimum of 10" deep. We went with 15" shelves.)
Anti-slip surface (We went with a durable carpet tile.)
Vertically accessible (Maximum of 30" up from desk or table. This might be a bit too high for some cats, but it is very doable for our Savannah Cats.)
Horizontally accessible (Adjacent shelves spaced 12" over and 12" up. This is a good separation for easy stepping. Most cats can reach that far without having to jump.)
Ample headroom (Minimum of 12" between upper and lower shelves.)
Large shelf openings (Minimum of 10" diameter. We went with 10"x12" cutouts.)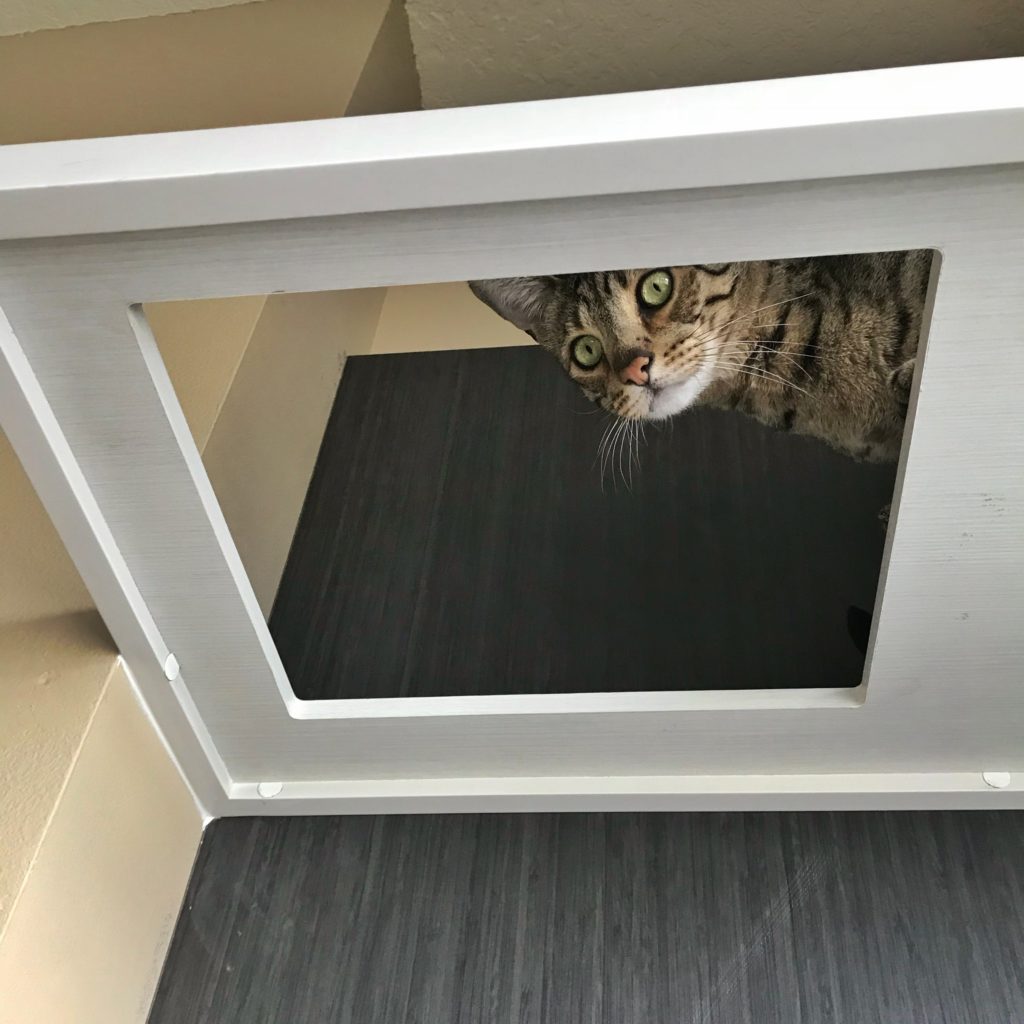 Aesthetics
With our list of cat-friendly design parameters in mind, our interior designer went to work on a design that'd look good. If you're familiar with our website you'll know that we are huge fans of modern cat products that don't look like cat products.
We wanted our cat shelving to be functional for our cats, but we also wanted it to blend in with the modern décor of our home. So here's what our interior designer came up with:

Minimalist, Floating Cat Shelves
For stability, most of the shelves were placed in corners where they could be mounted to 2 or 3 walls. The free-floating shelves were designed to be 36" long so they'd span at least 2 wall studs.
High-Pressure Plastic Laminate in contrasting color (Wilsonart Phantom Pearl)
Recessed carpet surface
Symmetrical, vertically aligned shelves
Hidden cutouts for cats to climb shelves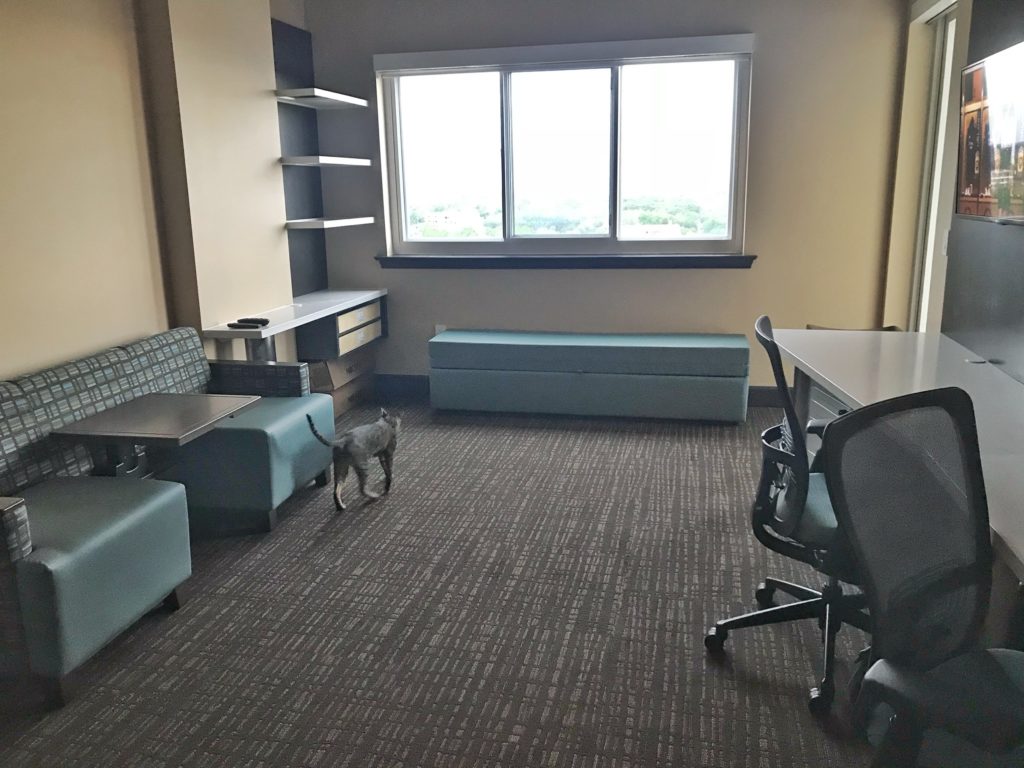 Construction
After the design was complete we reached out to several custom millwork companies to get quotes for the project. If you're handy, you can probably tackle the cat shelving construction and mounting on your own. We decided to leave it up to the professionals.
When the millworkers arrived and I got to see the shelves for the first time I had some doubts that they'd be able to mount them in a structurally stable manner (and still maintain the floating design). At 15 inches deep, these shelves were pretty massive.
The millworkers ran wood blocking horizontally between studs for added stability. Our decorative wall panel covered all of this up. The shelves were secured to the walls at several points and the holes were covered up with dowel plugs.
The finished product is impressively stable. I'm not ready to do pull-ups on these shelves, but they certainly feel like they could withstand quite a bit of weight.
Putting them to the Test
And the final test was whether or not Arya and Django would use them. With the help of some toys and chicken treats, both kitties were easily coaxed onto the shelves. It didn't take long before they got the hang of maneuvering through the cutouts and traversing the different levels.
The office renovation and custom cat-shelving project was a success!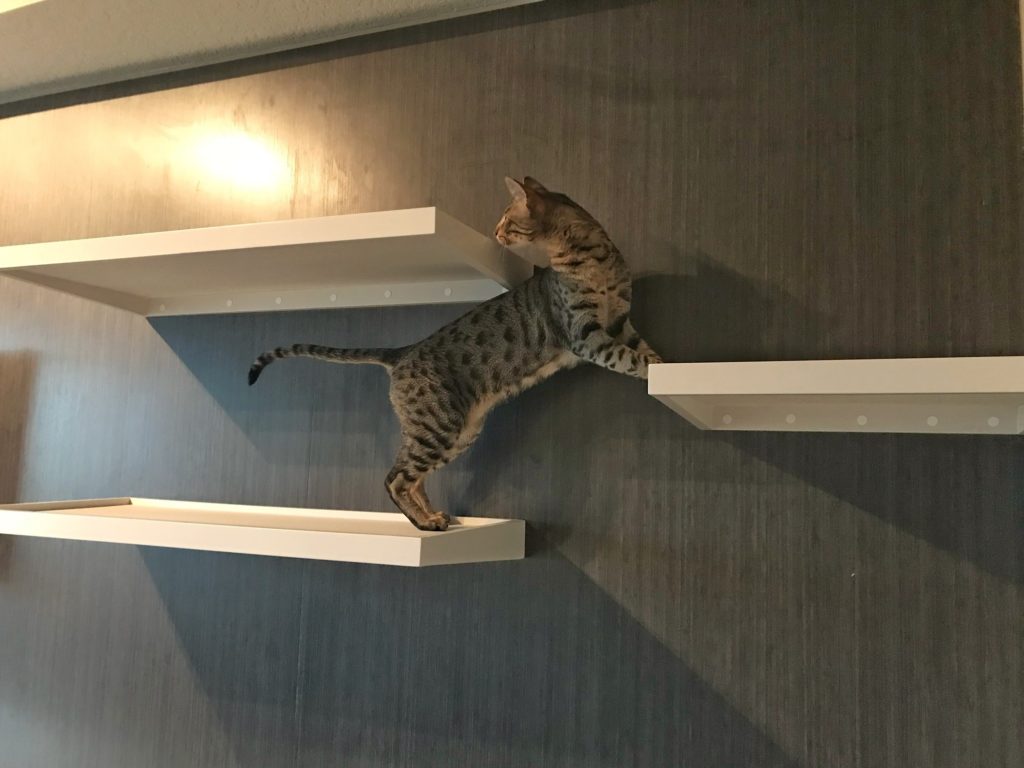 We'd like to offer a huge thanks to our Interior Designer, Mandy Wannen with Kaleidoscope Interior Design, for her help with this project!