Best Cat Products of 2017
Another year has come and gone and our team of Kitty Loaf reviewers has been busy assembling our list of the Best Cat Products of 2017. After hand selecting the best from over 70 of our cat product reviews we are confident that our top picks are worthwhile purchases for you and your furry feline. From Cat Trees to Litter Boxes, we've got you covered. 
A cat tree could very well be the most expensive thing you buy your cat. There are thousands of cat trees on the market but only a few are worth consideration if you're concerned with aesthetics and longevity. When most people think of a cat tree they envision a giant carpeted jungle gym. We are so appalled by those hidious carpeted cat trees that we've gone to great lengths to find attractive, people-pleasing alternatives. Carpeted cat trees might be less expensive and more widely available, but we don't think they are worth it. Here's why:
They won't last.
They encourage your cat to scratch at carpet which could lead to them destroying other parts of your home.
They're so ugly you'd have to sacrifice your home's aesthetics.
Fortunately, we've found another option. Modern cat trees are popping up on the market and the best ones are just as functional as they are attractive. So it's a win-win for both you and your cat.
Our Top-Rated Cat Tree of 2017 and coincidently Arya and Django's favorite cat product of the year is The Refined Feline Lotus Cat Tower. This cat tree is stunning and functional. Our two rowdy Savannah cats spend a good portion of every day on this cat tree. And because it is so modern we have no problem displaying it right in the middle of our living room. Most visitors don't even realize it is a cat tree until we tell them.  This cat tree has undergone extensive use and shows virtually no signs of wear. The Lotus Cat Tower is a bit pricier than some other cat trees and definitely more than the carpeted cat trees, but it should outlast them all. The quality of this cat tree is about as good as it gets. 
Cat Shelves are a fairly new cat product to hit the market and we couldn't be more excited that they're rapidly gaining in popularity. If you've ever watched an episode of "My Cat From Hell" with Jackson Galaxy, you'd understand how beneficial cat shelves can be, particularly in small, multi-cat homes. Most cats love to be up high. It provides them the best vantage point in the home which makes them feel more safe than on the ground. 
If you're handy, you might be thinking that you'd be better off just making your own cat shelves. And that is certainly possible. Just keep in mind that quality cat shelves are a little more complicated than your standard decorative bookshelf. For starters, they should be at least 10" deep to accommodate sitting and lounging. Cat shelves need to be securely mounted to wall studs and brackets to provide stability when your cat jumps on them. And the best cat shelves have some sort of carpet or fabric surface to make them less slippery.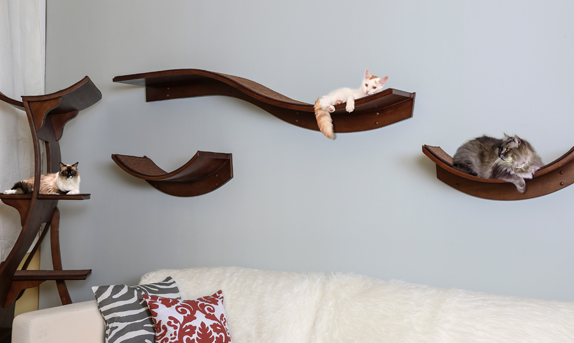 When we discovered that the makers of our favorite cat tree had matching cat shelves, we were thrilled. The Refined Feline Lotus Branch and Lotus Leaf Cat Shelves are just as impressive as the Lotus Cat Tower. These cat shelves are our top picks for 2017. They're elegant, sturdy, and your cats will love them. We particularly like the replaceable velcro carpet pieces!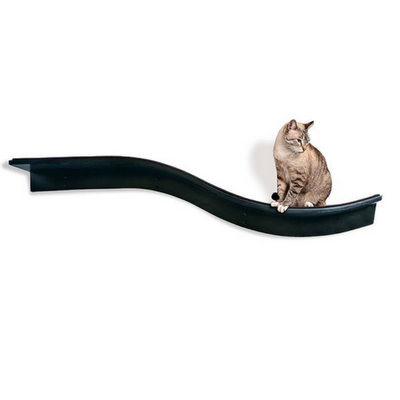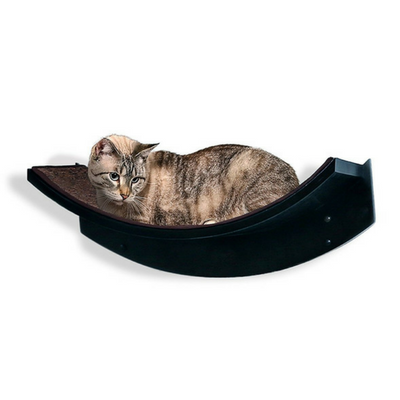 Whether it's built into your cat tree or a stand alone product, a cat scratcher or scratching post is an absolute necessity if you own a cat. Cat Scratchers come in all shapes and sizes and in a variety of materials. Your cat may have a preference for vertical scratching posts or horizontal scratchers. Sisal rope is probably the most common scratching material. It is typically wound around a post and secured at the ends. The problem with sisal rope is that it tends to come unraveled and fray rather quickly. Sisal Fiber is our preference. This material has the same scratching appeal as sisal rope but it looks nicer and holds up a lot better. Corrugated cardboard is also a popular scratching material, but more so with cats than their owners due to the mess it creates.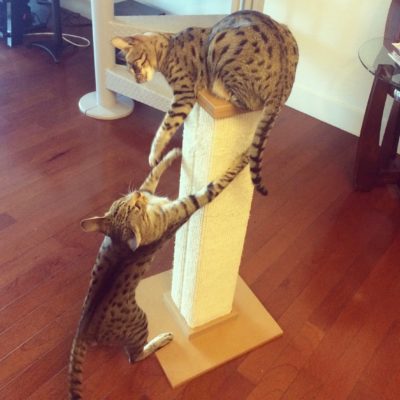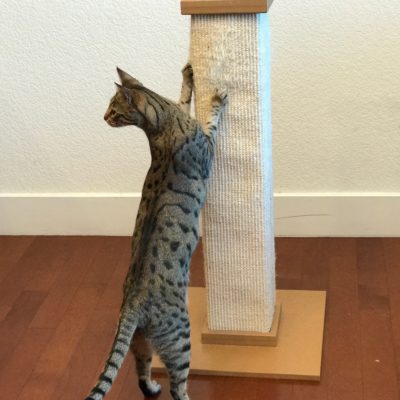 We've tested out just about every type of cat scratcher on the market and we always come back to the SmartCat Ultimate Scratching Post. The SmartCat Ultimate Scratching Post is our best cat scratcher of the year because it is well-made, attractive, super stable, and very long-lasting. Arya and Django have been using this scratching post for the past 4.5 years and it is still in good condition. We even bought a second one so they could have one on each side of the house. While Arya and Django are also big fans of the PetFusion Ultimate Scratcher and the PetFusion Jumbo Scratcher, those cardboard scratchers can't compete with the SmartCat Ultimate Scratching Post when it comes to durability.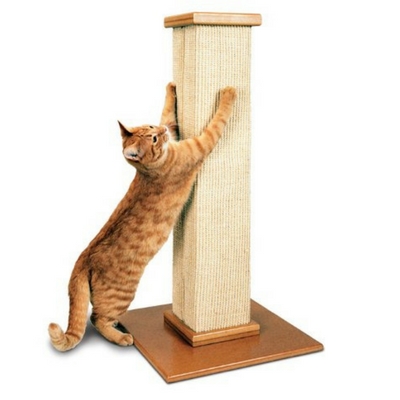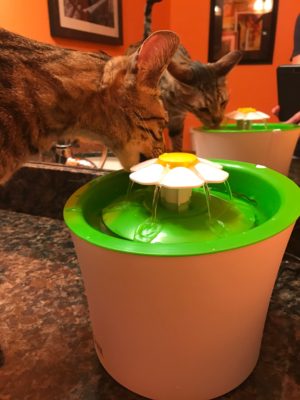 You might not think of a pet fountain as an essential cat product, but we promise that once you try one you'll never go back to the water bowl again. In the wild, running water is a sign of freshness and cats are naturally drawn to it. That's why your cat is probably more interested in drinking from a running faucet than their water bowl. Most indoor cats don't get enough water in their diets and that can lead to a number of health problems.
But pet fountains aren't just beneficial for your cats, they'll also make your life easier. With a standard water bowl, daily cleanings and refills are required. Pet fountains typically only need to be cleaned out weekly if they have a filter, which most have.
Pet fountains are generally made of plastic, stainless steel, or ceramic material. They come in all different sizes and capacities and have filters for removing debris, bad tastes and odors. Some fountains are quiet while others have noisy motors or make splashing noises. We've tested several of them out and we're very pleased with our top-rated, super quiet, low-maintenance, good-looking fountain of the year.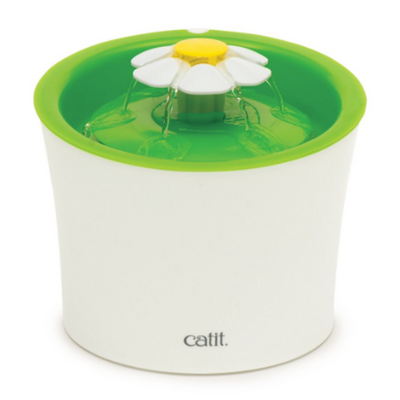 And the best cat fountain of the year is the Catit Flower Fountain. The simplicity of this fountain makes it stand out amongst the competition. Arya and Django love it just as much as their previous Drinkwell Platinum Pet Fountain. But when it comes to cleaning and ongoing maintenance, the Catit Flower Fountain outshines all others.
And now that this fountain has been on the market for awhile, low cost fountain filters are becoming more widely available. Most of the Catit Flower Fountain filters even have water softening capabilities. 
A litter box is at the top of the cat essentials list. Most new cat owners are so overwhelmed when they're bringing home their new cat that they often just grab the first plastic pan they find at the local pet store. But veteran cat owners know that selecting a good quality litter box will be one of the wisest investments you make. 
Most of the litter boxes and pans you'll find on the market are too small. They might be perfect for your new kitten, but kittens don't stay small for very long. The easiest way to avoid bathroom accidents is by ensuring your litter box is plenty big enough for your cat. Most cats tend to prefer front-entry litter boxes. But if you are lucky enough to have a cat that likes top-entry litter boxes, you could save yourself a lot of time spent sweeping up cat litter.
From an owner's perspective, the best litter box is enclosed to minimize litter tracking and odors and it's easy to clean. As we discussed earlier, your cat just wants something that's big enough and provides some degree of privacy. Put it all together and you'd have the perfect litter box. It seems very simple to create a litter box that accomplishes all of these things, but you'd be surprised. There are very few litter boxes on the market that meet our requirements.
The best litter box of 2017 is the Catit Jumbo Hooded Cat Litter Pan. And while many manufacturers throw around the term "Jumbo" or "XL" rather liberally, the Catit Jumbo Hooded Cat Litter Pan is in fact JUMBO! This front-entry litter box even has a swinging door to ensure litter doesn't get tracked or kicked outside the box. The Catit Jumbo Hooded Cat Litter Pan has an odor control filter on the top and a hinged opening to make cleaning a breeze. With all these features, you might expect this litter box would cost a good deal more than your average litter pan. But it doesn't! The Catit Jumbo Hooded Cat Litter Pan is very reasonably priced. And while we absolutely love our Modkat Flip Litter Box, the high price is hard to ignore.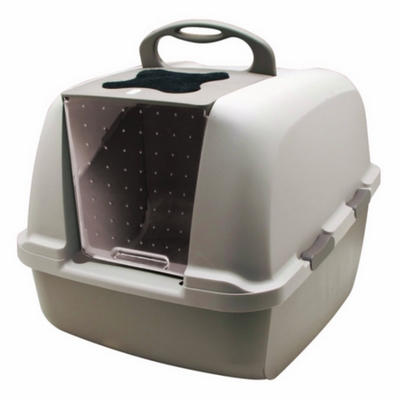 If scooping your cat's poop is a chore you don't mind, then an automatic litter box probably isn't a good investment for you. But if you're like me and you despise scooping the litter box multiple times a day, and you can think of a hundred better uses of your time, then an automatic litter box might be worth the investment. Yes, they are pricey. Yes, they are for spoiled cat owners. And no, not all of them are perfect. 
Technology has come a long way in the automatic, self-cleaning litter box market. With only a handful of manufacturers, there's a lot more demand than there is competition. Hopefully that'll change in time and the price of these machines will come down.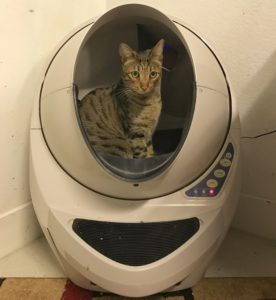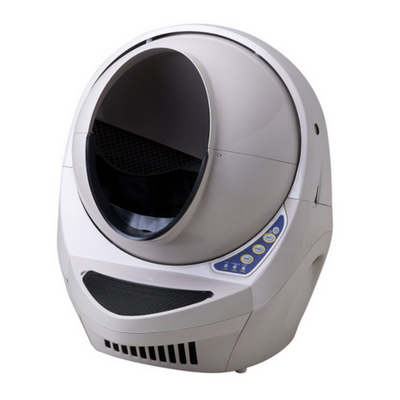 The clear front-runner and best automatic litter box of 2017 is the Litter-Robot Open Air III. While it took Arya and Django a bit of time to adjust, once they did it was like a miracle had occurred. One year later, our Litter-Robot Open Air is still working great and I can't image life without it. After watching this thing cycle countless times I'm still in awe at the ingenious design and engineering.
One of the things that sets the Litter-Robot apart is the fact that you don't need to buy proprietary products to keep it running. The Litter-Robot might have the highest upfront cost, but the cost of maintenance is a fraction of what some of the competitors are charging with proprietary litter, cleaners, and waste cartridges. Non-proprietary clumping kitty litter and 13-gallon trash bags are the only things needed for the Litter-Robot. 
Interactive Wand Toys are the best cat toys on the market. They allow cats and cat owners to form a bond while giving your cat the best exercise possible. Most wand cat toys are made to mimic some sort of prey. But it's your job to make the toy believable by making it move like a snake, bird, or rodent. 
Our best wand cat toy of 2017 is the Cat Charmer by Cat Dancer Products. We've gone through a dozen of these snake-like rainbow toys over the years, and we keep buying more. They're easy to use, lightweight, and less of a nuisance to detangle than string toys. Oh, and not to mention, our cats love them.
But don't settle with just one wand toy. Cats need variety to keep them from getting bored. Our best wand cat toy that mimics rodents is the Purrfect Cat Toys Leather Bouncer. And our best birdlike wand toy is Da Bird by GoCat.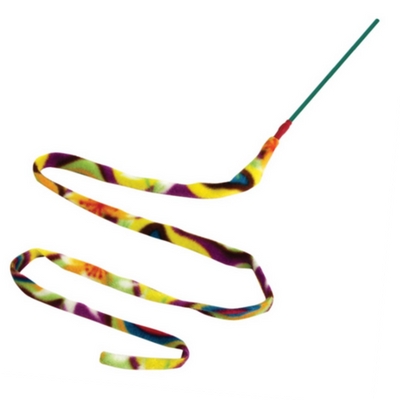 Catnip is a magical herb that'll bring out the kitten in your cat. Catnip toys are the most common cat toy on the market. They are typically inexpensive and very entertaining. But a lot of catnip toys aren't very safe for your cats and could pose a threat if ingested. Our top-rated catnip toys are safe, durable, and they have very potent catnip that'll last a long time.
The best catnip cat toy of 2017 is the YEOWWW! Banana Catnip Cat Toy. This toy is one of only a few catnip toys that is 100% filled with incredibly potent catnip. Once your cat gets a whiff of this thing they'll probably go bananas! 
As with the wand cat toys, it's always a good idea to keep your cat toys in rotation so your kitty never gets bored of playing with the same toy. We also highly recommend the OurPets Hot Stuff Catnip Toy and the KONG Beaver Refillable Catnip Toy.