Sebastian Modern Cat Tree Review
---
Summary
The Sebastian Modern Cat Tree by Designer Pet Products is a top pick for cat owners who don't want anyone to know they are cat owners! The Sebastian Modern Cat Tree can easily be mistaken for an artistically-designed bookcase. While this Cat Tree gets top marks for appearance, its overall quality and cat-friendliness have some room for improvement.
---
My Experience
The Sebastian Modern Cat Tree has been on the market since 2012. In 2013, I purchased this cat tree despite some of the negative reviews. I shopped around for a long time trying to find a product that wouldn't be an eyesore in my ultra-modern loft condo. The options were very limited back then. I made the purchase primarily based on appearance and prayed that my two rambunctious savannah kittens would learn to love it. It definitely took them some time to warm up to it, but they did, and now it gets plenty of use (and abuse).
Description / Specifications
The Sebastian Modern Cat Tree stands 65 inches tall and consists of stacked boxes that create 6 levels for your cat to climb. The first level has an open box with a sisal scratching mat attached to the floor. The second level features a carpeted cubby space. The remaining levels decrease in size as you get higher up. There is a small carpet piece on the 4th level, and the remaining levels have no coverings. It is made of manufactured wood and comes in 2 finishes, black and white. And while the manufacturer's website claims the finish is "glossy", I tend to disagree.
Overall Dimensions: 21"L x 18"W x 65"H
Item Weight: 63 pounds
Enclosed Cubby Dimensions: 10.5" x 16.5"
Cubby Opening: 7.5" x 8"
Assembly
Technically, you're only supposed to need a Phillips head screwdriver to assemble this cat tree. Maybe if all the holes were drilled through properly and everything was made to align the way it showed in the pictures, a screwdriver would be all that's needed. But from experience, that's not the case with this cat tree. Therefore, I highly recommend you find a power drill before attempting this assembly. Each piece comes with numbered stickers which make the instructions very straightforward. However, the stickers are a huge pain to remove and they leave a sticky residue. Overall, the assembly was rather frustrating and took about an hour using a power drill.
Appearance
The main selling point of the Sebastian Modern Cat Tree is its stylish, contemporary appearance. Even if your cats hate the thing, you'll still have a very attractive piece of furniture that won't easily be recognized as a cat tree. The design fits well in living rooms, bedrooms, and just about anywhere. The simplicity of the boxes gives it modern appeal without being too flashy. The Sebastian Modern Cat Tree was designed to blend in with its surroundings, and it succeeds at that.
When combined with the accompanying Sophia Wall-Mounted Cat Tree, these pieces of furniture can really transform the look of your room.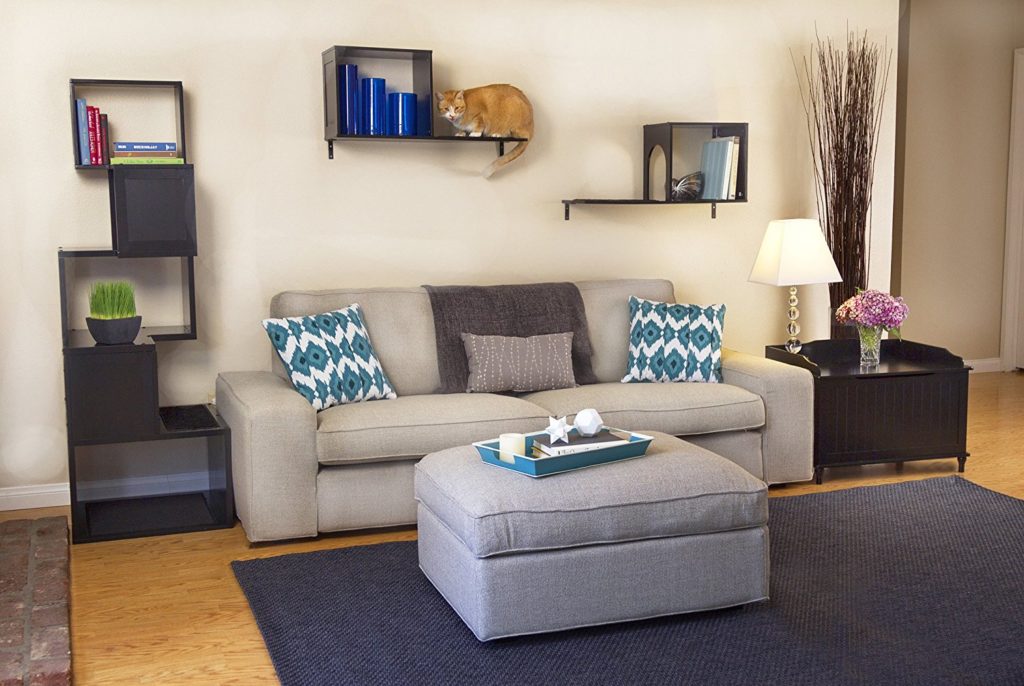 Cat-Friendliness
The Sebastian Modern Cat Tree scored below average for cat-friendliness. It's almost as if Designer Pet Products designed a cat tree for humans, then added a few features to make it more appealing to cats.
We'll start with the positives. The height is excellent. The stability is great, which makes this cat tree ideal for multi-cat households. The carpeted cubby is a nice feature for cats that like to hide. Unfortunately, this portion of the cat tree doesn't get used at all by my extraverted cats.
Now, let's look at the negatives. Cat-Scratching 101: One of the main reasons cats enjoy scratching is to mark their territory, both olfactory and visually. That's why cats prefer scratching posts (or furniture) that is out in the open and easy for everyone to see. The cat scratching mat on the Sebastian Modern Cat Tree is tucked away on the base of the bottom cubby. My cats who are avid scratchers have never touched this scratching mat.
The edges and corners of this cat tree are extremely sharp. I've cut myself walking past it multiple times. Three of the six levels are completely bare, making the surface extremely slippery. My cats regularly slide off this tree. The size of the surfaces is sufficiently big for my above average-sized cats. But there really needs to be carpeting or improvements made to the top level to make it safer for cats.
Quality
We've already discussed several of the shortcomings concerning quality of design. As far as the quality of material, this cat tree is extremely durable. It has undergone a lot of abuse from my cats over the past 3 years and has almost no signs of damage. The carpet pads and scratching mat are stapled to the wooden pieces and would not be easy to replace. Overall, I would compare the quality of this furniture to something you could purchase at IKEA. It's far from perfect, but it gets the job done.
Pros
Modern design
Can also be a bookshelf
Multi-cat friendly
Matching cat shelves
Cons
Difficult to assemble
Some surfaces are slippery without carpet
Sharp edges
Below average quality
Price
The retail price of The Sebastian Modern Cat Tree is $290. That price puts it in line with some of the other high-end modern cat trees that we've reviewed. Some might argue that the price is too high for what you end up getting. Despite the shortcomings, I do not regret my purchase. When you consider the alternative of buying an ugly $100 carpeted cat tree that'll have to be replaced every few years, paying $300 for a nice looking cat tree that should last 10 years isn't so bad.

Improvements
The Sebastian Modern Cat Tree is a beautiful piece of furniture that your cats will most likely appreciate. But there is certainly room for improvement. For starters, Designer Pet Products could improve this cat tree by stepping up their quality control process to facilitate assembly. Adding easily removable (Velcro) carpet pieces to all surfaces would make this cat tree much more kitty-friendly, and wouldn't detract too much from the appearance. Those changes alone would make this cat tree competitive with our top-rated cat tree, The Lotus Cat Tower.
Original Post Date: 8/15/16
SaveSave