Custom Cat Socks by Printsfield
Whether you're looking for a creative gift for that special cat lover or you just want to make a serious fashion statement, custom cat socks are the way to go. Printsfield makes the process of ordering your custom cat socks hassle free. Just upload your favorite cat pictures to their website, select a color and you're done! They do the cropping and design for you.
They have 2 cat design options to choose from – the Standard Cat Personalized Socks and the Cat Mash Personalized Socks. You can even opt to have up to 3 different cat faces on a single pair of socks. That way none of your fur babies are left out.
The standard Cat Personalized socks come in an impressive 18 different color options. The Cat Mash socks come in 3 different color options. The socks themselves are stretchy and made of primarily polyester.
Our very own Arya and Django are featured on the cat socks below!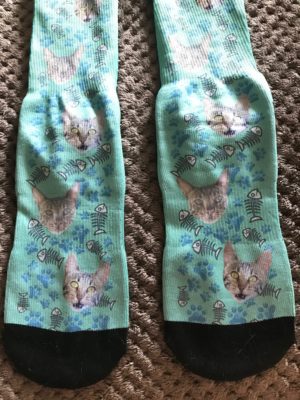 Use Promo Code kittyloaf20 to get 20% off your order!
---
FTC Disclosure: We received a pair of Cat Socks from Printsfield at no charge. Receiving this product for free did not influence our review. All reviews on Kitty Loaf reflect our honest and unbiased opinions.