Art of Paws Heated Cat Bed Review
Art of Paws Heated Cat Bed
$35
Owner-Friendliness
9.5/10
Attractive Appearance
8.5/10
Quality / Durability
9.0/10
Pros
Cats love the warmth this bed provides
Large size accommodates all cats
Easy to clean / machine-washable
Bite-proof electrical cord
2-year guarantee
Cons
Only one color option
Might not be safe to keep plugged in at all times
Find it on Art of Paws     Find it on Amazon
---
Summary
The Art of Paws Heated Cat Bed is an instant hit with cats. This basic looking pet mat might not look like much but it delivers exactly what your cats want when it comes to comfort. With some added safety features and an easy-to-clean cover, this cat bed is also a winner for cat owners.
---
Description / Features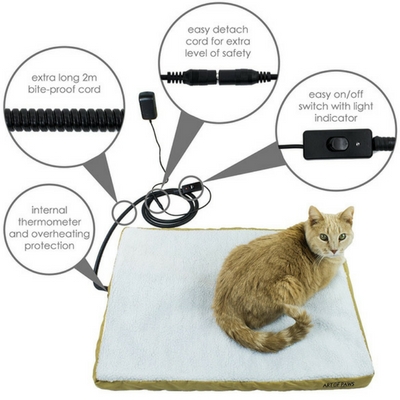 The Art of Paws Heated Cat Bed consists of a layer of foam padding and a heating mat encased in a fleece-top fabric pouch. The base is made of an anti-slip, water-resistant fabric. Everything zips together and fits snuggly. The fabric cover is machine-washable. The fleece top is white, the sides are beige, and the bottom is black. This is the only color option currently offered for this product.
This cat bed has a 6.5 foot long electrical cord that is bite-proof. The cord also has an inline disconnect and an on/off switch with a light.
The low voltage heating pad puts off just enough heat to entice your cat to lay on it. It doesn't get overly hot.
Dimensions: 23″L x 17″W x 2″H
Cat-Friendliness
Within seconds of plugging in this cat bed, both Arya and Django were fighting for a spot on it. Cats love to lay on warm surfaces. That's one of the reasons they frequently choose to lay on your lap, your laptop computer, or the windowsill. Art of Paws took this well-known fact about cats and designed a cat bed that provides exactly what they want – warmth! This cat bed has a good amount of padding in it so you can place it on a hard surface or the floor. It is appropriately sized for a single large cat or two small cats that like to cuddle. Our 14 pound, large-framed Savannah Cat, Django, is pictured below.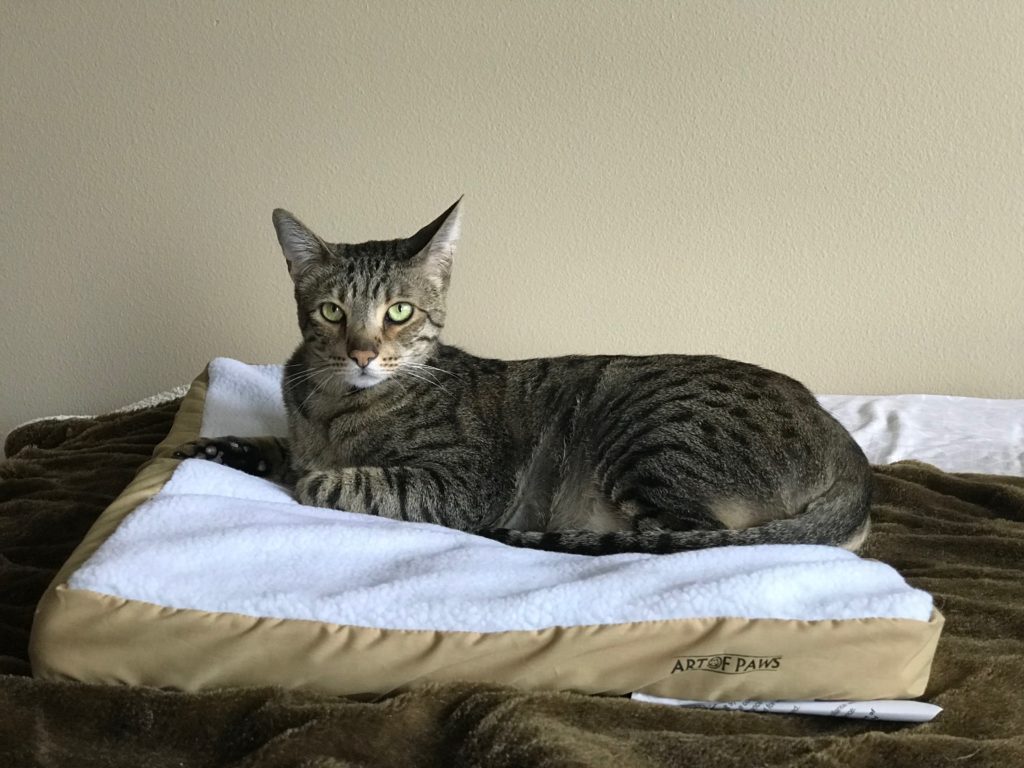 Owner-Friendliness
You might not immediately think of a cat bed as a high-maintenance product. But from experience, it definitely helps to have one that is easy to clean when the need arises. Within a week of having the Art of Paws Cat Bed we were graciously given the opportunity to test out how easy this cat bed is to clean when one of our more territorial cats decided to pee on it. We unzipped the fabric cover, sprayed it with stain-remover and tossed it in the washing machine. We even let it go through a delicate dry cycle. To my relief, the pee stain was completely gone and the cover was fully intact. We zipped everything back together and our heated cat bed was back in business.
Aside from maintenance, safety is another concern for cat owners. The Art of Paws Heated Cat Bed has some nice safety features that set it above the competition. The bite-proof cord has already proven it's worth in our household. And the inline disconnect ensures this cat bed will easily disconnect if your cat or child gets tangled up in it. The 6.5 foot long electrical cord is also very convenient.
Appearance
The Art of Paws Heated Cat Bed isn't flashy and it doesn't really make an artistic statement. But that's ok with us. It is a low profile, unobtrusive looking cat bed that'll blend in with the decor in your home.
Quality / Longevity
We've only had the Art of Paws Heated Cat Bed for a few months now, but it is getting its fair share of use and abuse. This cat bed has initiated a number of sibling cat fights. Neither Arya nor Django is fond of sharing. So far the Art of Paws Cat Bed is showing little signs of wear and tear. This is definitely a well-made product that was given a lot of thought. As a testament to their commitment to quality, Art of Paws offers a 2-year guarantee on this cat bed.
Pros
Cats love it!
Large enough for XL cats
Easy to clean / machine-washable
Bite-proof electrical cord
Cons
Only one color option
No automatic power shut-off option
Might not be safe to leave on at all times
Summary / Recommendations
The attention to detail, the cat-friendly design and the excellent safety features makes the Art of Paws Heated Cat Bed one of our top-rated cat beds. This cat bed is easy to clean and our cats absolutely love it. Our only problem now is that we'll need to get another to keep both cats happy.
---
FTC Disclosure: We received this cat bed from Art of Paws at no charge. Receiving this product for free did not influence our review. All reviews on Kitty Loaf reflect our honest and unbiased opinions.
SaveSave